Failure To Launch New Fiscal Stimulus Would Have Catastrophic Consequences For The US Economy
The covid-related shutdowns were expected to result in unprecedented economic devastation, and for the most part they did, although as bad as the US economy suffered in Q1 and Q2, it would have been far, far worse had the government not stepped in. Recall that as DB's Jim Reid pointed out in July, this has been the "strangest recession in history", one defined by a surge in personal income - very much unlike the usual collapse observed during recessions.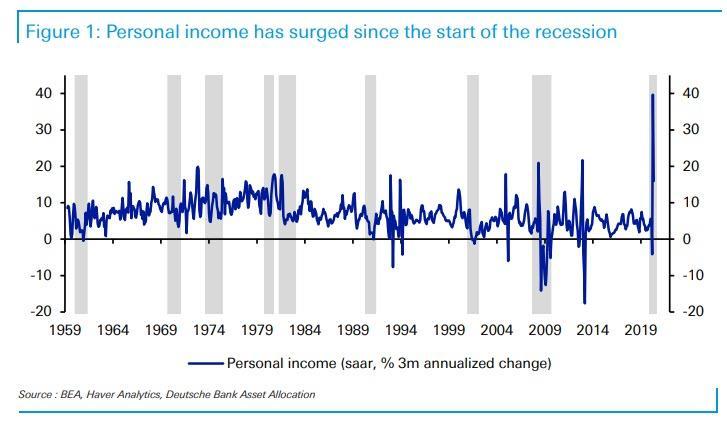 The reason for this is simple: as we explained a few weeks prior to Reid's report, the massive fiscal stimulus unleashed by the US government led to the biggest surge in personal income in history... making government transfer payments an unheard of 30% of all personal income.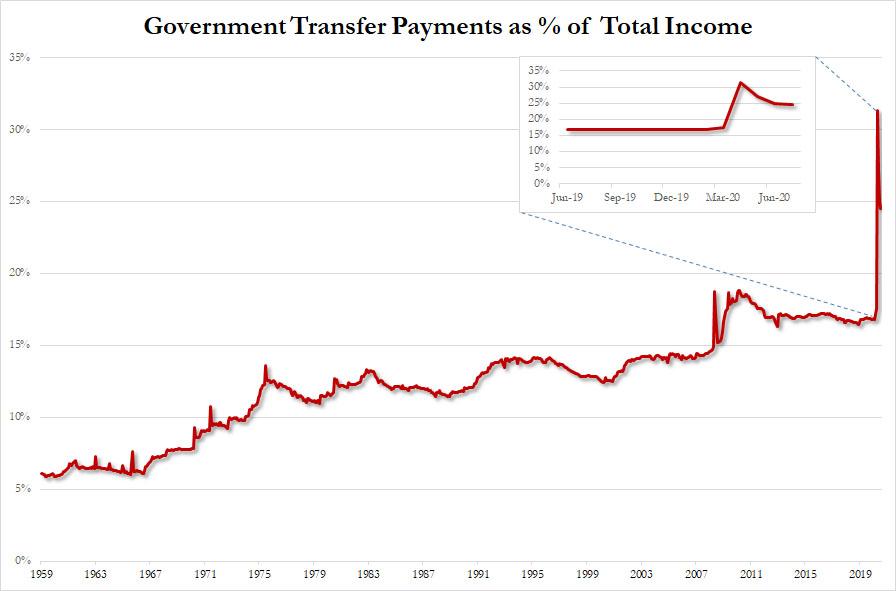 Putting that number in perspective, in the 1950's and 1960's, transfer payments were around 7%. This number rose in the low teens starting in the mid-1970's (or right after the Nixon Shock ended Bretton-Woods and closed the gold window). The number then jumped again after the financial crisis, spiking to the high teens. And now, the coronavirus has officially sent this number into the mid-20% range, after hitting a record high 31% in April.
So for all those who claim that the Fed is now (and has been for the past decade) subsidizing the 1%, that's true, but with every passing month, the government is also funding the daily life of an ever greater portion of America's poorest social segments.
Of course, many won't object to such reliance on the government: after all "welfare for everyone" means more money for doing nothing (and if the Fed gets its way and it can deposit digital dollars directly, it means much more money - all with the intent of inflating away the debt).
The problem is that should this fire hose of benefits slow - or close completely - the economic collapse that was mitigated drastically thanks to the covid fiscal stimulus, will come back with a horrific vengeance.
Disclosure: Copyright ©2009-2020 ZeroHedge.com/ABC Media, LTD; All Rights Reserved. Zero Hedge is intended for Mature Audiences. Familiarize yourself with our legal and use policies ...
more