China Buys US Corn, Soybean; Trade Deal Commitments Far From Satisfied
Around the same time President Trump and National Economic Council director Larry Kudlow were pumping jobs, stocks, and the V-shaped recovery on national television on Thursday morning - Reuters quoted a U.S. Agriculture Department (USDA) report that said China booked its first U.S. sales of corn and soybean since it asked suppliers (nine days ago) to guarantee shipments were not contaminated with COVID-19.
Readers may recall, from day one of the trade deal being signed - we outlined how the number of proposed agricultural goods exported to China under the agreement was unrealistic.
(Click on image to enlarge)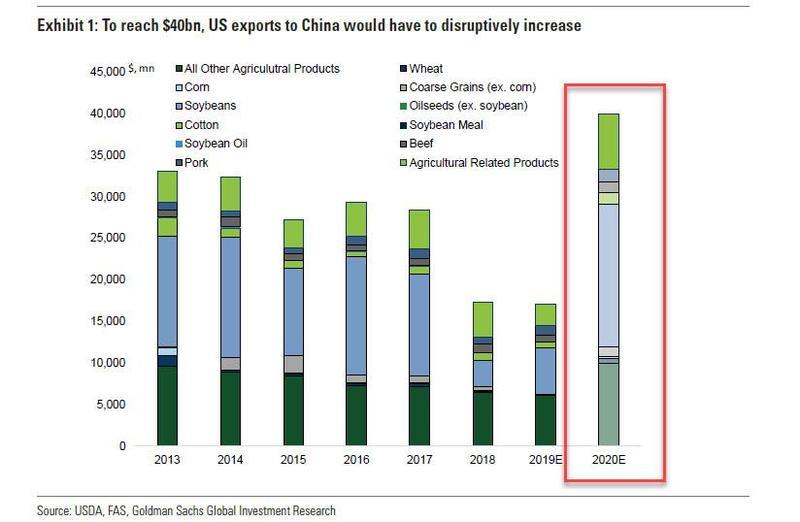 China's purchases of US farm goods since the trade deal was signed in mid-January has been underwhelming. With today's purchases, we're surprised the president or Kudlow didn't pump the numbers, rather Kudlow said: "We are very unhappy with China."
Reuters, quoting the USDA report, said China's "private exporters reported the sale of 202,000 tonnes of corn and 126,000 tonnes of soybeans for delivery during the 2020/21 marketing year that begins on Sept. 1."
For more color on China not upholding trade commitments under the deal - we turn to Peterson Institute for International Economics (PIIE). Their trade deal tracker (latest data from April), shows China's purchases under the trade agreement has been significantly below agreed-upon levels.
(Click on image to enlarge)
Even before the trade deal was signed - we outlined in December, vessel tracking data didn't support China was purchasing farm goods from the U.S. - instead, they abandoned North American markets for Latin American ones.
In June, we noted again; there was no way in hell that China was buying enough agricultural goods from the U.S. to satisfy commitments. Just look at the vessel tracking map below (from early June) - a massive traffic jam of ships carrying soybeans from Latin America to Asia was seen - and just a few vessels carrying beans in North America.
Disclosure: Copyright ©2009-2020 ZeroHedge.com/ABC Media, LTD; All Rights Reserved. Zero Hedge is intended for Mature Audiences. Familiarize yourself with our legal and use policies every time ...
more