A Historic Divergence Emerges On Wall Street
It was just six months ago when the March Bank of America Fund Manager Survey found a record number of respondents expecting a stronger economy...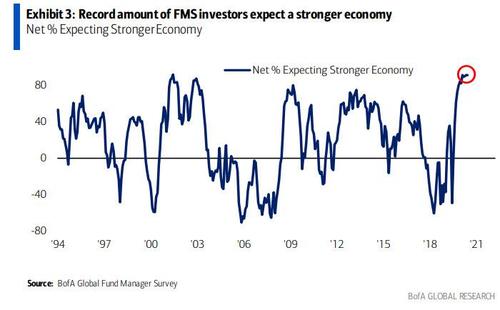 ... and continued stock market outperformance.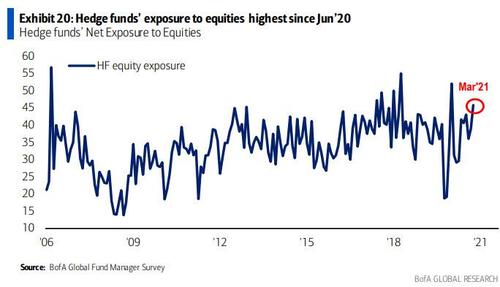 So fast forward to today when a lot has changed since the halcyon days of March because according to the latest FMS published today by BofA's Michael Hartnett in which he polled a record 430 panelists managing $1.3 trillion, Wall Street professionals are now the least bullish since Oct'20 as growth expectations turn negative for the first time since April 2020 on inflation and China pessimism.
And yet even though FMS cash levels jump to a 12-month high, the allocation to bonds slumps to an all-time low - on expectations of a stagflationary spike in rates - in what may be the most striking divergence observed in the survey series, the allocation to stocks is just shy of all-time highs!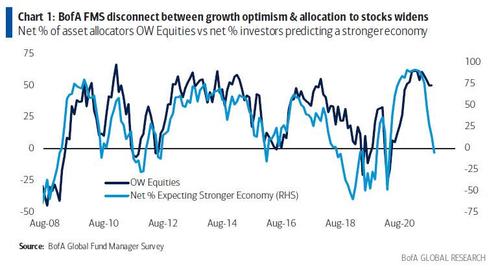 Going through the various segments of the survey, BofA's Michael Hartnett starts with the Macro, where he finds respondents to be bearish - as net 6% of investors now say global growth to weaken next 12-months, the lowest level since Mar'20, down from 91% peak in Mar'21, and down big 19ppt in the past month...
... 15% say profit growth to slow (worst margin outlook since May'20), down from the 89% peak in Mar'21, down huge -27ppt in past month. As Hartnett notes "FMS global GDP & EPS readings show macro momentum weakest since COVID shock of spring'20."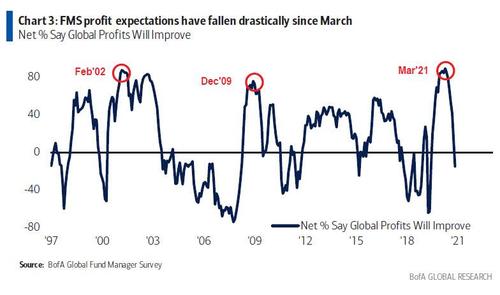 ... net 51% of investors think margins will decrease, down a massive 29% past month...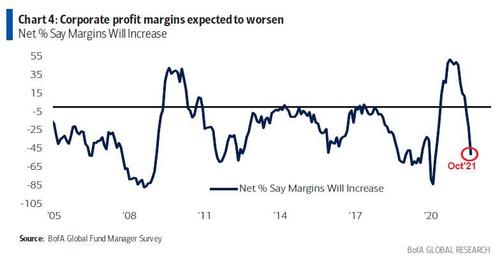 ... as predictions of a "boom" drop to 61% (still expect above-trend growth & above-trend inflation, but down from peak of 76% in June) as "stagflation" or below-trend growth & above-trend fears up big 14ppt on month to 34%.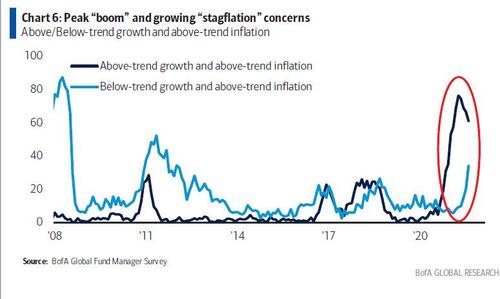 .... as gap between "transitory" vs"permanent" inflation continues to narrow (58% vs 38% respectively).
Disclosure: Copyright ©2009-2021 ZeroHedge.com/ABC Media, LTD; All Rights Reserved. Zero Hedge is intended for Mature Audiences. Familiarize yourself with our legal and use policies ...
more