Risk Sentiment Supported By Fed 'Pause' Expectations
Image Source: Unsplash

Asian equity markets are mostly offline for Lunar New Year celebrations, Asian markets that are open are showing gains, as are European bourses and US futures, the bullish tone to markets is supported by reports in the Wall Street Journal over the weekend which suggest Fed officials are 'preparing to slow interest rate increases for the second straight meeting', this report underpins comments from officials last week that also hinted to most FOMC members preferring a 25bps move at the next meeting.
There is no tier one data on the docket for the UK today, this leaves little in terms of catalysts for UK investors at the open of trading for the week, the BoE will move into their blackout period later this week ahead of their next policy announcement on the 2nd of February, no BoE speakers are scheduled to speak before then. The FTSE continues to teeter on the edge of all-time highs with bullish bets favoring a test of the 8000 level next.
In the Eurozone focus remains firmly on policymakers' comments, over the weekend ECB officials continued to strike a hawkish tone adding support to the Euro which traded above 1.09 at the opening of trading for the week. This week ECB officials Panetta, Visco, Vujcic, and Holzman are set to speak, today ECB Chief Lagarde will also speak, after her appearance in Davos last week cemented her hawkish stance as she continues to express concerns regarding inflationary pressures.
The US data slate is also sparse today; the only release of note will be the US leading index for December, however, the data docket picks up later in the week with PMIs tomorrow Q4 GDP Thursday and Core PCE Price Index due Friday. US earnings will also be in focus with tech heavyweights on deck with Microsoft and Tesla announcing Tuesday and Wednesday respectively.
Markets-wise, investors will continue to monitor the developing divergence between an increasingly hawkish European Central Bank and a more dovish tilt to the Fed, leading to ongoing strength in the Euro Dollar and increased pressure on the greenback. The weakness in the dollar continues to keep a bid under most major commodity markets with WTICrude above $81 per barrel, Gold remains supported above 1900 bulls keep their sights on a test 1950.

Overnight News of Note
US Equity Futures Marginally Lower After A Surge On Friday
Tesla, Microsoft Amongst Stocks Headlining A Busy Week Of Earnings
China Celebrates Lunar New Year As Covid Infections Hit 80 Per Cent
Japan's Kishida Says Too Early To Discuss BoJ Accord Revision
BoJ's Policy Tweak Drew Rare Request From Government For A Break
New Zealand's Inflation May Have Peaked, Reducing Rate Pressure
Fed Sets Course For Milder Interest-Rate Rise In February
Janet Yellen Dismisses Minting $1 Trillion Coin To Avoid Default
ECB Set To Raise Rates By 50 Bp In Feb And March, Knot Says
ECB's Rehn Sees Grounds For Significant Rate Hikes In Spring
Eurozone Set To Avoid Recession In 2023 As Economists' Gloom Lifts - FT
Germany And France Push For Huge Spending To Compete With US
Euro Creeps Further, Clears 9-Month Peak As ECB Hawks Let Fly
Binance Says Signature Sets Transaction Minimum Amid Pullback
Oil Edges Lower As Traders Weigh China Outlook In Sparse Trading
Elliott Management Takes Multibillion-Dollar Big Stake In Salesforce
(Sourced from Bloomberg, Reuters and other reliable financial news outlets)

Options Expiration For the New York Cut 10 am EST
(BOLD expiries with a value of a Billion+more magnetic if price is within the daily trading range)
Technical & Trade Views
SP500 Bias: Bullish Above Bearish Below 3869
Primary support is 3869
Primary objective is 4055
Below 3840 opens 3800
20 Day VWAP bullish, 5 Day VWAP bullish
(Click on image to enlarge)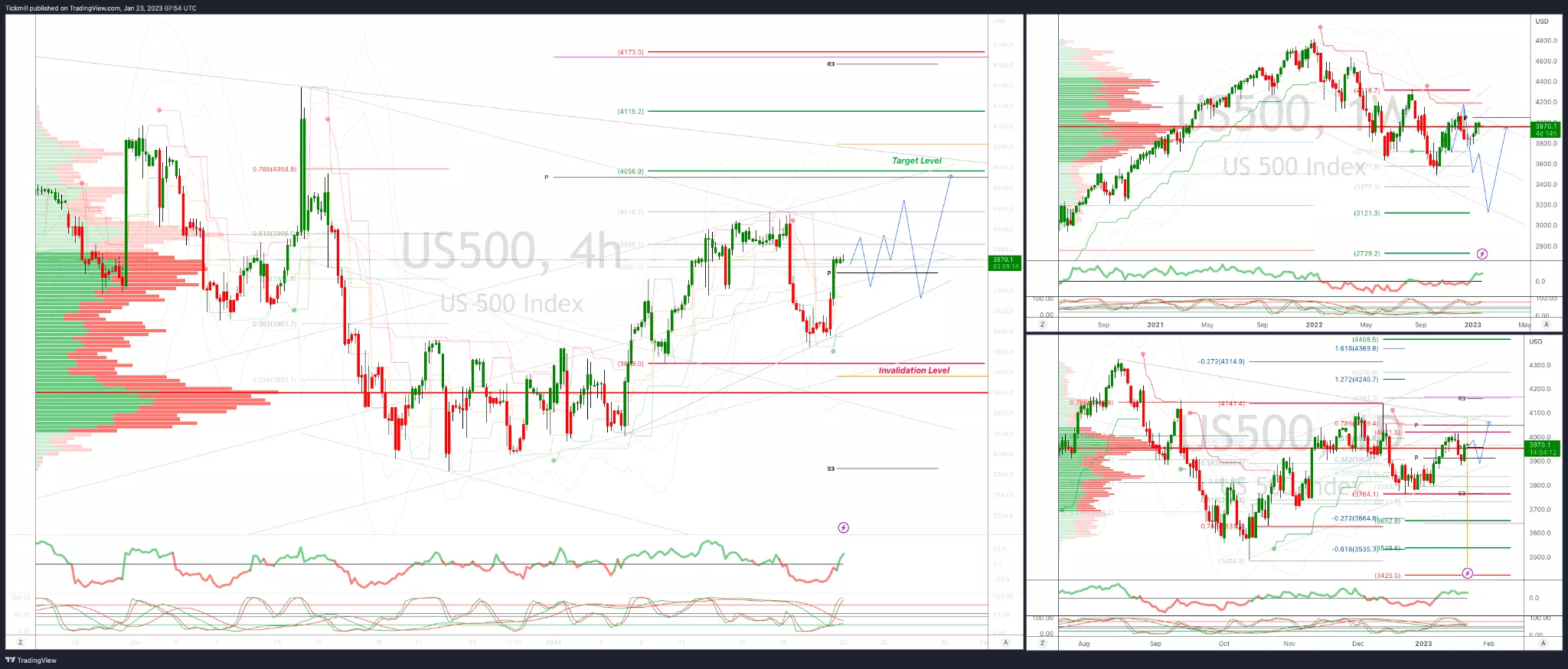 EURUSD Bias: Bullish Above Bearish below 1.0750 - 1.09 Target Hit, New Pattern Developing
Primary support is 1.0750
Primary objective is 1.10
Below 1.0730 opens 1.0610
20 Day VWAP bullish, 5 Day VWAP bullish
(Click on image to enlarge)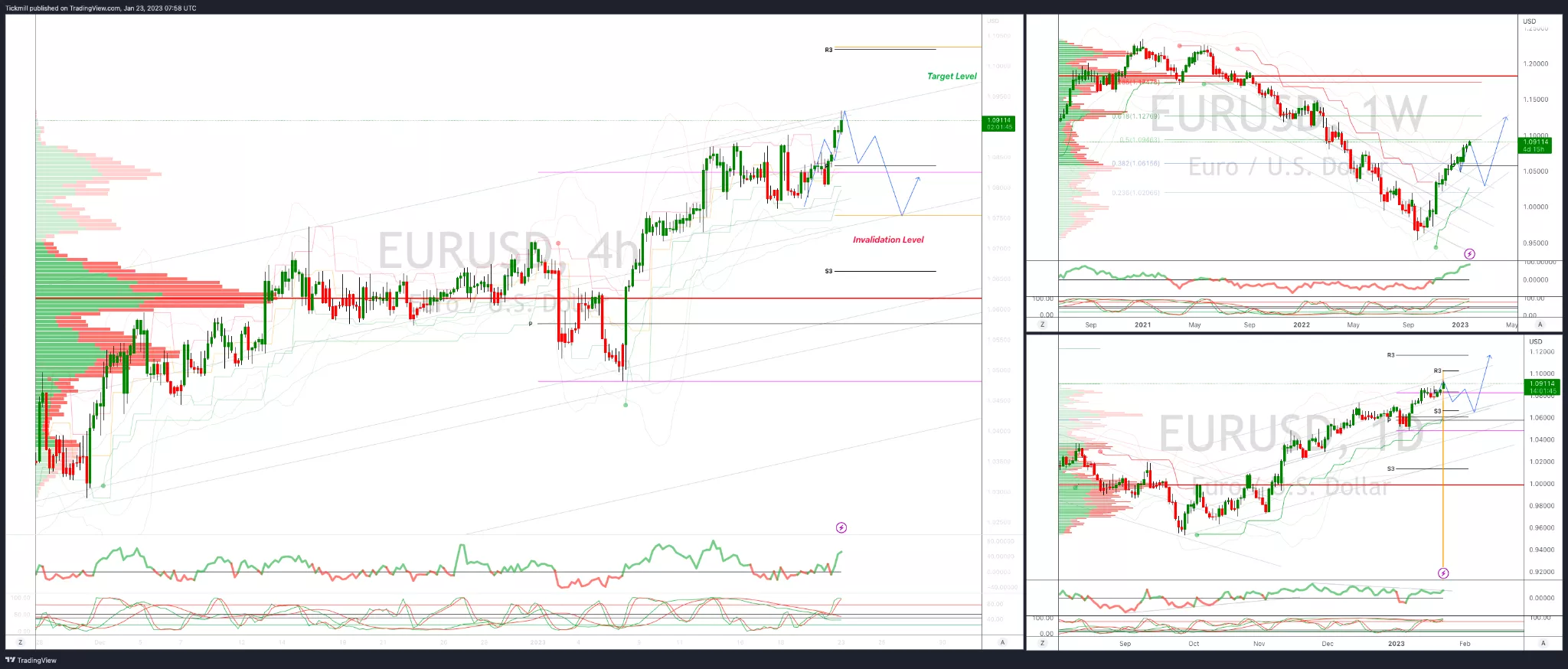 GBPUSD Bias: Bullish Above Bearish below 1.2250
Primary support is 1.2310
Primary objective 1.2460
Below 1.2240 opens 1.2185
20 Day VWAP bullish, 5 Day VWAP bullish
(Click on image to enlarge)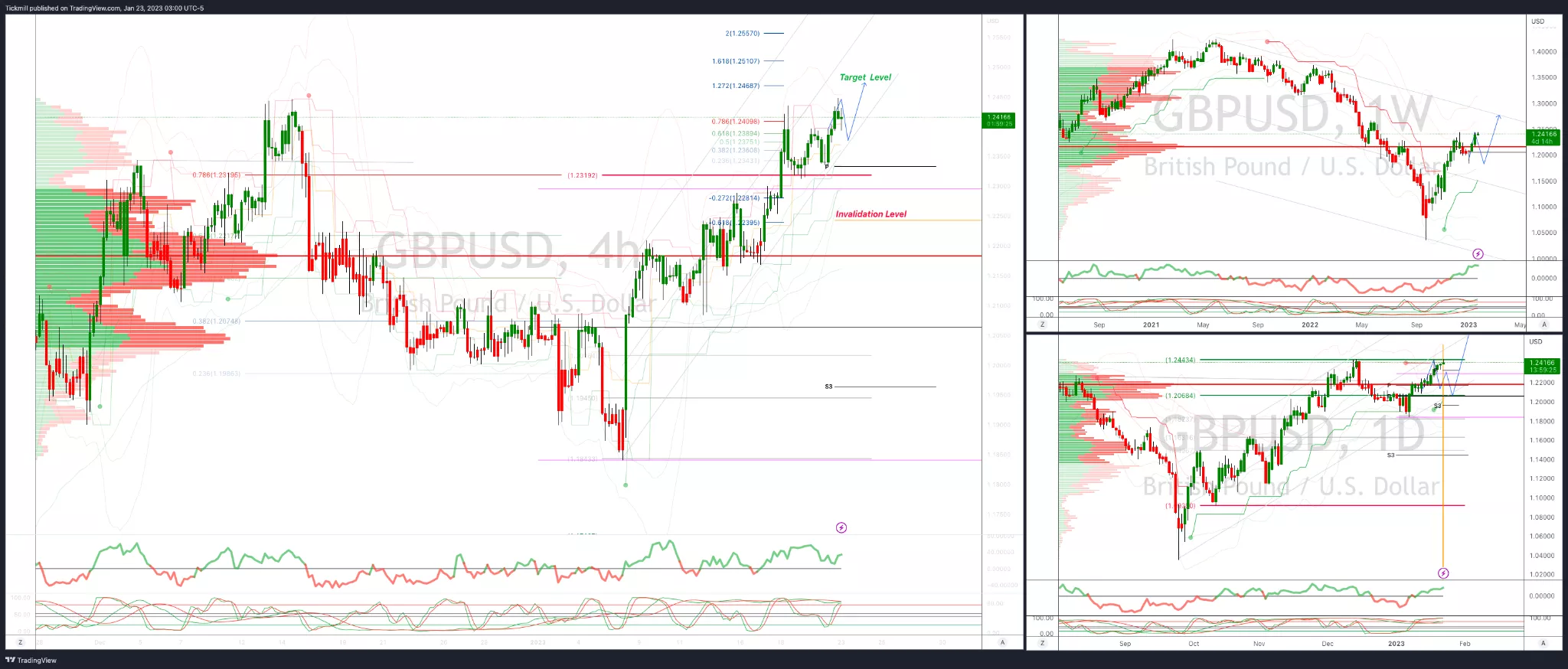 USDJPY Bias: Bullish above Bearish Below 132.30
Primary resistance is 132.30
Primary objective is 125.00
Above 133.00 opens 135.00
20 Day VWAP bearish, 5 Day VWAP bullish
AUDUSD Bias: Bullish Above Bearish below .6950
Primary resistance is .6950
Primary objective is .6790
Above .7025 opens .7110
20 Day VWAP bullish, 5 Day VWAP bearish
(Click on image to enlarge)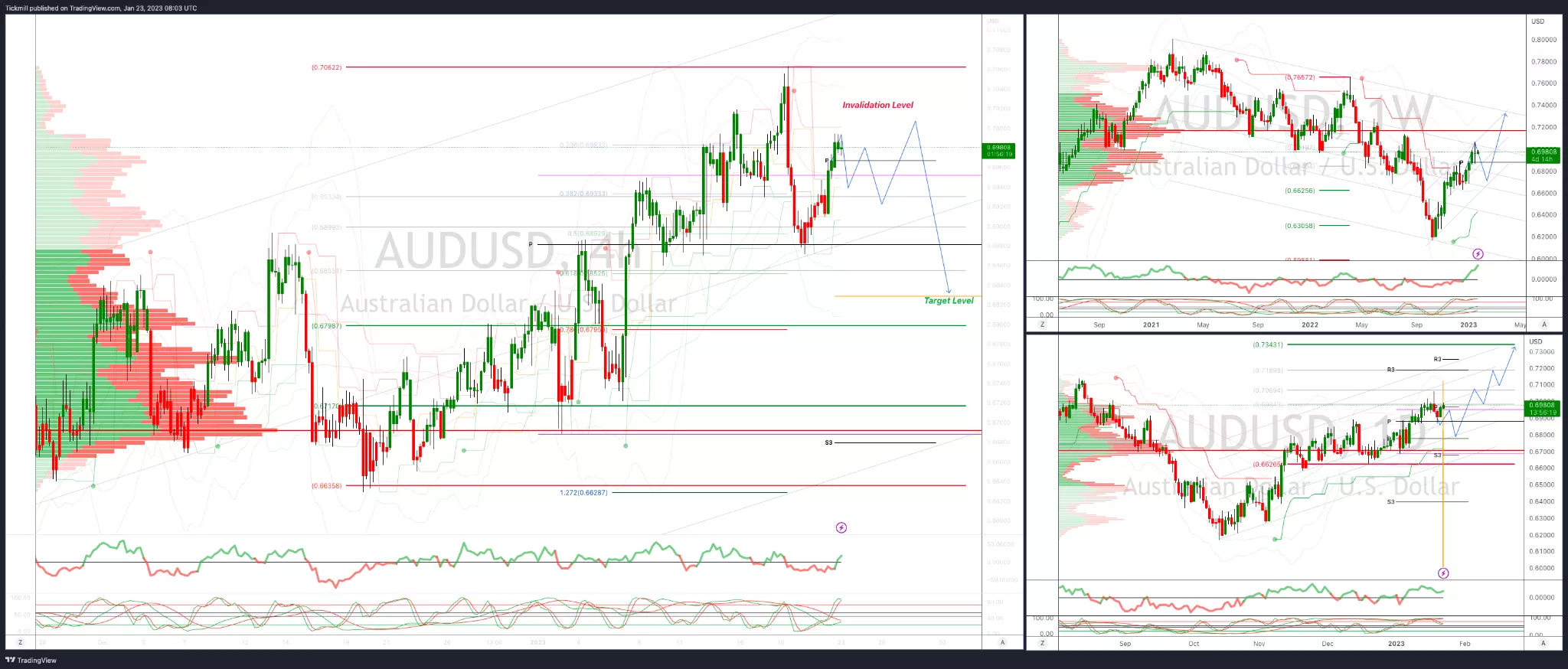 BTCUSD Bias: Bullish Above Bearish below 20300 - 22000 Target Hit - New Pattern Developing
Primary support 21600
Primary objective is 23000
Below 21500 opens 20700
20 Day VWAP bullish, 5 Day VWAP bullish
(Click on image to enlarge)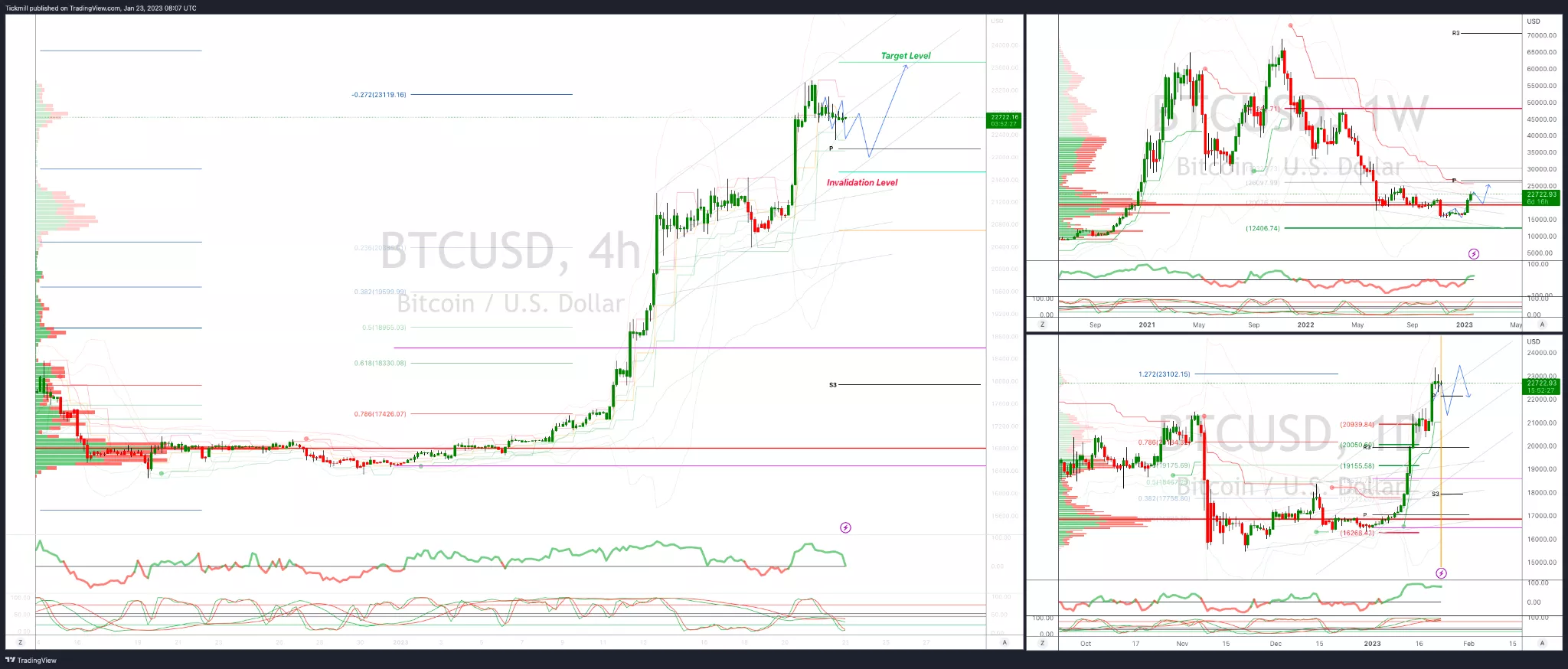 ---
More By This Author:
Chinese Market Head Into Lunar New Year Near Bull Market Territory
EURUSD While 1.050's Support Target 1.12 Next
BoJ Double Down Or Bust
Disclaimer: The material provided is for information purposes only and should not be considered as investment advice. The views, information, or opinions expressed in the text belong solely to ...
more