Daily Market Outlook - Wednesday, March 29
Image Source: Pixabay

Banking Musical Chairs, Ermotti To Return As UBS Head, To Steady The Ship
Asian equity markets are mainly in the green on the session following a somewhat benign range-bound session on Wall Street given the lack of macro catalysts as investors position for the quarter end. The standout performer overnight was in the Hong Kong markets which significantly outperformed as tech-heavy Hang Seng posted 2%+ gains on the back of Alibaba's plan for a six-way split. The Nikkei also posted decent gains as the Japanese government agreed to a staggering 114 trillion JPY budget for the fiscal year ahead. Risk sentiment also benefited from a downside surprise in Australian inflation data falling from 7.4 to 6.8% leading to investors repricing future rate moves from the RBA.
Once again the data docket is pretty scant for the European session this morning, investors will eye comments for ECB speakers Kazimir and Schnabel, with Schnabel set to address the NABE conference and is set to discuss the outlook for inflation in the Eurozone. The ECB has remained anchored to its rate increase path premised on the continued calm emerging in the banking sector. A positive development in the European banking sector came this morning with the announcement that current Swiss Re Chairman and industry stalwart Sergio Ermotti will return to the helm of UBS's appointed new group CEO. On the inflation side of the ledger, the first data inputs for March inflation are due out of Germany and Spain tomorrow morning, ahead of the Eurozone flash estimate set for release Friday morning.
Today's US pending home sales for February are expected to show a further retreat but investors will likely look past this data as they focus on Friday's PCE deflator data, widely known as the Fed's preferred gauge for inflation. US, headline annualized inflation is expected to decline but core inflation is expected to remain stubbornly elevated which will keep Fed officials firmly focused on the inflation battle. This evening the Bank of England's Mann, believed to be the most hawkish MPC member, is scheduled to speak on 'inflation and monetary policy' at the NABE conference, UK investors will parse her comments in light of the BoE Governor Bailey's more optimistic outlook on the UK economy and his apparent lean towards an imminent pause in the UK rate cycle. Any softening in Mann's hawkish stance would add further credence to the pause narrative for Uk rates.

FX Options For 10 am New York Cut
EUR/USD: 1.1000 (EU958.2M), 1.0780 (EU922.3M), 1.0800 (EU683.2M)
USD/JPY: 130.75 ($630M), 131.75 ($615.2M), 128.10 ($310M)
USD/CNY: 6.9100 ($1.6B), 6.8000 ($1.23B), 6.9000 ($671M)
GBP/USD: 1.1500 (GBP505.7M), 1.2045 (GBP350M), 1.1900 (GBP325M)
AUD/USD: 0.6650 (AUD680.8M), 0.6800 (AUD565.7M), 0.6600 (AUD384.7M)
USD/MXN: 19.00 ($330.5M)
NZD/USD: 0.5650 (NZD423.9M)
CitiFX preliminary estimate of month-end FX hedge rebalancing flows points to moderate U.S. dollar selling against all major currencies except the euro. Although fixed income performed strongly across the board, our model suggests that both international equity and fixed income investors will likely be USD sellers this month-end,Japanese investors' needs to increase hedges on well-performing foreign fixed income strengthen the need to buy the yen and sell the dollar, although strong performance of European and UK fixed income weakens the buy signal for euro and sterling.

Overnight News of Note
US Futures Rise Slightly After Nasdaq Falls For A Second Day
Asian Stocks Rally As Banking Anxiety Eases As Alibaba Surges
President Biden Says Response To Banking Stress Not Over Yet
Fed's Watchdog Launches Own Investigation In SVB Supervision
US Could Buy Back Crude For Strategic Reserves Late This Year
Biden Pushes For Republican Proposal In Debt-Ceiling Standoff
GOP Demand Speedy Energy Permit, Price To Boost Debt Limit
US Withholds Nuclear Data From Russia In Tensions Escalation
Biden Aide Speaks With Chinese Counterpart As Tensions Flare
Chinese Planning Official Sees Risks To Global Growth, Inflation
BoJ New Deputy: To Examine Data Thoroughly In Guiding Policy
Australia's Monthly Inflation Eases, Bolstering Rate Pause Cases
Canada Plot Taxes On Banks, Raising Billions With Dividend Levy
UK Official Sees No Immediate UBS-Credit Suisse Deal Concerns
(Sourced from Bloomberg, Reuters and other reliable financial news outlets)

Technical & Trade Views
SP500 Bias: Intraday Bullish Above Bearish Below 4000
Primary resistance is 4078
Primary objective is 3804
Above 4040 opens 4078
20 Day VWAP bullish, 5 Day VWAP bullish
(Click on image to enlarge)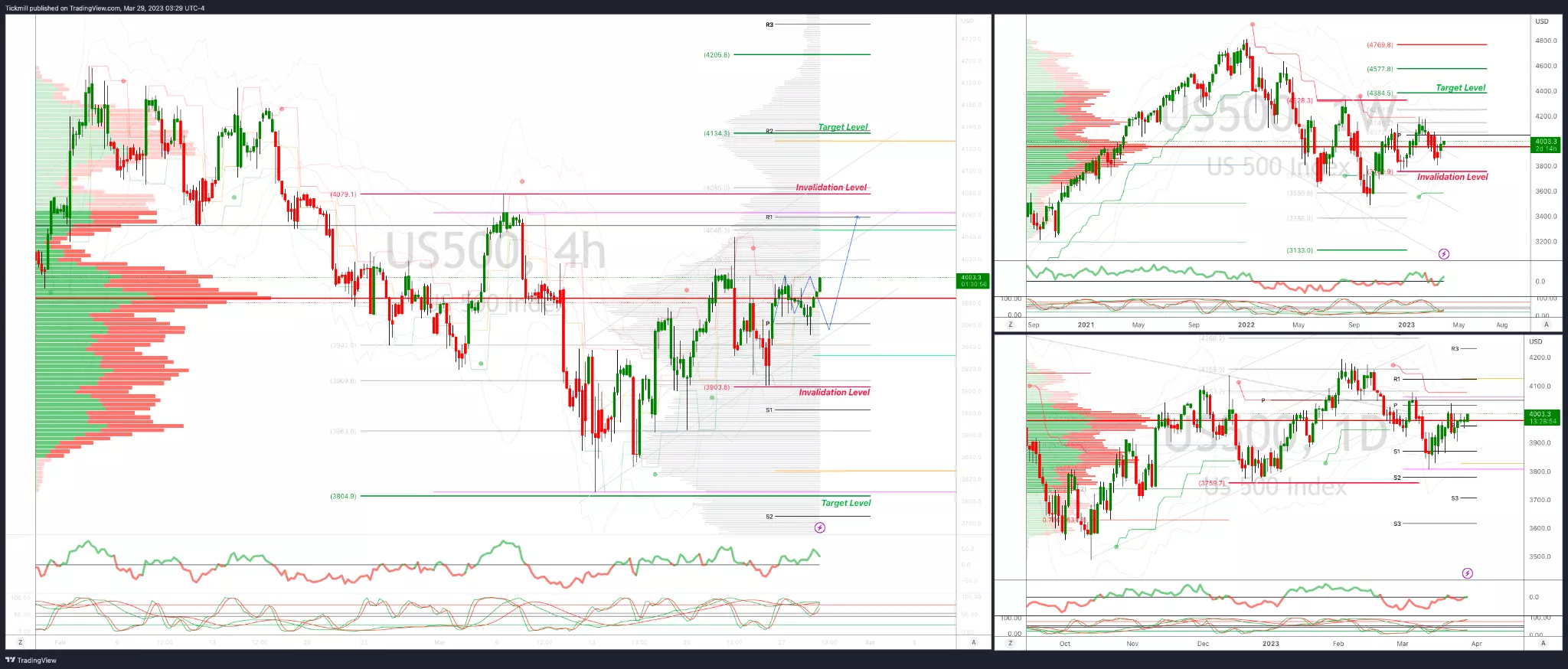 EURUSD Bias: Intraday Bullish Above Bearish below 1.0830
Primary support is 1.07
Primary objective is 1.1128
Below 1.0700 opens 1.0660
20 Day VWAP bullish, 5 Day VWAP bearish
(Click on image to enlarge)
USDJPY Bias: Intraday Bullish above Bearish Below 132.20
Primary resistance is 135.15
Primary objective is 129.15
Above 136 opens 137.90
20 Day VWAP bearish, 5 Day VWAP bearish
(Click on image to enlarge)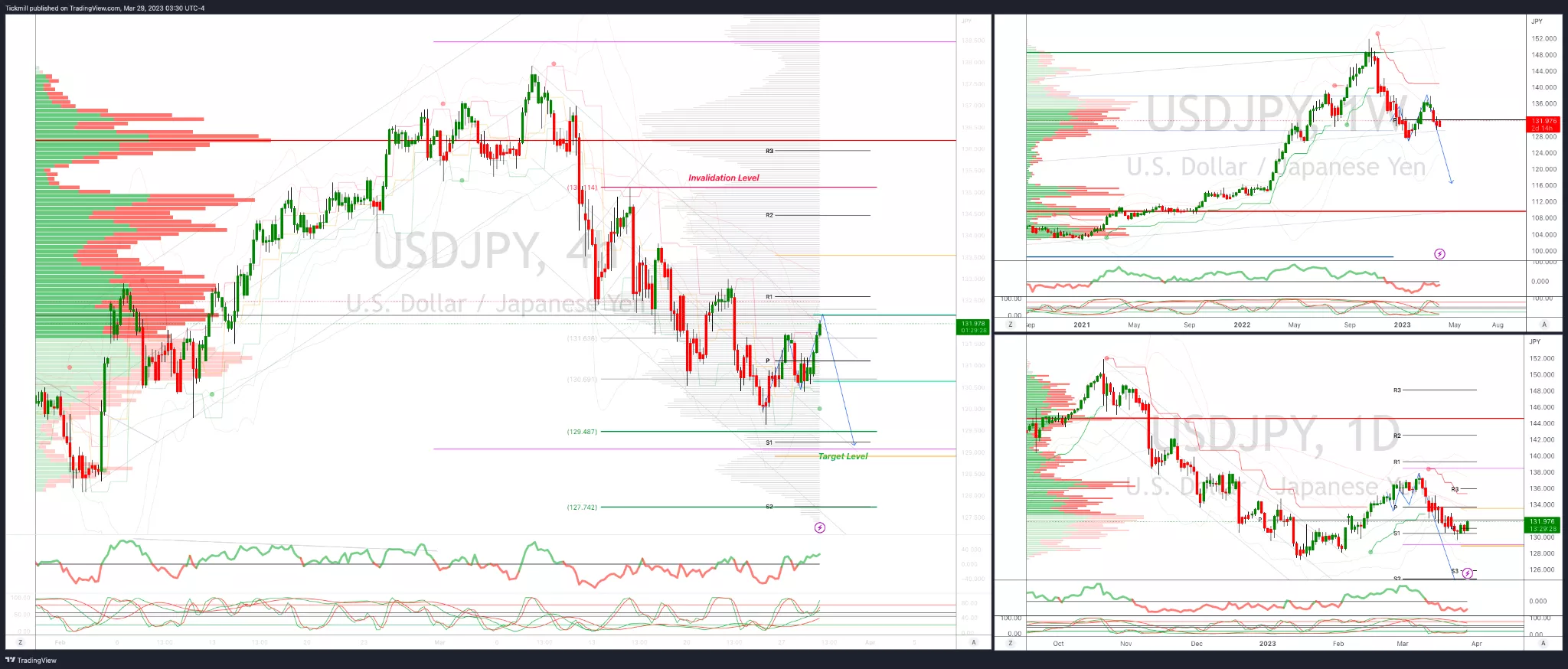 AUDUSD Bias: Intraday Bullish Above Bearish below .6696
Primary resistance is .6740
Primary objective is .6950
Below .6560 opens .6450
20 Day VWAP bearish, 5 Day VWAP bullish
(Click on image to enlarge)
BTCUSD Intraday Bias: Bullish Above Bearish below 26500
Primary support 23000
Primary objective is 30000
Below 23000 opens 22400
20 Day VWAP bullish, 5 Day VWAP bullish
(Click on image to enlarge)
---
More By This Author:
Daily Market Outlook - Friday, March 24
Daily Market Outlook - Thursday, March 23
Daily Market Outlook - Wednesday, March 22
Disclaimer: The material provided is for information purposes only and should not be considered as investment advice. The views, information, or opinions expressed in the text belong solely to ...
more