WeWork Competitors Are Dancing On Its Grave After Historic IPO Collapse
The WeWork fairy tale has obviously come to an end for the time being, as the company was forced to pull its IPO amidst a chorus of skepticism and outright ridicule after filing its IPO prospectus earlier this year.
And now, the little companies that WeWork trampled on to make its mad dash into becoming the unprofitable behemoth it is today are all ready to strike back, according to Bloomberg.
"Happy birthday to me, happy birthday to me," sang a senior executive of another co-working company who asked not to be identified.
After WeWork's historic collapse at the doors of the public market, competitors like IWG Plc, Convene, Industrious and Knotel are now all pitching themselves as far more stable options for rental office space.
In fact, three large U.S. landlords have even reached out to Novel Coworking to see if the company would be interested in buying or managing buildings leased to WeWork.
Novel Chief Executive Officer Bill Bennett said: "Everyone is having conversations behind closed doors. People are trying to find their plan B and plan C."
It's a far cry from when WeWork employees would visit competitors, posing as customers, and perform business intelligence recon by photographing their tenant lists and contacting customers with incentives to move. WeWork would also sometimes set up outside of competitors' offices with games and couches to try and pitch customers as they walked by. Up until this summer, WeWork was adding more than 1 million square feet per month and had become the biggest private-sector tenant in London, New York, and Washington.
WeWork employees told Bloomberg they hadn't even heard of the IPO troubles (yeah, sure), while customers say that the company's day to day feels normal.
(Click on image to enlarge)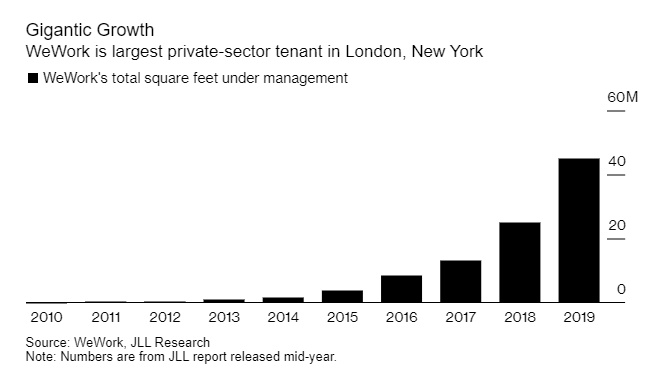 According to the Wall Street Journal, Nori Gerardo Lietz, a senior lecturer at Harvard Business School said of WeWork's IPO:
Copyright ©2009-2015 ZeroHedge.com/ABC Media, LTD; All Rights Reserved. Zero Hedge is intended for Mature Audiences. Familiarize yourself with our legal and use policies every time you engage ...
more