Atara: The Silver Bullet For Multiple Sclerosis
We always live in an uncertain world. What is certain is that the United States will go forward over time. - Warren Buffett
In my view, a copycat drug usually procures meager sales. By the time a biosimilar comes to the market, a legion of "me too" therapeutics already decimated the profit margin. On the contrary, the largest investment profits typically arise from a molecule with a novel mechanism of action. Essentially, investors reward for innovation rather than duplication. Despite my affinity for tab-cel, I believe that Atara Biotherapeutics (ATRA) has two wildcards with a disruptive mechanism of action that can galvanize the company's prospects.
Specifically, ATA-188 and ATA-190 are designed as silver bullets for the dread condition (multiple sclerosis). They attack multiple sclerosis as if the disease is of viral origin rather than autoimmune. This is in stark contrast to the conventional paradigm that multiple sclerosis is strictly autoimmune. As such, I believe that any positive news on this front will induce a vigorous rally. In this research, I'll present a fundamental analysis of Atara while focusing on the multiple sclerosis franchise.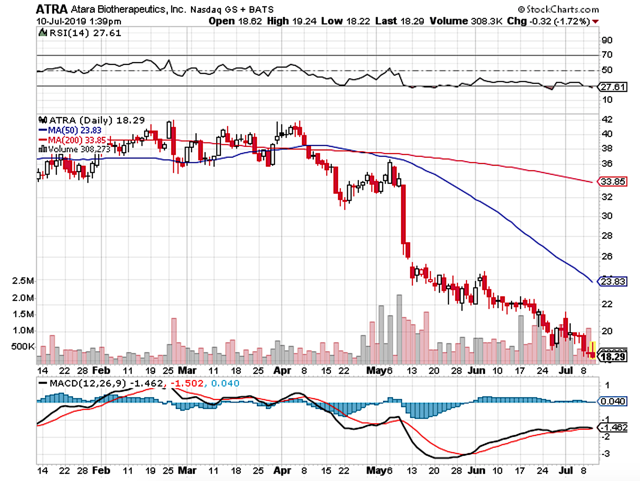 Figure 1: Atara chart (Source: StockCharts)
About The Company
As usual, I'll deliver a brief corporate overview for new investors. If you are familiar with the firm, I suggest that you skip to the subsequent section. Headquartered in San Francisco California, Atara is focused on the innovation and commercialization of allogeneic T-cell immunotherapies ("A-TCI") to serve the strong unmet needs in cancer and autoimmune diseases. Since A-TCI functions similar to a CAR-T, it activates the most important cells of the immune system (i.e. T-cells). I noted in the prior research,
Instead of engaging CD4 (helper T-cells), A-TCI primes CD8 (killer) T-cells with intelligence to improve these cells' adeptness at detecting and destroying cancers and virus. Powering by A-TCI, Atara is growing a robust pipeline of immunotherapies. The partnership with Memorial-Sloan Kettering (MSK) also enabled Atara to deliver the next-generation mesothelin-targeted CAR-T (i.e. MT-CART).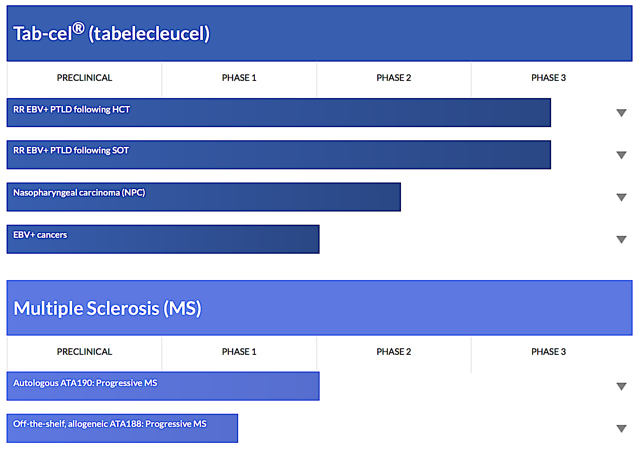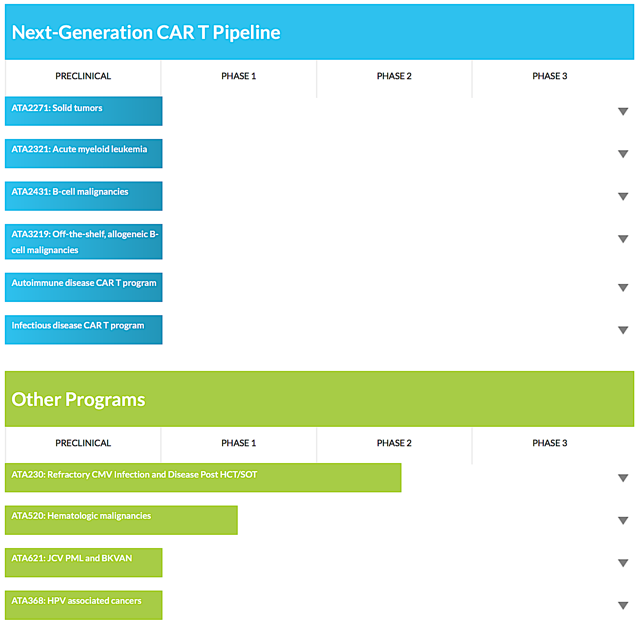 Figure 2: Therapeutic pipeline (Source: Atara)
Hopes For Multiple Sclerosis
On June 29, 2019, Atara announced that the company presented the Phase 1 safety data of ATA-188 for multiple sclerosis ("MS") at the 5th Congress of the European Academy of Neurology (EAN) in Oslo Norway. As an autoimmune disease, MS incites the body's natural defense system to go "haywire" and thereby attacks normal tissues. In this case, the central nervous system ("CNS") that include brain and spinal cord are at the mercy of the immune system.
As the CNS that controls the functioning of other organs are decimated, MS patients suffer from a plethora of manifestations. They include tingling, numbness, pain, spasm, weakness, dizziness and other problems relating to vision, balance, and cognition. Sexual dysfunction and bladder issues are also common.
Accordingly, patients are diagnosed based on physical manifestations with a supporting CNS scan. The mainstay treatments are steroids and immunosuppressants to calm down the immune system. Nonetheless, there is a strong demand for novel treatment due to the adverse effects of the aforesaid standard of care. It's worthwhile to note that current MS therapies do not modify the disease course. Patients will ultimately succumb to this debilitating disease.
Disclosure: I
have no positions in any stocks mentioned, and no plans to initiate any positions within the next 72 hours.
As a medical doctor/market expert, Dr. Tran is not a registered ...
more