Williams Companies Sees A Climate Change Winner In Natural Gas
Last week Williams Companies (WMB) held their first-ever ESG Event. As might be expected, the most interesting parts were on the "E" (Environmental). It's hard to find much original to say on Social Issues, and Governance should simply mean following industry best practice.
WMB is in a position to be a big winner from policies to combat climate change. If pragmatists seize control from renewable evangelists, which they should now that Democrats own the issue, they'll realize that measurable progress on reducing emissions will come from natural gas. Rising CO2 emissions over the next couple of years will be no surprise after almost a year of lockdowns. But the deteriorating mix of power generation (i.e. more coal and a negligible increase in clean energy) means that President Biden isn't assured of overseeing lower emissions during his current term.
There may be valid reasons but failing to reduce emissions below their prevailing level at Trump's exit will represent failure. Gains in natural gas over coal for power generation are set to reverse this year, because of higher prices for the former (see Emissions To Rise Under Democrats). Democrat policies to inhibit oil and gas production are already having an impact. Spending on new production continues to fall.
WMB moves 30% of America's natural gas, much of it via their extensive Transco pipeline that runs from Texas to NY. Originally built to supply natural gas from the southeast to New York, in recent years it's switched directions in places. Some natural gas now moves south, from the Marcellus Shale to Cheniere's LNG export facilities in Texas and Louisiana.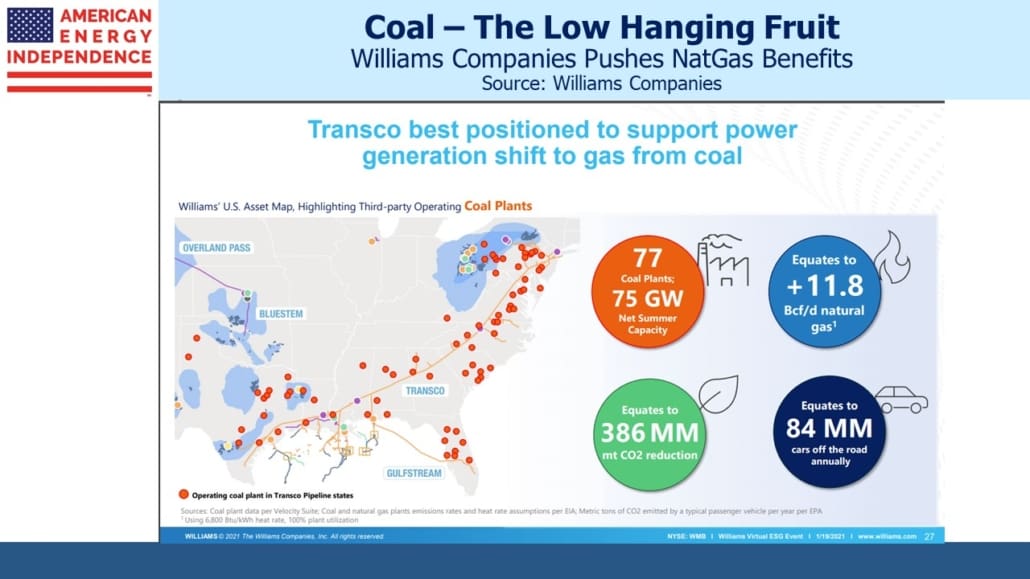 WMB has identified 77 coal-burning power plants that are within Transco's "footprint". That is, they operate in a state through which Transco passes, and therefore can be supplied with natural gas should they be converted. Converting them all would lower US energy-related CO2 emissions by over 8%.