Will Lumber Prices Prick US Housing Bubble Or Will Low Mortgage Rates Prevail?
CONCERNS ABOUT US HOUSING MARKET, OVERHEATING ECONOMY
There's a lot of chatter among market participants about the state of the US housing market, which has seen its strongest run of price growth since 2006 – right before the last US housing bubble burst, which helped lead to the Global Financial Crisis. Concerns were heightened this week after US Treasury Secretary Janet Yellen said that "it may be that interest rates will have to rise somewhat to make sure that our economy doesn't overheat" when discussing the potential impact of US President Joe Biden's latest stimulus bill.
GOOGLE TRENDS "HOUSING BUBBLE" (MAY 2011 TO MAY 2021) (CHART 1)

This isn't just a concern from policymakers. Everyday Americans are taking notice of the state of the US housing market too. In fact, Google searches for the term "housing bubble" are approaching their highest level over the past ten years. The big questions for traders and investors alike are thus: will the Fed's regime of low rates continue to entice homebuyers as mortgage rates remain historically low? Or will rising costs sideline buyers – and finally take air out of the recent US housing price bubble?
RAW MATERIALS PUSHING PRICES
"Growth" was expected to be the story of 2021, thematically speaking. The rise in commodity prices reinforces the idea that this expectation has become reality. But lumber prices are blowing away other major commodities in terms of their price-performance year-to-date, up by nearly +95%: corn is up over +51%; copper has gained over +34%, and wheat prices are up a paltry +19% by comparison.
LUMBER FUTURES PRICE CHART: WEEKLY TIMEFRAME (MAY 2011 TO MAY 2021) (CHART 2)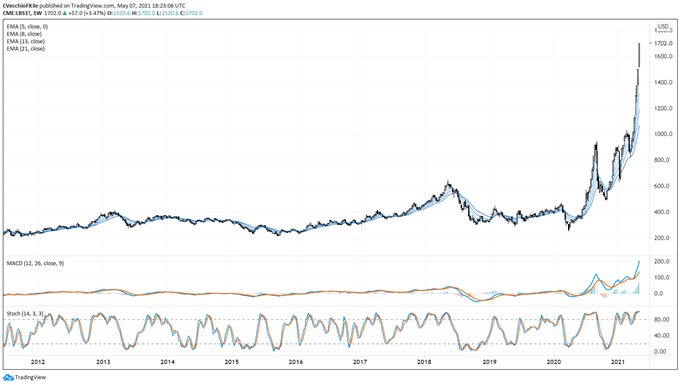 The US housing inventory is at its lowest level in four decades, while supply chain issues (e.g. closed sawmills) have helped lift lumber prices to all-time highs, leading to over a $35K increase in new home prices in the US since the start of 2021. Until supply chain issues are resolved, input costs for new homes will remain high, effectively squeezing a certain segment of first-time homebuyers out of the market.