Why Biden Could Be Good For Gold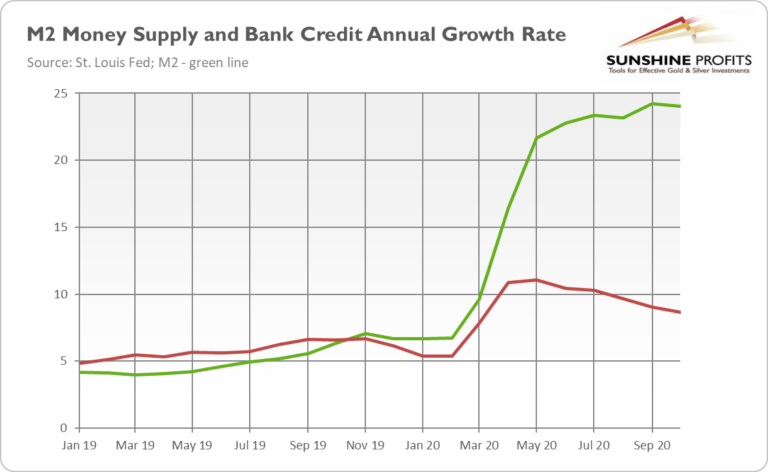 President-elect Joe Biden is expected to increase further government spending. For this and also other reasons, there is a risk that inflation under Biden's presidency could be higher than under Trump's. That would be great news for gold.
Not An Easy Presidency To Inherit
Let's face it, Biden won't have an easy presidency. And I'm not referring to the fact that he will be sworn in as the oldest president in U.S. history or that he will have to deal with the coronavirus pandemic and the process of vaccine distribution across the country. I'm referring to Biden inheriting an economy with slow growth and too much public debt. Given the debt burden, it should be clear that under Biden's presidency, real interest rates will remain at ultra-low levels. This is how a debt trap works – the more the debt grows, the less the economy (Treasury) can afford higher interest rates.
Moreover, Biden will have to face the risk of inflation. Actually, some analysts say that the new POTUS could contribute to the rise of prices. Is it true? Will we finally see an acceleration in the inflation rate?
So far, consumer inflation has been subdued. As the chart below shows, the CPI overall annual rate has declined from 2.3 percent before the epidemic to 1.2 percent in October.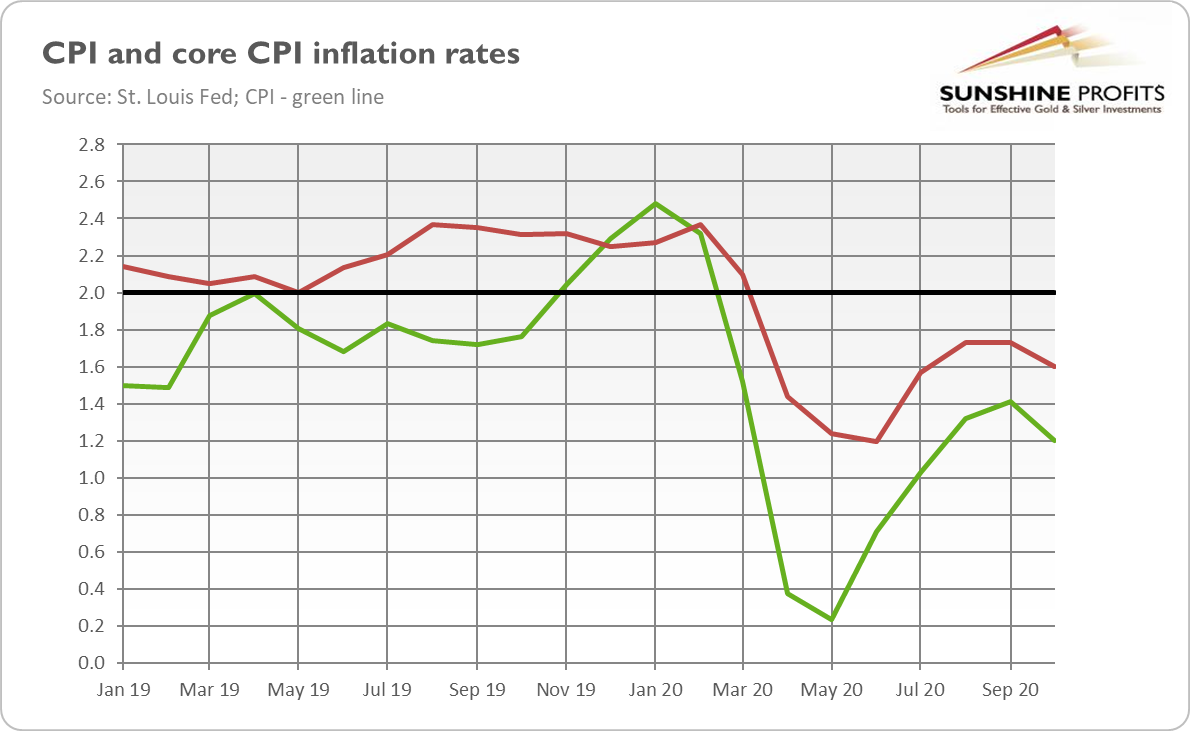 The Risk Of Inflation
For some people, this is all really surprising given all the money pumped by the Fed into the economy. However, the disinflation is perfectly in line with our predictions from the May edition of the Gold Market Overview: "In the short run, we expect disinflation, but we think that the risk of inflation later in the future is higher than a decade ago."
Indeed, in the short-run, the negative demand shock outweighed other factors, and people simply increased their demand for money because of the enormous uncertainty and limited opportunities to spend money in the offline economy.
If you enjoyed the above analysis and would you like to know more about the most important macroeconomic factors influencing the U.S. dollar value and the price of gold, we invite you to read the ...
more