What The Oil Short-Sellers And OPEC Don't Know About Peak Shale
Last week on Bloomberg News, Javier Blas wrote of a new "Shale Boom" that could...create "OPEC's Worst Nightmare".
That sentiment reflects a broad consensus of opinion that has driven oil prices down 30% in two months. The central theme of the article was that the spike in year-on-year change of U.S. production of "oil, condensate, and natural gas liquids", to 3.0 million barrels per day (MBPD) in August 2018, was proof of shale-oil's continuing resurgence.
And the price of bananas is up this month too. That's obviously proof; the year-on-year change in U.S. shale oil production was 1.78 MBPD in August 2018, this month its 1.32 MBPD. That's down (20%), not up.
A large part of the rest of that was non-shale crude oil; 400,000 BPD new offshore-production coming on-line from, zero the month before. That extra-production was sanctioned before the 2014 bust; which illustrates how long it can take from the final decision for a non-shale-oil venture, until the oil starts to flow. In any case, one spike is not a trend; last month that was down to 300,000 BPD.
This is the chart put up by Javier Blas, with shale-oil superimposed: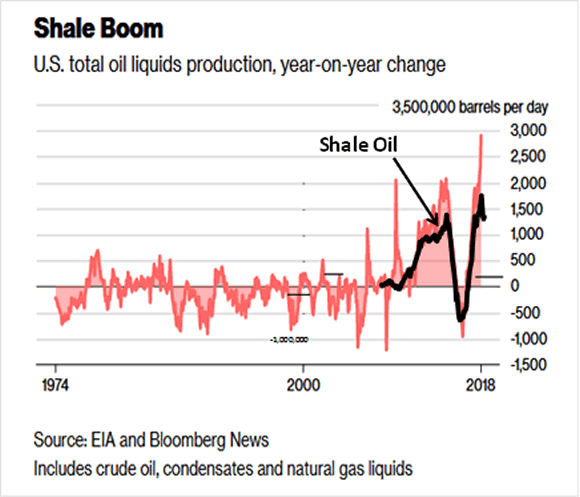 However you look at it, change in shale-oil production has been trending down for the past six months. That's not a sign of a boom set to explode, rather the opposite.
Perhaps the confusion was because the Energy Information Administration (EIA), which reports all those numbers, issues multiple, and in some cases, overlapping-reports, so now-and then commentators can confuse apples with banana's, or condensate with crude. Also EIA doesn't add-up all the numbers; so to make useful comparisons, sometimes it's necessary to do a little simple arithmetic.
This is a chart of the more recent history: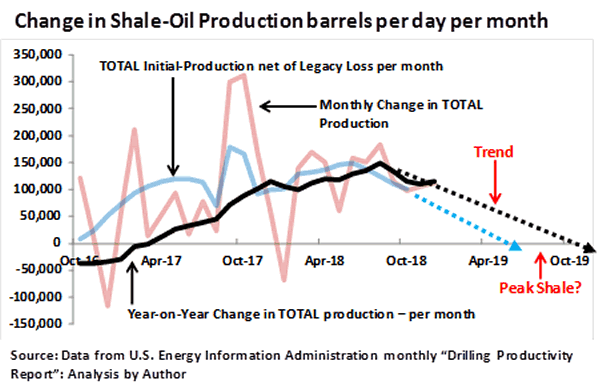 The black line is the one line in the preceding chart, divided by 12-months for comparison with other monthly estimates. The blue line is total initial production (IP), calculated by multiplying IP-per-rig in each region by numbers of rigs, adding that up and then subtracting total legacy loss. That's a measure of the capacity, and the enthusiasm of operators to drill.
OK; the down-trend could be a blip, eyeballing trends is a mug's game; but right now the trend is not up, it's down; in other words the conclusion of "Shale-Boom round the corner", might have been incorrect? Perhaps that tag-line should be re-worded to say "Black Swan on the Horizon"?
"Black-Swan" because if shale doesn't deliver what almost everyone is projecting, and conventional E&P, which is still in the doldrums, cannot deliver enough to plug that gap, which is what the CEO of Schlumberger and the Director of IEA, recently warned might happen, the price of oil could spike.
Granted, there are plausible reasons for why the trend in growth-rate of shale-oil production has been going down, not up, some of which are presented by Javier Blas. His overriding thesis is that now, the pipelines serving Permian, are maxed-out, new pipelines are being built, once those come on line, there will be a boom.
The above is a matter of opinion provided for general information purposes only and is not intended as investment advice. Information and analysis above are derived from sources and ...
more