Uranium Soars After Sprott Massively Upsizes Buying Program By $1BN To $1.3BN
Yesterday, when looking at the record inflows into the uranium ETF URNM, pointing out that Japan's (most likely) next prime minister is now actively considering restarting the country's mothballed nuclear power plants, and recapping the Sprott physical uranium trust thesis, we said that "It has arrived" predicting that "after years of being left for dead, the uranium sector is not only vastly outperforming the broader market but its upside from here could be dramatic."
Well, 24 hours later, and a 10% move higher across the uranium sector...
(Click on image to enlarge)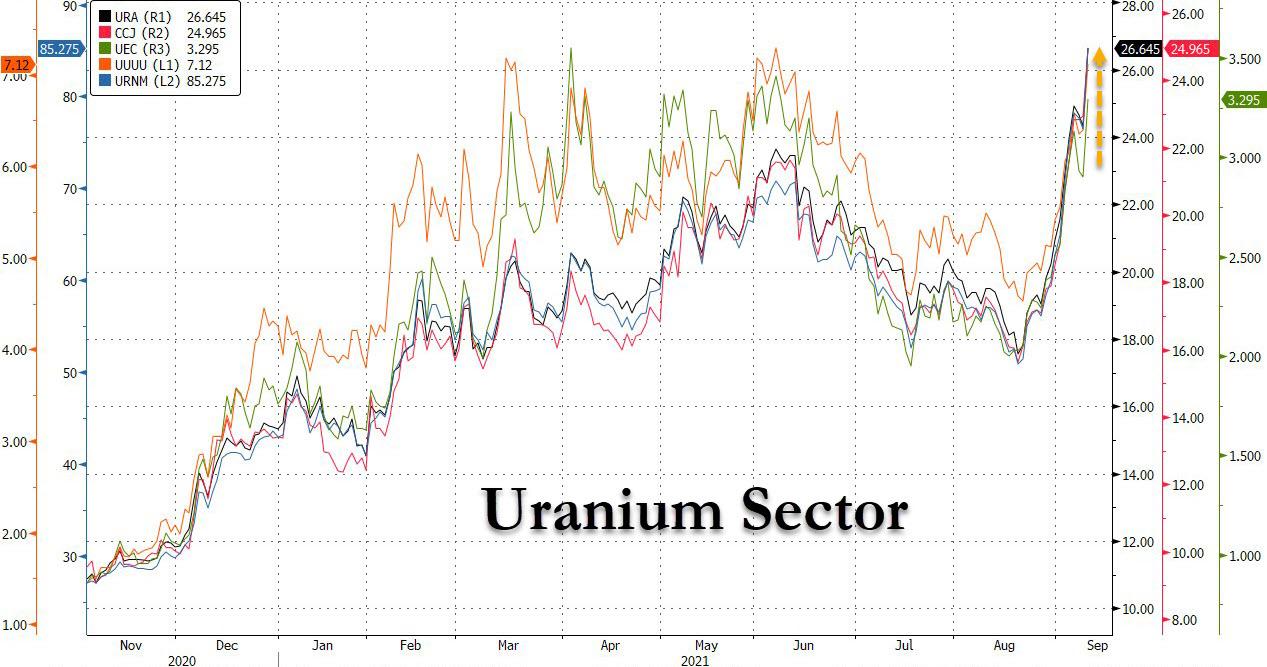 ... it appears we are on to something. Because while inflows into the URNM ETF continue at a record, torrid pace, there was a fundamental driver behind today's latest ramp in the uranium sector.
(Click on image to enlarge)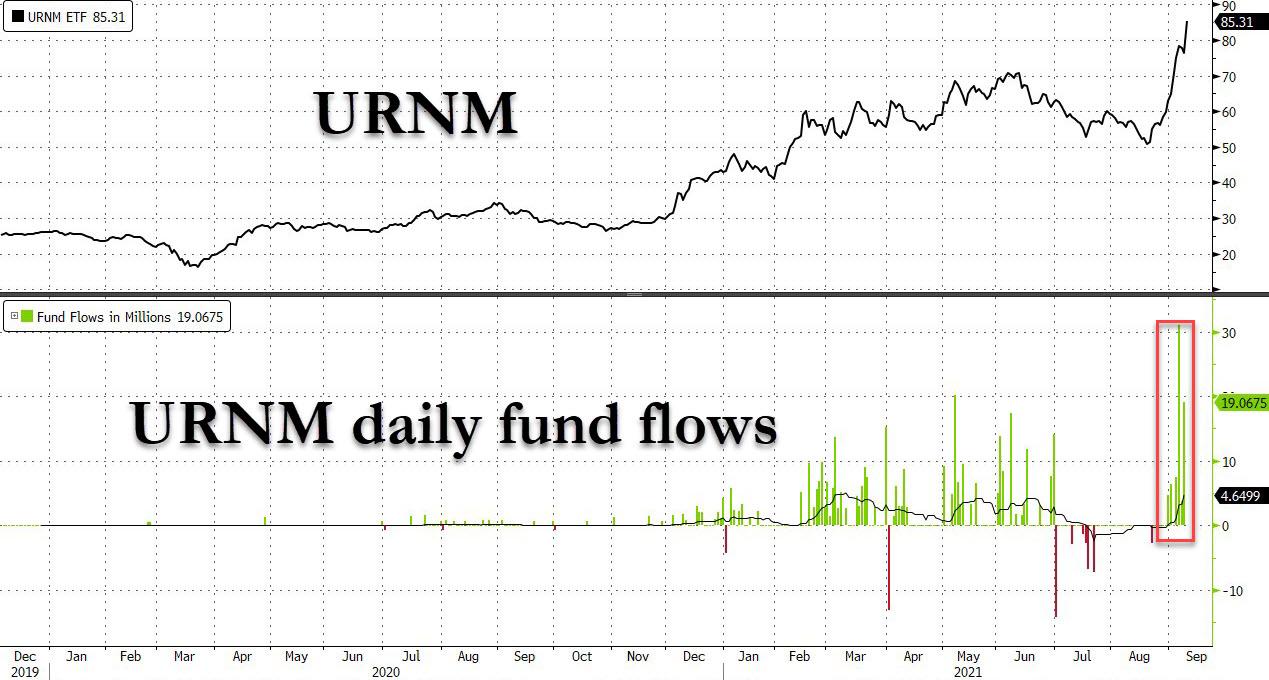 The primary driver behind today's surge appears to be the upsizing of the Sprott Physical Uranium Trust, which as discussed here last week, has sharply moved prices higher by buying uranium on the spot market, and which amended its at-the-market program to be able to raise up to $1.3 billion.
As explained here, the recent spike in prices started due to Sprott Physical Uranium Trust buying uranium in the spot market after they started its previous at-the-market equity program to raise $300 million on Aug 17.
Not even three weeks later, the Trust has already issued 24.7 million units for gross proceeds of approximately US$244.7 million. So with demand rising, and supply about to run out, and also seeing the profound impact this modest ATM buying has had on the sector, Sprott decided to upsize the buying program dramatically and on Friday the trust filed an amended and restated base shelf prospectus, which allows it to issue up to $1.3 billion of units of the Trust in Canada, more than 4x more than the original proposed amount.
"Our 'at-the-market' equity program has been very well received by investors. Since its launch on August 17, 2021, the Trust has issued 24.7 million units for gross proceeds of approximately US$244.7 million," said John Ciampaglia, CEO of Sprott Asset Management.

"The amount available under our Amended and Restated Shelf Prospectus is expected to allow the Trust to continue to meet investor demand by issuing new units and actively accumulate physical uranium."
Disclosure: Copyright ©2009-2021 ZeroHedge.com/ABC Media, LTD; All Rights Reserved. Zero Hedge is intended for Mature Audiences. Familiarize yourself with our legal and use policies ...
more