These 5 Mining Stocks Are Each Trading At A Substantial Discount To Their Net Asset Value
Price to Net Asset Value (P/NAV) can be used to determine whether or not a stock is trading at a premium or a discount. As the NAV is the net present value of all future cash flows from a project, and the stock price is what you are willing to pay for the company's future cash flows, if the P/NAV is greater than 1.0x the stock is said to be selling at a premium, or if it's below 1.0x it is said to be at a discount. That being said, the small cap mining stocks on our list today may all be worth a look as the P/NAVs are all trading at what is considered to be a substantial discount.

1. Dominion Diamond Corp. (TSE:DDC) – $11.40
Non-Gold Precious Metals & Minerals
Dominion Diamond Corporation is a diamond mining company focused on the mining and marketing of rough diamonds to the global market. The Company's segments include the Ekati Diamond Mine, the Diavik Diamond Mine and the Corporate segment. It supplies rough diamonds to the global market from its operation of the Ekati Diamond Mine (in which it owns a controlling interest) and its approximately 40% ownership interest in the Diavik Diamond Mine. It controls the Ekati Diamond Mine, as well as the associated diamond sorting and sales facilities in Toronto and Yellowknife, Canada, Mumbai, India, and Antwerp, Belgium.
Market Cap: $972.83(mm)
YTD Price PCT Change: -19.4%
Net Asset Value – Actual (CAD, Millions): $1,785.55
P/NAV: 0.5x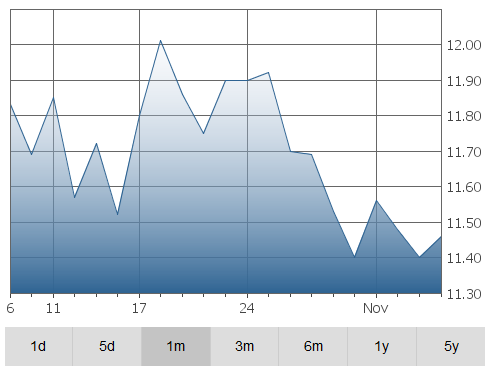 2. Sherritt International Corp. (TSE:S) – $0.85
Specialty Mining & Metals
Sherritt International Corp is engaged in mining and refining of nickel from lateritic ores with operations in Canada, Cuba and Madagascar. The Company's segments include Metals, Oil and Gas, Power, and Corporate and Other. The Metals segment includes mining, processing and refining nickel and cobalt from lateritic ore bodies. It has a partnership with General Nickel Company S.A. (GNC) of Cuba (the Moa Joint Venture) and approximately 40% interest in the Ambatovy Joint Venture that owns a nickel operation in Madagascar.
This article may have been edited ([ ]), abridged (...) and/or reformatted (structure, title/subtitles, font) by the editorial team of munKNEE.com (Your Key to Making Money!) to provide a faster ...
more