The SPR Reserves Continue To Fall To 2003 Levels
"Davidson" submits:
US Crude Prod 11.7mil BBL/Day unchanged vs last week, Total US Crude Inv 0.8mil BBL lower (working inv 0.5mi BBL higher & SPR 1.3mil BBL lower), US Crude Imports unchanged
US Exports Refined Prod fall with Refinery Inputs unchanged as US Gasoline inv builds 6mil BBL, Jet Fuel consumption unchanged
This is the early beginning of the Spring shut down maintenance period. Gasoline Inv have been built to compensate demand during refinery work. Exports of refined products have fallen sharply in recent weeks as a result. US Crude Production, inventory reductions continue to reflect conservative capital allocations. Jet Fuel consumption remains below the 2012 trend just as domestic consumption of refined products remains solidly above trend.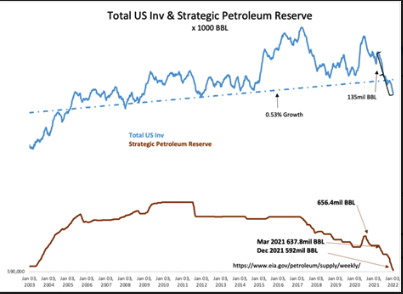 Disclaimer: The information in this blog post represents my own opinions and does not contain a recommendation for any particular security or investment. I or my affiliates may hold positions or ...
more