EC

The Return Of Inflation. Can Gold Withstand The Dark Side?
Inflation broke into the economy violently. It's a destructive, dark force. But gold can resist it, being after all a much stronger asset than Anakin Skywalker.
Last month, I wrote that "inflation is knock, knock, knockin' on golden door". I was wrong. Inflation didn't knock, it broke down the door! Indeed, as the chart below shows, the core CPI surged 3%, while the overall CPI annual rate soared 4.2% in April – this is twice the Fed's target!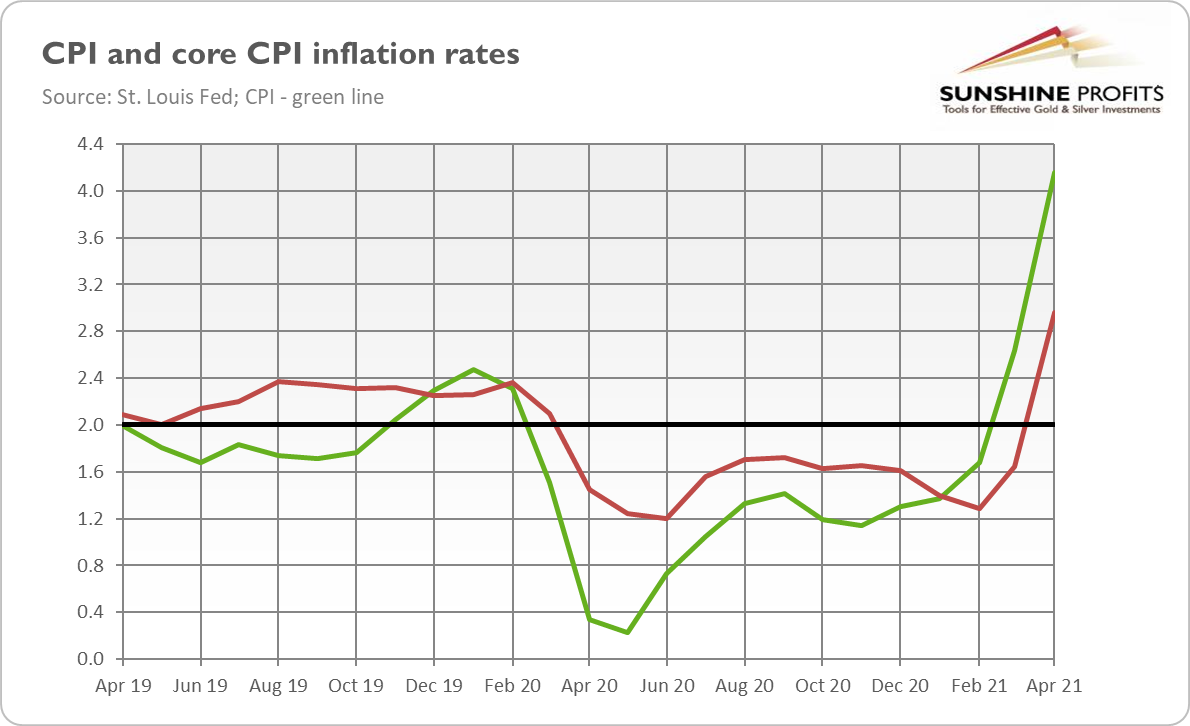 Now, the question is whether this elevated inflation will turn out to be just "transitory", as the Fed and the pundits claim, or become more permanent. On the one hand, given that April-May 2020 was the worst phase of the pandemic with the deepest price declines, the current high inflation readings are perfectly understandable, and we could see lower numbers later this year.
On the other hand, inflation may be higher and/or more persistent than many analysts believe. After all, the April reading came as a shock for them and even for the top US central bankers. For example, Richard Clarida, the Fed Vice-Chair, said: "I was surprised". It shows that there is more in high inflation than just the base effect. Indeed, the CPI index with February 2020, i.e., the last pre-pandemic month as a base, has jumped 3.1% so far – lower but still significantly above the Fed's target.
It shouldn't be surprising given the surge in the broad money supply and increase in fiscal transfers to citizens. Incomes are higher and people are ready to spend their money. Stronger demand met with supply shortages, so the prices rose. And what is important, the increases are widespread: from commodities to used cars and houses.
However, there are a few important upside risks to inflation. First, a rise in wages. Although employment is far from the pre-epidemic level, entrepreneurs struggle to find workers. Therefore, they could be forced to increase wages to pull employees away from generous government benefits. If passed on, higher input costs would translate into higher consumer prices.
Disclaimer: Please note that the aim of the above analysis is to discuss the likely long-term impact of the featured phenomenon on the price of gold and this analysis does not indicate (nor does ...
more