The New "Dr. Copper"s…"Dr. KSU Andd Dr. FAST" Indicate Higher Equity Prices Ahead
"Davidson" submits:
Market prices are set by market psychology. Prices are investor anticipation of future financial trends which they believe other investors will come to recognize and drive prices which benefit those who are early to the trends. It is a complex mix of investor perspectives. Investors simplistically fall into two style buckets with one bucket representing Value Investors and the other Momentum Investors. The Value Investor assesses economic, business and government policy fundamentals to guide decisions which they believe are likely to be profitable over several years. The Momentum Investor is a trader often using margin, computer-guided algorithms taking short-term positions on cues from price-trends. The illustration schematically contrasts Value Investors as early decision-makers using long-term fundamental economic trends to anticipate reports which they expect will influence other investors' decisions. Most investors wait till financial reports establish a trend which is obvious. One observes market prices routinely reset in response to reported outcomes, i.e. after the fact. Momentum Investors wait till enough investor psychology has shifted that a price-trend is more obvious and then essentially ride-the-trend much like surfer on a wave. Their goal is to capture the trend early and exit before the trend turns against them. To be a Value Investor one needs to build knowledge gaining experience and judgment over years of detailed analysis and anticipate economic/fundamental outcomes before they become headlines. Value Investors with their long-term perspective create the major cycle lows which occur during recessions. Momentum Investors following price-trends and being insensitive to valuations create major cycle peaks and rapid selloffs whenever news is worse than expected. To be a full-cycle investor, one needs to understand both Value and Momentum Investor thinking.
(Click on image to enlarge)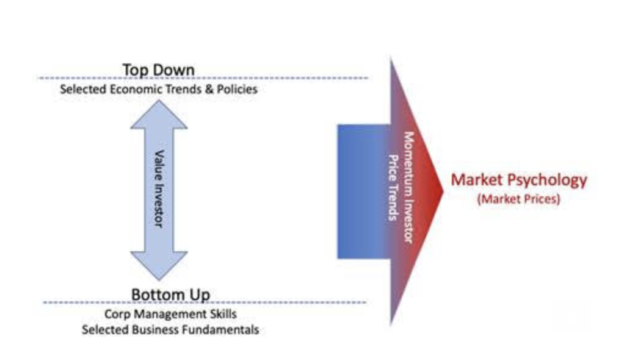 Economic/business Fundamentals and government policy drive economic trends…
…which in turn drive reported outcomes…
…which, in turn, drive headlines…
…which, in turn, drives market prices.
Market outcomes have limited visibility. Most investors rely on proxies for insight. For decades copper prices, "Dr. Copper", were believed to provide quick and simple insight on which to make investment decisions. More recently many have turned to oil prices. Recent correlations and market commentary indicate oil prices are part of many algorithms and a significant economic forecasting tool.
Disclosure: The information in this blog post represents my own opinions and does not contain a recommendation for any particular security or investment. I or my affiliates may hold positions or ...
more