EC

The Fed Worries About Inflation. Should We Worry About Gold?
​​​​​Oops!... Gold did it again and declined below $1,800 last week. What's happening in the gold market?
Image Source: Pixabay
Did you enjoy your roast turkey? I hope so, and I hope that its taste – and Thanksgiving in general – sweetened the recent declines in gold prices. As the chart below shows, the price of the yellow metal (London P.M. Fix) plunged from above $1,860 two weeks ago to above $1,780 last week. It has slightly rebounded since then, but, well, only slightly.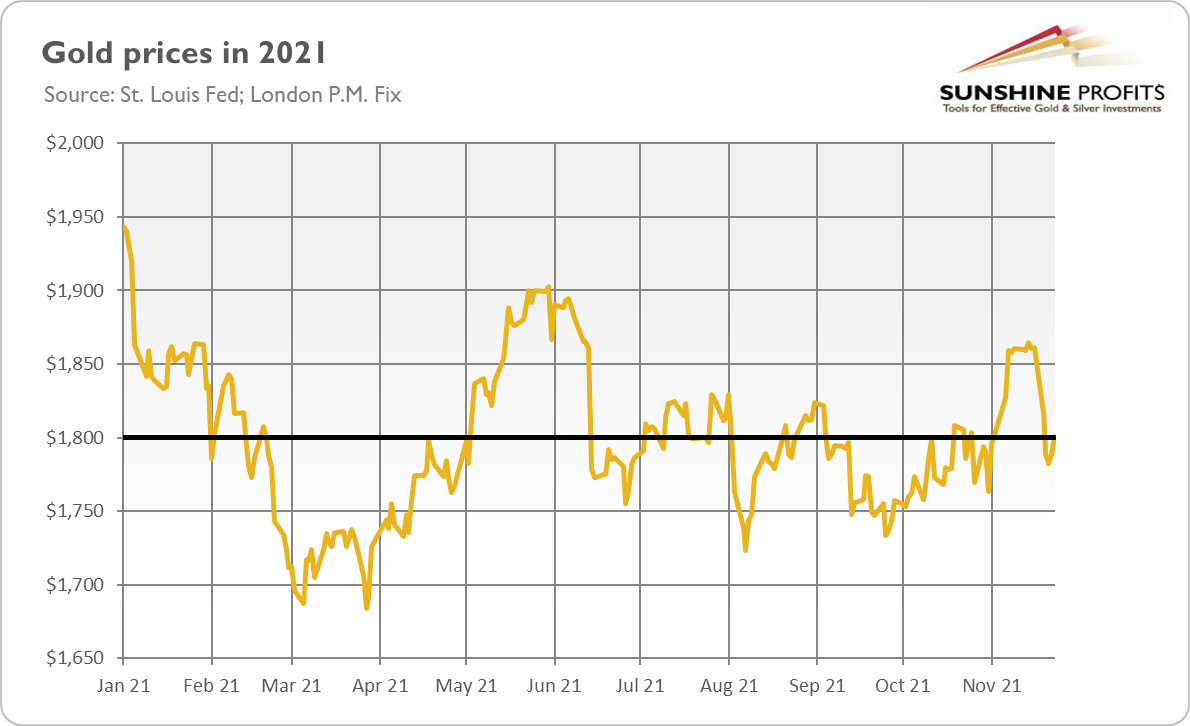 What exactly happened? Funny thing, but actually nothing revolutionary. After all, the reappointment of the same man as the Fed Chair and the publication of the FOMC minutes from the meeting that had already took place earlier in November, were the highlights before Thanksgiving.
Well, sometimes lack of changes is a change itself and information about the past can shed some light on the future. Let's start from Powell's renomination for the second term as the Federal Reserve chair. In response, the market bets that the Fed will hike interest rates more aggressively in 2022 have increased. At first glance, the strong investors' reaction seems strange, given that the monetary policy shouldn't radically change with Powell still at the helm.
However, the continuation of Powell's leadership implies that Lael Brainard, regarded as more dovish than Powell, won't become the new Fed Chair – what was expected by some market participants. Hence, the dovish scenario won't materialize, which is hawkish for gold.
Just two days later, the FOMC revealed the minutes from its November meeting. The main message – the Fed decided to taper its quantitative easing – was, of course, included in the post-meeting statement. The minutes revealed, however, that the Fed officials had become more worried about inflation and had expressed a more hawkish stance than the statement suggested.
Please note that the aim of the above analysis is to discuss the likely long-term impact of the featured phenomenon on the price of gold and this analysis does not indicate (nor does it aim to do so) ...
more