Tesla Now Accepts Gold In Payments! Market Reacts
After starting to accept Bitcoin in payments, Tesla will also include gold as a possible means to purchase its electric vehicles.
It's groundbreaking news that will make gold investors proud. Tesla, the electric vehicle maker, just announced that it will accept not only Bitcoin but also gold in payments for its products. The official announcement says that "the company will accept U.S. dollars, Venezuelan pesos, bitcoins, and gold in payments for Tesla cars, space rockets and other products". The statement followed Elon Musk's tweet saying, "Forget Dodge, gold is the ultimate money".
The yellow metal skyrocketed after this latest news, reaching $2,345.67 per ounce (see the chart below), marking the biggest daily gain in the history of the gold market.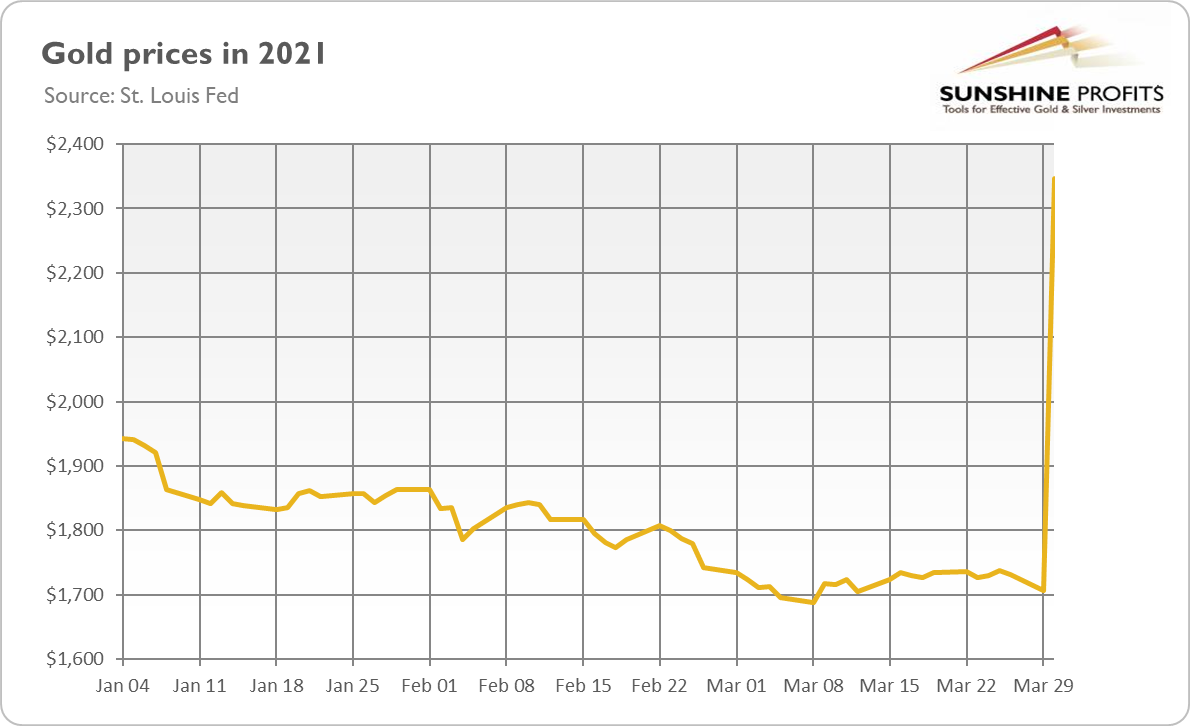 Figure 1 - The April First Data Centre
It shouldn't be surprising, and other companies may now follow Tesla and begin to accept payments in gold, which, after all, served as money for thousands of years. If this happens, the demand for gold – which is currently not used as the means of payments – could soar.
It's too early to say whether we are observing the beginning of the end of fiat currencies and the demise of the U.S. dollar, but it's clear that we're entering, well, a golden era for gold.
To those of you who've gotten this far into the article and maybe excited, please note that this entire article is our April Fools' Day joke – none of the above, including the chart – is true.
Disclaimer: Please note that the aim of the above analysis is to discuss the likely long-term impact of the featured phenomenon on the price of gold and this analysis does not indicate (nor does it ...
more