Swiss Asset Manager Florian Siegfried: Look For Value Opportunities And Put Your Capital To Work Selectively In This Market
In a junior mining market that doesn't value good news, M&A could be the golden ticket that pays investors a premium for their patience. In this interview with The Gold Report, AgaNola Asset Manager Florian Siegfried evaluates recent deals and points to the companies that could be the next takeovers. Plus, he makes a bold prediction for what the recent takeout activity and fallout from the Greek crisis could mean for the resource market as soon as October.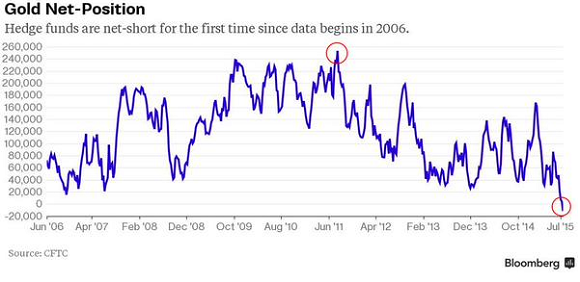 The Gold Report: When we talked in November, you warned that there would be downward pressure on gold this year. What are you anticipating for the balance of 2015 and into next year?
Florian Siegfried: We were being cautious in November when we published guidance that indicated gold could trade as low as $1,070 per ounce ($1,070/oz) as a support zone. And that is pretty close to where it is trading right now. But I think that we have to distinguish between the paper price of gold and the physical price, which trades at a premium. For example, the U.S. Mint currently sells gold at around $1,400/oz.
This suggests that there is some tendency toward increasing premiums in the market for physical metal. Where we go by the end of the year is a difficult question because it's always hard to catch the bottom of the market. But a look at the last three or four years gives us some clues. Hedge funds were maximum net long in gold at the peak of 2011, and now they're maximum net short, which could be a good contrarian indicator (see chart above).
It looks as if $1,080/oz could be the bottom. It's not defined yet, but the sentiment is definitely at extremes.
The turn in gold will come from short covering, and the short covering will come when the bearishness really reaches a climax event. Probably we are there, but we will have to wait and see. It is difficult to make a call for year-end because there are so many factors influencing the gold price, and sentiment is extremely negative. The trigger for moving up could come from the bond market, which is in a difficult spot right now. Liquidity is down. Yields and credit spreads are rising. When something goes wrong there, where will the conservative money go to? I don't think it is going to go back into government funds. As investors lose confidence, that could be the trigger for gold. We are probably going to see this in the fall, by September or October. I think the bond market is about to turn around.
TGR: What are some of the other triggers you're watching? Are you monitoring the U.S. Federal Reserve and whether that rate hike happens in the fall?
FS: I think the Fed is testing the market because it knows we are in a massive bubble and is talking to see what happens. I have four simple reasons why I would not expect a rate hike in September:
1. The Fed sits on a US$4 trillion balance sheet. Raising rates would mean bonds go down in value, and this could wipe out the Fed's capital. That's the last thing it wants.
2. The impact to the carry trades, which the banks always need, would be drastic. The banks get free Fed money now that they can invest in treasuries and multiply it tenfold, making a profit basically at no risk. An increase in rates would put pressure on the banks, something the Fed doesn't want either.
3. U.S. exports are already suffering with a strong dollar, and a rate hike would make the dollar even stronger.
4. This fragile economic situation is also something that the Fed doesn't want. That is why quantitative easing is somewhat like the Hotel California. You can check out, but you can never leave.
I would expect more market dislocations because I think the Fed is between a rock and a hard place. Generally my advice is to play it safe and not to put all your capital at work at this time.
TGR: You're in Switzerland. Are you more worried about what's happening in Europe or what's happening in the U.S.? Do you think the Greek crisis is now behind us and we've solved that problem or will that continue to haunt us the rest of the year?
FS: I would be more concerned about Europe right now because Greece is not fixed. It's an exercise to save the banks because everybody knows that if Greece defaults, it will trigger a chain of events that becomes uncontrollable.
The market seems to like the short-term fix and the U.S. dollar is benefitting. If you are looking to park your money, probably the U.S. is the only place you want to go. I don't know how long it will last because the markets in the U.S. are shaky. I think we are lurking on a major top in the equity markets. But people still like the dollar, and it's probably the best currency right now.
TGR: The last time we talked, you also anticipated that mergers and acquisitions (M&A) would be a major theme for this year, and that definitely seems to have played out. Let's talk about some of the deals that have happened recently in the resource sector. What can investors learn from that?
FS: There were a few interesting acquisitions/mergers in the last month. The transaction between OceanaGold Corp. (OGC:TSX; OGC:ASX) (OGDCF) and Romarco Minerals Inc. (R:TSX) (RTRAF) is interesting because OceanaGold is an Australian gold producer with assets in the Philippines and New Zealand. The company is buying, for almost CA$900 million (CA$900M) in an all-equity transaction, Romarco, which has the 4 million ounce (4 Moz) high-grade Haile deposit in South Carolina. I think the transaction shows that good quality deposits are very rare. Otherwise, an Australian company wouldn't enter new territory in the U.S. Also, I think this shows investors that good projects, despite dire market conditions, come at a premium. OceanaGold paid almost a 70% premium on the Romarco shares.
Disclosure: JT Long conducted this interview for Streetwise Reports LLC, publisher of The ...
more