Steel Tariffs Show Up In Surprising Places
The G20 meeting on the weekend produced a mildly surprising rapprochement between the U.S. and China on trade. Most commentators regard the Administration's serial imposition of tariffs negatively. Stocks certainly liked the possibility of a lower temperature around this rhetoric.
In spite of the U.S.'s many trade disputes, the economy shows little sign of suffering. Unemployment is 3.7% and interest rates remain supportive, with ten-year treasury yields at 3% offering scant competition for equities (see Bonds Still Can't Compete With Stocks). Consensus expectations are that next year S&P500 earnings will increase by 10%.
Nonetheless, tariffs do have an impact. Steel shipments have been a controversial topic, with many developed countries accusing China of selling below cost ("dumping"). The Administration has imposed tariffs on steel imports from a wide range of countries, on the grounds of national security. Commerce Security Wilbur Ross said, "Economic security is military security. And without economic security, you can't have military security,"
Tariffs have their effect in subtle ways. They are a form of sales tax, and taxes are borne both by the producer and the customer in proportions determined by their relative elasticities. For example, if a buyer of a product now subject to tariffs had no alternatives available and had to have the product, the price would go up by the amount of the tariff. The more choices a buyer has, the less impact the tariff has on the product's price, meaning more is absorbed by the producer.
(Click on image to enlarge)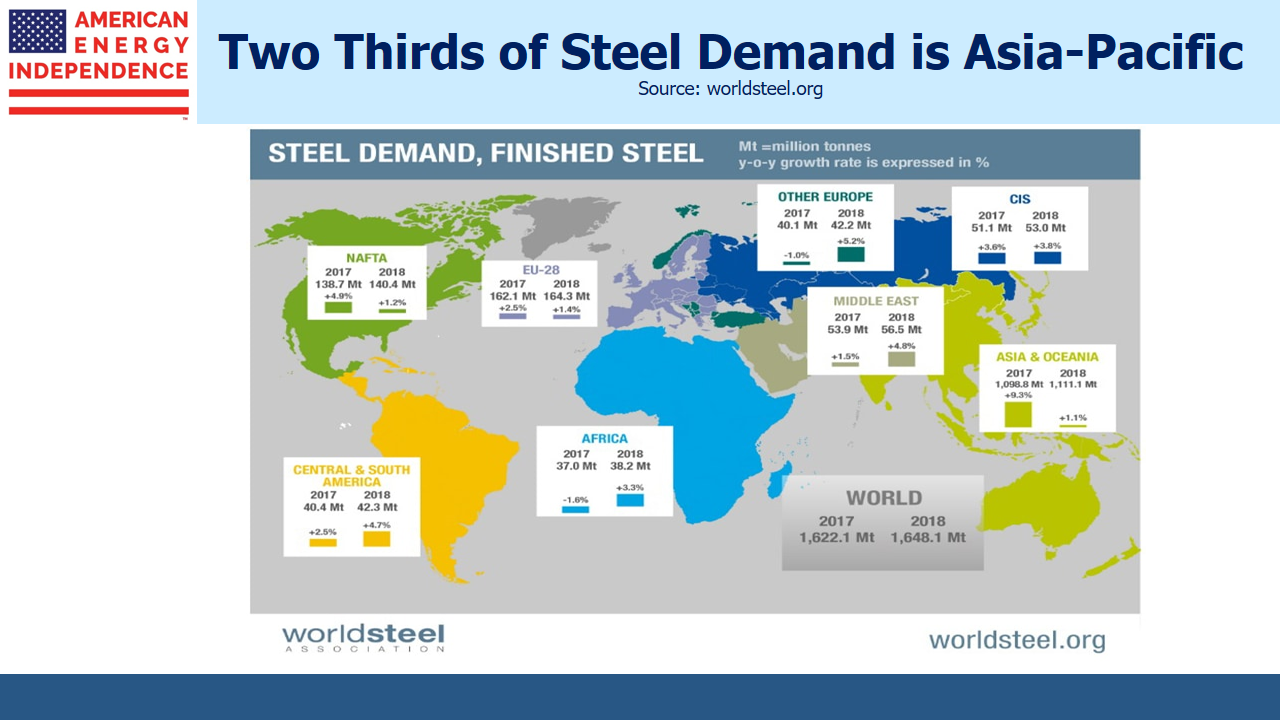 The Federal Reserve Bank of St. Louis shows that steel prices have risen by around 17% since the 2016 election, the point at which steel buyers and sellers might have begun to contemplate tariffs. The tariffs ultimately implemented were 25%, which suggests that buyers have borne more of the cost than producers. Domestic producers were able to raise prices protected by tariffs. Since the 17% increase relates to all steel whereas the tariffs were only imposed on imports, producers benefitted further at the expense of buyers. The Bureau of Labor Statistics forecast that steel prices would rise by 21%, so further price hikes may be ahead.
Disclosure: We are invested in PAGP.