Since The Momentary GDXJ Bounce Wasn't Bullish, What Awaits Gold Stocks?
Although small corrections in the gold and silver markets do happen, they will not cover up the bearish outlook for them, especially junior miners.
As you read in yesterday's analysis, the massive decline in the precious metals sector (especially in junior mining stocks) is here. After reading it, your profits on the short position in junior miners increased once again – congratulations!
At the moment of writing these words, gold is after/during a small correction, which is completely normal. Just because the market is likely to move somewhere it doesn't mean that it's likely to move there immediately. Wherever it moves, there will likely be corrections along the way, even if we just see them on an intraday basis.
(Click on images to enlarge)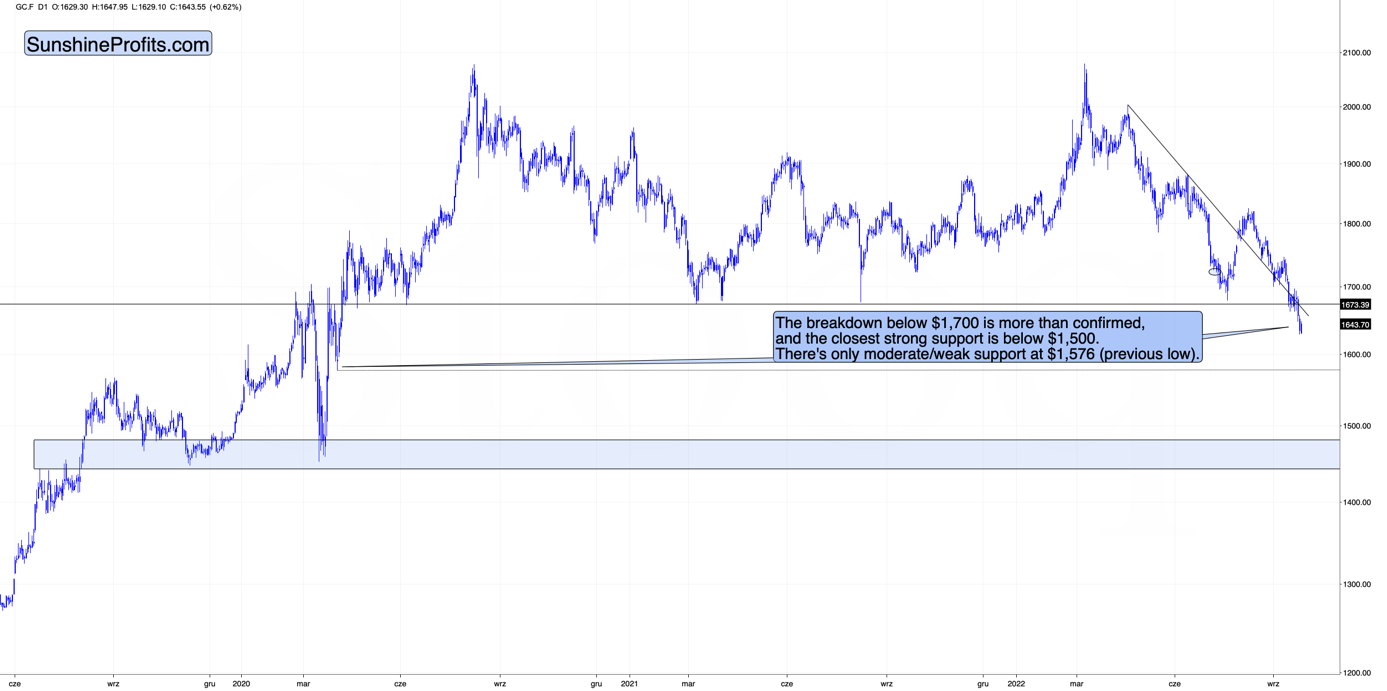 Gold is after a clear and confirmed breakdown below $1,700 – something that it hasn't been able to do for many months. The above-mentioned level was a very strong support as it worked multiple times (also as resistance).
Because this strong support was broken and the breakdown was verified, it tells us that the force of the bears is even stronger! This, in turn, means that gold is unlikely to decline just a little now.
No.
It's likely to slide.
There's practically no strong support until gold's price declines below $1,500. Since gold futures are trading at about $1,643 at the moment of writing these words, it seems that gold has a lot of room to decline in the near future.
Now, the above doesn't mean that gold "has to decline immediately, every single day". There might be small corrections along the way.
So what's the point of writing about the strong support being so far, if there could be corrections earlier, anyway?
Because those small corrections are too small to be tradable in my opinion. They can – in my view – simply be ignored. I want you to know that a tiny rebound doesn't invalidate the entire concept of this huge decline.
There is moderate/weak support at about $1,576 (the previous low), but I doubt that it would trigger a move that's meaningful enough for us to care about it. If stocks move to an important support at that time, or the USD Index moves to an important resistance, then I might consider making adjustments to the very short-term outlook (and the trading position), but it seems unlikely at this point.
What appears likely is a move a bit below $1,500 and a rebound from there.
So, yes, I continue to expect gold's next important bottom to form close to its 2020 low.
There's a very good reason not to try to time every possible correction right now – the analogy to 2013 that's been so useful in recent weeks and months.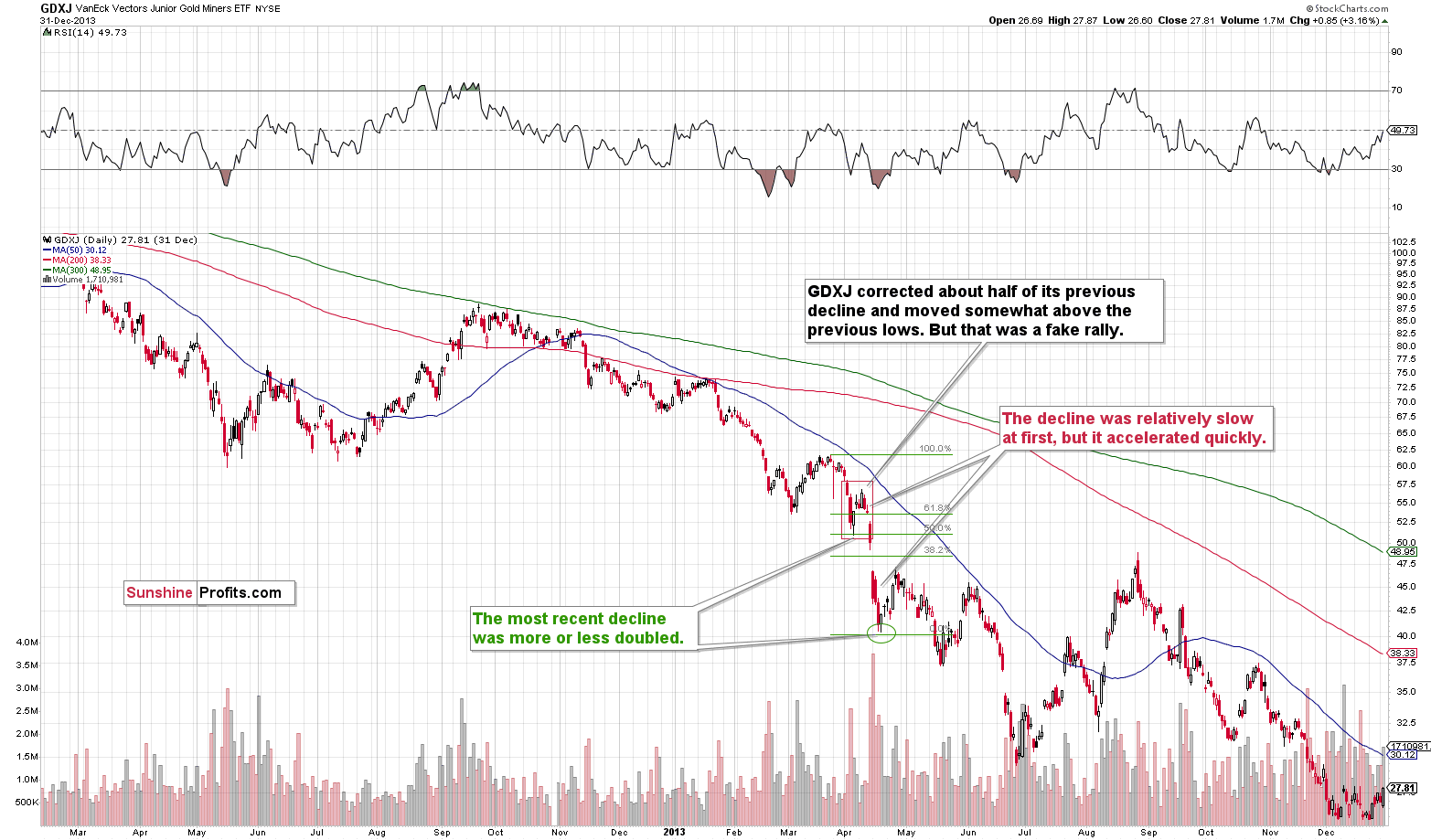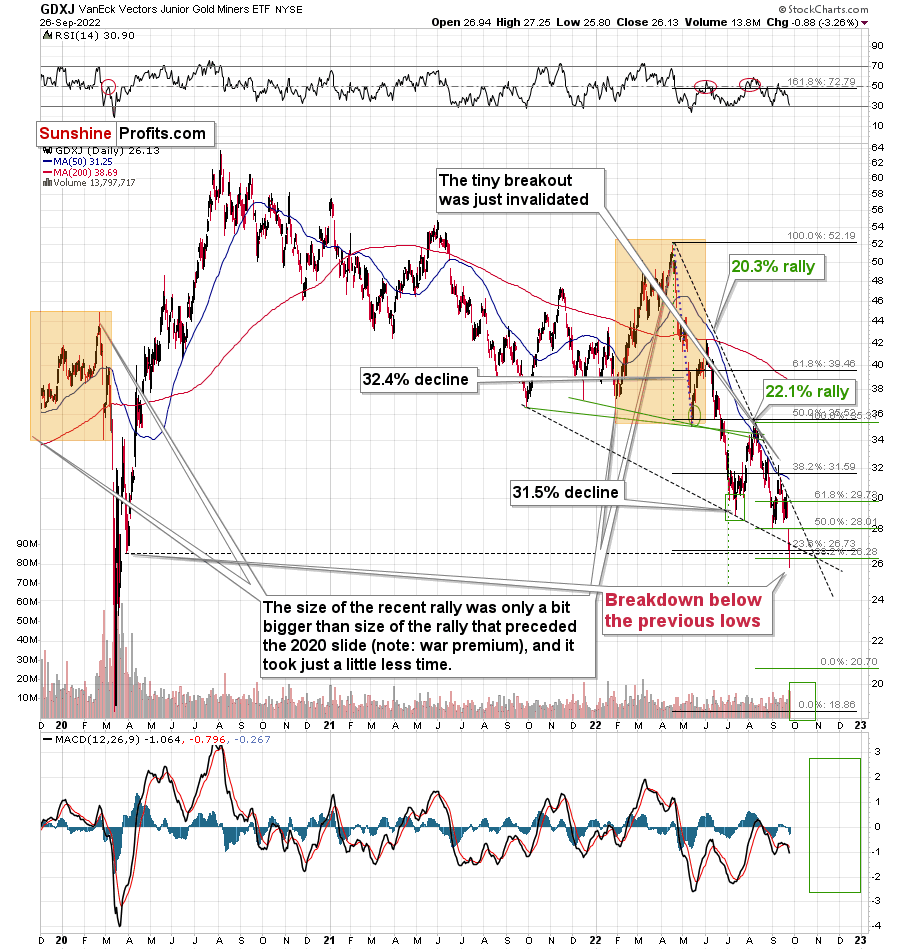 The Sep. 2012 – Mar. 2013 decline seems analogous to the Apr. 2022 – Jul. 2022 decline.
The Mar. 2013 rally appears analogous to the Jul. – Aug. 2022 rally.
And the early Apr. 2013 rally seems analogous to the Sep. 2022 rally.
Moreover, I wrote about this link earlier this month. Quoting my Sep. 13, 2022, Gold & Silver Trading Alert:
What about junior mining stocks?

They moved higher as they were practically forced to by rallying gold, but please note that they ended the day only 2% higher, which is very little compared to silver's almost 6% rally.

Plus, please note that junior miners reversed some of their earlier gains before the end of the session.

Interestingly, the GDXJ just approached its 50-day moving average, which means the end of previous counter-trend rallies ever since the April 2022 top.

This ~$4 rally fits the final counter-trend rally that we saw in 2013.

The GDXJ rallied by about 14.7% from its recent low.

Back in 2013, the GDXJ rallied by about 11.5% before plunging.

This time, the corrective rally is bigger, but please note that the decline that we saw beforehand was sharper than what we saw in 2013. Consequently, a bigger bounce is normal.

It's even more interesting to compare the rally to the previous price movement. In both bases, the GDXJ corrected about half of the preceding short-term rally, and it moved above the most recent short-term low. This is exactly what we saw recently.

This is yet another indication that what we're seeing right now is a part of a bigger pattern that's very bearish.

One might focus on the last few days on a stand-alone basis and claim that "the rally is bullish," but in my opinion, this narrow focus might be very costly.
Indeed, the GDXJ declined shortly thereafter.
What does it mean? It means that if the analogy is to continue (and it's likely), then we are now likely to see a big decline without visible corrections. That's how GDXJ declined back in April 2013.
As the GDXJ doubled its initial decline in 2013, it's quite likely to do something similar again this time. I marked this with green lines, and this technique currently points to a target below $21.
Yes, in my view, the GDXJ has some sizable decline ahead of it, and (also, just my opinion), a very profitable one, too – at least to those who are positioned correctly.
---
More By This Author:
Gold Waved The White Flag And Began Its Great Decline
How Long Will Gold Defend Itself From The Strong Dollar Impact?
Gold Confirmed Its Breakdown By Not Returning Above 1,700 USD
Disclaimer: All essays, research and information found on the Website represent the analyses and opinions of Mr. Radomski and Sunshine Profits' associates only. As such, it may prove wrong ...
more