Silver: Short Sellers, Your Time Has Come To Pay The Piper
Fundamentals
January 29, 20221 at 7 am PST. We have a fast market in gold. It is up about $27 to $1868. Volatility has increased to a point that is unlike anything in living memory.
Photo by Robert Haverly on Unsplash
Since March of last year, we have entered a new paradigm. Gold fell to $1450 and the stock market fell below 2200, which was the bottom of this new trend that marked the transformation from the old physical economy to a virtual economy. It was one of the reasons why gold hit $2086; a $600 move in the blink of an eye. That was just the beginning.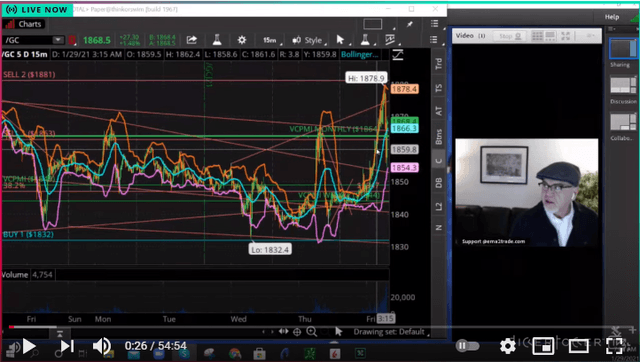 Courtesy: TickerTocker
The high of 2089 that gold hit discounted the economic damages that the pandemic caused. Now we are seeing that volatility spread to Millenials. Recently, Robinhood limited trading in a stock that went up hundreds of percent: Gamestop. The playing field has changed in relation to the application of technology against some of the biggest hedge funds, which had been essentially controlling certain markets. New technology has leveled the playing field. Gamestop is one example. The Variable Changing Price Momentum Indicator (VC PMI) is another example where we can use technology to make the small trader equal to the big institutional investors.
Gold has not reflected the actual economic fundamentals in relation to stimulus, interest rates, fiscal and monetary policies. It is not reflecting the ratio of gold to stocks or gold to debt. Everything is related economically. Gold is a major benefactor of a weakened economic system. Gold is a safe-haven investment, a hedge against an economic downturn, and is real money, which it has been for thousands of years.
Based on the fundamentals, Gold should be at $5,000 or more, but it is not. Therefore, you have to use technical analysis, such as the VC PMI, to guide your trading. We are bullish on gold and silver long-term and we are using the VC PMI to day trade the volatility, while building a long term position in gold and silver. These times are a golden opportunity to traders. It is similar in some ways to the 1970s, when we began to see inflation take off and gold hit $800 in 1981. The stock market, the Dow Jones, was at about 1000. Interest rates were at about 14% or 15%. The playing field has changed, but the only difference is the interest rate picture. Today we have negative interest rates, if you take into account inflation. Europe has negative interest rates. It is impossible for an economy to function with negative interest rates. It cannot last. You pay a bank to hold your money and they use your money to invest in stocks and make a fortune.
Disclosure: I am/we are long SILJ. I wrote this article myself, and it expresses my own opinions. I have no business relationship with any company whose stock is mentioned in this ...
more