Silver Is Sticky Money
Many don't realize, but silver is considered to have been the first metal to serve as currency.
Could silver one day regain its role as money? Perhaps. It's widely accepted that gold was used as money by Lydian merchants around 550 BC, roughly 2,500 years ago.
But even before that was silver, more than 4,000 years ago in ancient Greece. At the time, silver ingots were used as payment in transactions of trade. Back when Athens oversaw an empire, its silver coin was the tetradrachm.
But for now, silver's fastest-growing demand segment, by far, is an investment. In fact, it's exploding.
Although the #Silversqueeze movement has faded somewhat from the headlines, its effect has been dramatic and persistent. Bullion dealers continue to struggle to meet physical demand, with most still charging 50% premiums or more.
And that's likely to continue leading to much, much higher silver prices ahead.
But there's one option you can follow to buy silver for as little as a 0.5% premium, or perhaps even at a discount to the spot price. It's not perfect, but it could make for an attractive silver investment option.
Silver Demand Remains Elevated
The tetradrachm is considered the first coin to attain "international standard" status, as it was used in trade across the Mediterranean. Today, of course, silver is no longer used as money in daily transactions. But for many, it still retains monetary characteristics and value.
In my view, there's a reasonable possibility that silver may once again regain its role as money in the years to come. For now, the closest thing is silver's booming investment demand; it's been off the charts. There's no doubt that the advent of silver ETFs has facilitated (or exacerbated, you choose) this phenomenon.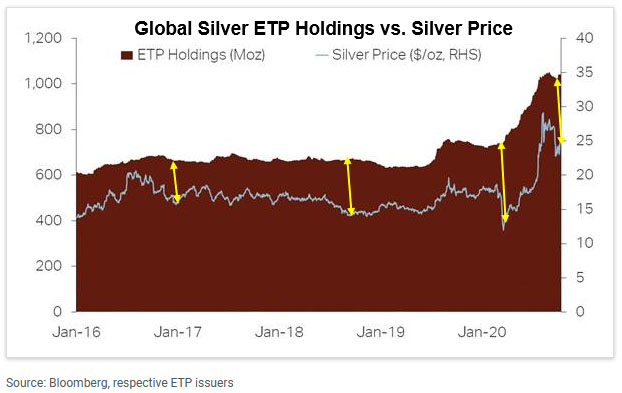 It's certainly clear from the above chart that silver ETF investments tend to be what's called "sticky money." That means when investors buy, they tend to hold, even through price drops and even through significant ones. I've highlighted this phenomenon with yellow arrows in the above chart. Even as silver prices sold off several times since 2016, silver ETF holdings remained rather stable. The most dramatic example of this was last March when silver plunged temporarily to $12, while ETF holdings barely budged.