Nasdaq: The Leaders Lead. Or Attempt To, And Fail
The most bearish development for gold came from… the Nasdaq. And no, these are not six typos in a row. Let me explain.
The tech stocks were the strongest part of the stock market in the previous year or so, and for a good reason. Due to the lockdown-induced surge in remote work, the need for all sorts of tech improvements (in both: software and hardware) soared. So, it's no wonder that the Nasdaq was the strongest part of the market. It was the sole leader.
Now, there's a rule in every market that leaders… Well, lead. This makes perfect sense, no surprise yet. But, there's a point after which the leaders stop leading, and stocks that are relatively weak or have less favorable fundamentals are catching up, eventually rallying more than the leaders. Why would this be the case? Because those who understand the markets and what's going on are already invested, and those who are neither as knowledgeable nor experienced – the investment public – enter the market.
The investment public makes purchases often without any regard to fundamentals (or technicals) – they buy because a given asset seems cheap compared to other assets. And what would be cheap in the final part of the upswing – after the market professionals have already established their positions in well-positioned assets? The poorly positioned assets. The stocks/markets that were – for a good reason – neglected previously. So, they start buying those, and the laggards become the new leaders.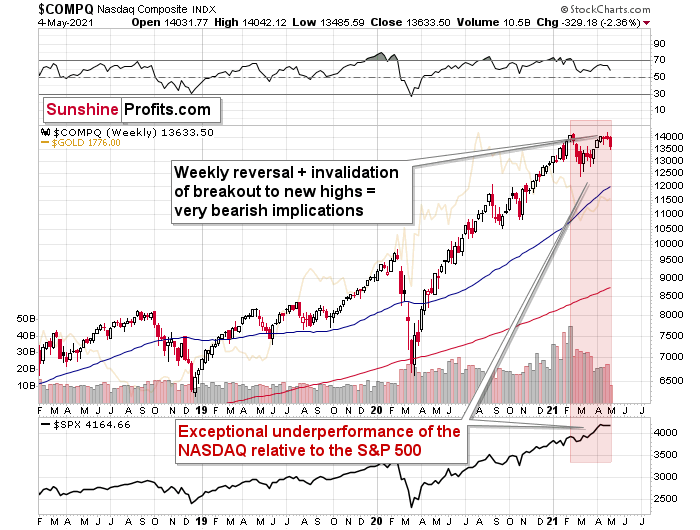 The Nasdaq was the leader that started to underperform while other stocks soared. The last few months were as clear as it gets in terms of emphasizing that. While the S&P 500 Index soared to new all-time highs, the only thing that the tech stocks managed to do was to attempt to break to new highs.
Attempt.
And fail.
Last week's shooting-star-shaped weekly reversal was bearish on its own, but considering that it was also a failure to break to new highs, the bearish fire got gasoline poured over it.
Disclaimer: All essays, research and information found on the Website represent the analyses and opinions of Mr. Radomski and Sunshine Profits' associates only. As such, it may prove wrong ...
more