HUI: The Illusionist's Trick Left Investors Speechless
The gold miners' 2021 gains prompted a standing ovation among investors. However, they didn't notice a magic trick until everything vanished.
The Gold Miners
After the HUI Index plunged by more than 10% and made all of its 2021 gains disappear, the magic trick left investors in a state of shock. But while Mr. Market still hasn't sawed the HUI Index in half, the illusionist is likely gearing up for his greatest reveal. Case in point: while the Zig Zag Girl captivated audiences in the 1960s, the HUI Index's zigzag correction leaves little to the imagination. And with the recent swoon, a lot more than just smoke and mirrors, the HUI Index's short-term optimism will likely vanish into thin air.
To explain, despite the profound drawdown, the HUI Index hasn't been able to muster a typical relief rally. Moreover, with ominous signals increasing week by week, if history rhymes (as it tends to), the HUI Index will likely find medium-term support in the 100-to-150 range. For context, high-end 2020 support implies a move back to 150, while low-end 2015 support implies a move back to 100. And yes, it could really happen, even though such predictions seem unthinkable.
Please see below: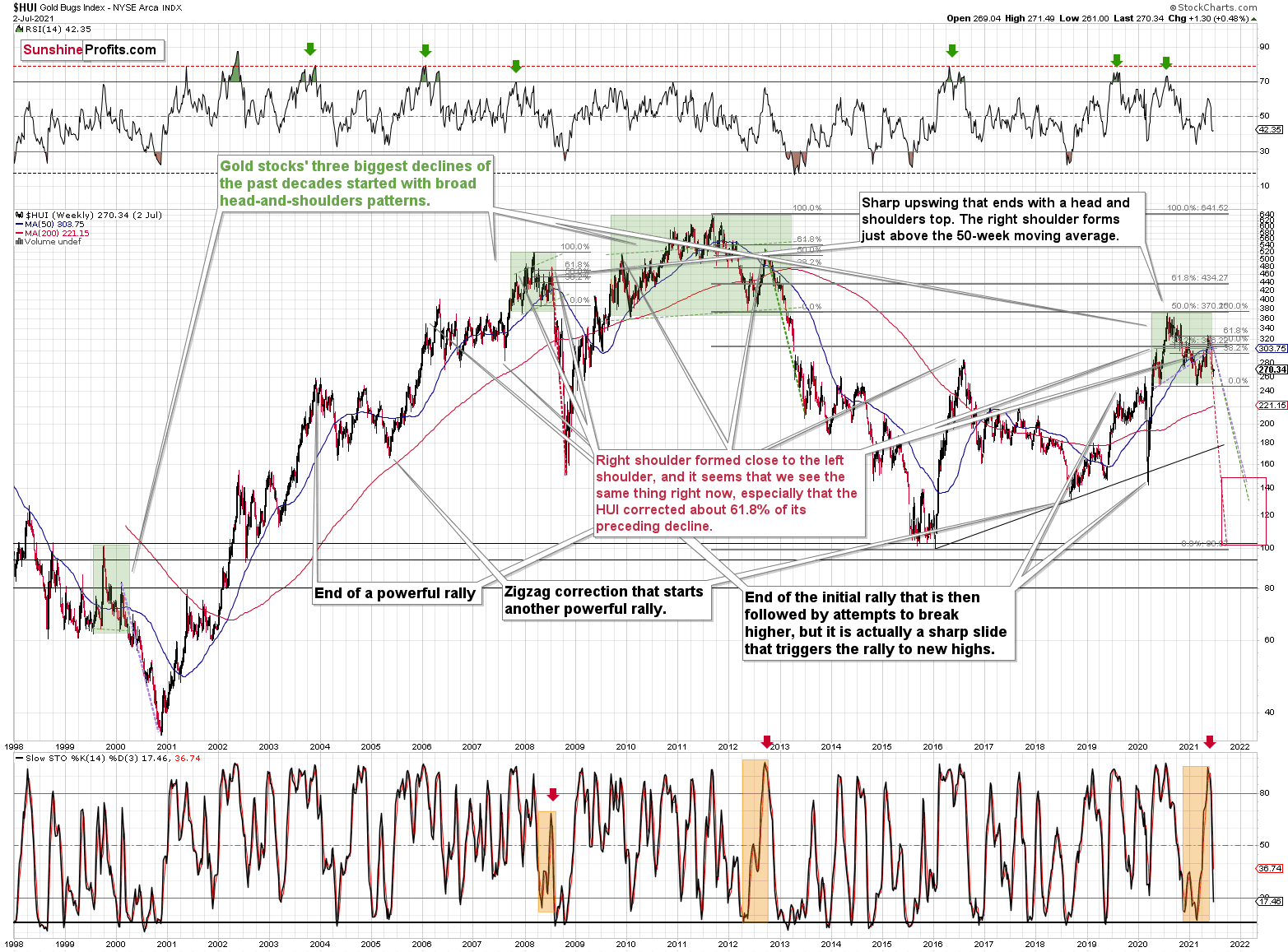 Furthermore, the underperformance of gold stocks relative to gold is also worthy of attention. With the junior miners often performing the worst during medium-term drawdowns, short positions in the GDXJ ETF will likely offer the best risk-reward ratio. To that point, if you held firm in 2008 and 2013 and maintained your short positions, you almost certainly realized substantial profits. And while there are instances when it's wise to exit one's short positions, the prospect of missing out on the forthcoming slide makes it quite risky.
To explain, I warned that the recent plunge was weeks in the making:
I wrote the following about the week beginning on May 24:
What happened three weeks ago was that gold rallied by almost $30 ($28.60) and at the same time, the HUI – a flagship proxy for gold stocks… Declined by 1.37. In other words, gold stocks completely ignored gold's gains. That shows exceptional weakness on the weekly basis and is a very bearish sign for the following weeks.
Disclaimer: All essays, research and information found on the Website represent the analyses and opinions of Mr. Radomski and Sunshine Profits' associates only. As such, it may prove wrong ...
more