Helicopter Money Vs. Gold
This week Fed Reserve Chair Jerome Powell spoke at the "Innovation Summit" hosted by the Bank for International Settlements.
During his talk, he dissed Bitcoin and cryptocurrencies saying they were "…highly volatile and therefore not really useful stores of value, and they're not backed by anything."
OK, let me get this straight.
At its latest FOMC meeting, the Fed promised near-zero interest with no rate hikes until 2023, and its $120 billion monthly asset purchases see no sign of abating.
In the past year, the Fed has unleashed the largest multi-trillion-dollar quantitative easing fiat money campaign the world's ever seen. And that's saying a lot after its reaction to the 2008 financial crisis.
Where is this "money" coming from? These are trillions of currency units "not backed by anything," which Powell himself wants to see lose value through higher inflation.
The COVID-19 pandemic has changed our world. Many of the existing structural problems, like easy money policies, record-high corporate and personal debts, and national debts and deficits have ballooned to historical levels.
Trying to dial back these measures will prove not only futile but likely impossible.
And this places gold in a perfect "sweet spot" to gain more favor, and continue on its historic bull run.
Gold Turnaround
It's true gold has backed off from its new all-time high of $2,067 to around $1,730 today. That's about 19% below. Essentially, it's a textbook correction.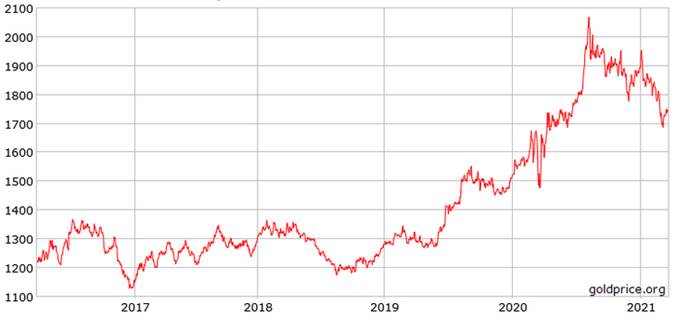 Even after that, gold is still 44% higher than it was in late 2018.
But let's look at a timeline of what happened a year ago for some perspective.
On Wednesday, March 11, 2020, the WHO declared COVID-19 a pandemic. Gold was at $1,640, near its then-recent high of $1,690.
By early Monday, March 16th, under shock and panic, gold temporarily touched $1,450, then quickly regained $1,500.
The Federal Reserve had held multiple emergency meetings to that point in March as stock markets crashed.