Have Gold Stocks Lost All Their Vigor?
Gold sank profoundly on Jun. 17, taking its crew along. While it has the strength to go up for one more breath, other PM assets may not be that tough.
The Gold Miners
While investors believed that superficial strength indicated clear skies ahead, I warned on Jun. 14 that storm clouds were likely to rain on gold, silver, and mining stocks' parade.
I wrote:
Not only has gold's RSI fallen precipitously, but the yellow metal's stochastic oscillator is also at levels that preceded significant historical drawdowns. As a result, while a $100+ decline is likely to materialize in the short term, an even larger decline will likely occur over the medium term. And with the 2008 and 2012-2013 analogues becoming even more valid by the day, gold's ominous path forward will likely catch many market participants by surprise.
And with the technical realities finally drowning the yellow metal, it was a tough pill to swallow for those that didn't heed the warning.
Please see below: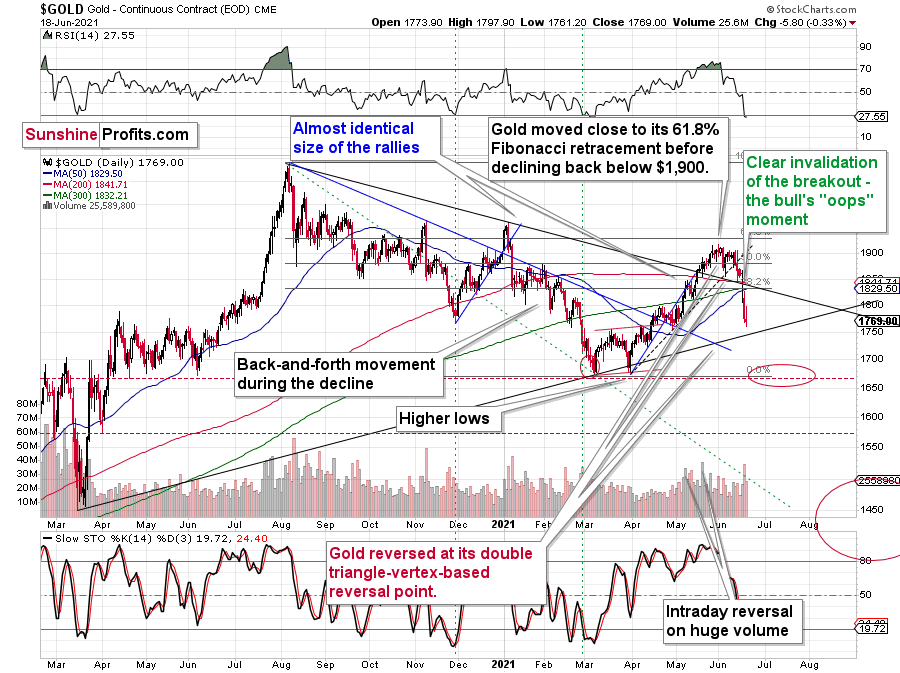 As part of the problem, the vast majority of individual investors and – sadly – quite many analysts focus on the trees while forgetting about the forest. However, once one zooms out and looks at the situation from a broad perspective, it's clear that: "What has been will be again, what has been done will be done again; there is nothing new under the sun." (-Ecclesiastes 1:9)
Therefore, while investors often focus all of their attention on the yellow metal, I warned on Jun. 14 that the HUI Index's ominous behavior signaled significant downside for gold, silver, and mining stocks.
I wrote:
With the HUI Index acting as the PMs' canary in the coal mine, the bearish implications are as clear as day when eyeing the long-term chart. In the past three weeks, two key events unfolded:
The stochastic oscillator delivered a clear sell signal.
The self-similarity patterns became increasingly valid.
And with last week's price action adding further confirmation, investors' optimism is showing severe cracks in its foundation.
On top of that, even though the HUI Index plunged by more than 10% last week, the carnage may not be over. Case in point: the HUI Index is in the midst of forming the right shoulder of its bearish head & shoulders pattern, and if completed, could result in a profound decline over the medium term. For context, with gold approaching its late-April bottom and its rising medium-term support line, the yellow metal could bounce at roughly $1,750. In the process, the gold miners may follow suit. However, the bearish implications remain intact over the medium term, and a significant slide is likely to follow.
Disclaimer: All essays, research and information found on the Website represent the analyses and opinions of Mr. Radomski and Sunshine Profits' associates only. As such, it may prove wrong ...
more