E

Hartstreet LLC: Possible Acquisitions In The Permian Part 2
In Part 1 of Possible Acquisitions in the Permian, we covered J. Cleo as one of the premiere private operators in the southern Delaware Basin. Given the opportunities in the area, acreage prices have increased significantly. The map below provides some of the larger acquisitions by publicly traded companies. Adjusted acreage values in southern Reeves are in the $30K to $35K range. Concho's (CXO) acknowledgement that there is little value in the western Permian, seems to point to increasing acreage prices in the near term. The only question is which operators are willing to pay. Increasing acreage valuations could push Delaware players' market caps higher. It could also mean there is upside even at today's prices. The southern Delaware is much less developed than Midland. This means de-risking and downspacing will continue to increase current economics.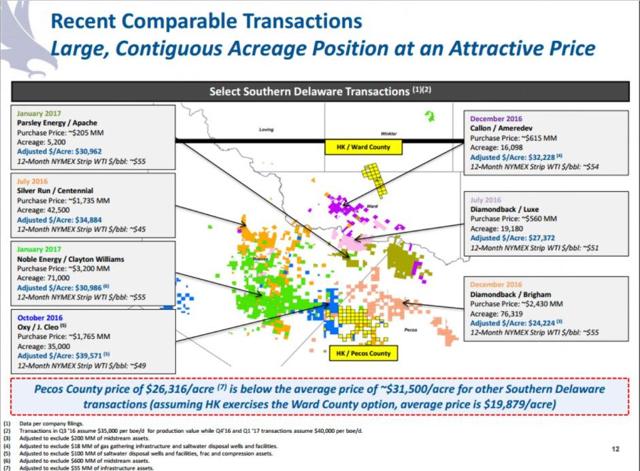 (Source: Halcon)
While J. Cleo may be the most intriguing name, there are others producing excellent results. These results are more appealing given the expansion of well design, and very good results from enhanced completions. Patriot is another operator with acreage in southern Reeves County. It has 12 current completions. Oil production of each well is plotted on the graph below.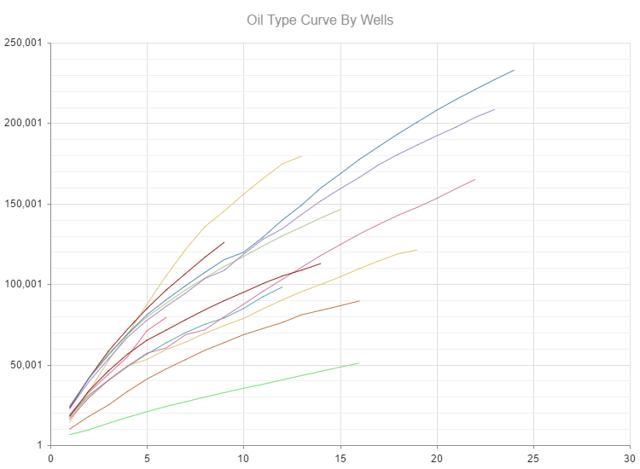 (Source: Welldatabase.com)
It's longest producing well is 24 months. It has produced over 230K BO. The results have been variable, but many of the newer completions are on pace to produce as much if not more oil than its best well.

(Source: Welldatabase.com)
The variability of results have much to do with lateral length. The differences range from 5 locations under 5,600 feet and six from 7,600 to 8,157 feet.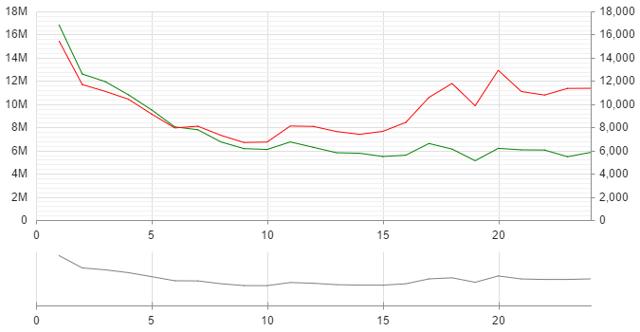 J. Cleo currently has the best results in this area. Patriot's results have been better on average than CXO, although both are relatively close in average barrels of oil. The average type curve of Patriot's oil (green) and natural gas (red) production is graphed above.
Disclosure: Data for the above article is provided by welldatabase.com. This article is limited to the dissemination of general information pertaining to its advisory services, together with access ...
more