Gold, Silver, Miners: The Zenith And Its Shadows
Most likely we saw the precious metals reach their zenith on May 19, like the tropical sun on the day of the equinox. What will come afterward?
Usually, when we think about the zenith, we have in mind a natural phenomenon caused by the tropical sun being exactly over our heads. But the zenith can also mean that something reached its peak – and just as the sun starts casting increasingly longer shadows after retreating from the highest point in the sky, the same happens when an asset on the market starts backing out after topping.
Its shadow – i.e., its ramifications – is cast in one particular direction, and it usually goes this way until the sunsets. Therefore, just as the shadows are getting longer, and longer, and longer, the drop after the top could go lower, and lower, and lower…
During yesterday's (May 20) session, we saw more or less the repeat of the previous day's indications – gold stocks reversed once again, and gold is trading where it was trading two days ago. Silver is already trading lower. Consequently, much of my previous comments remain up-to-date.
On Wednesday, gold miners reversed in a classically bearish way, and yesterday's low-volume session (also a reversal) looks like Wednesday's reversal's shadow.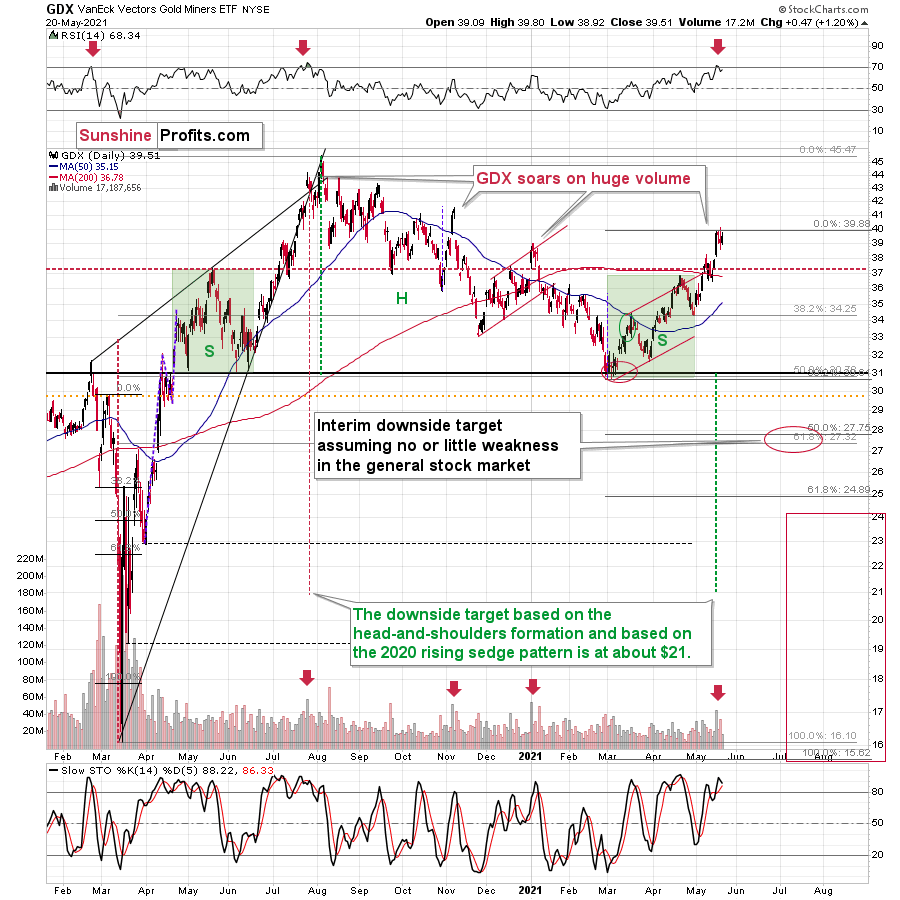 The GDX ETF first tried to rally to new highs, then it failed to hold them. Wednesday's reversal took place on big volume (important bearish confirmation), and the "shadow reversal" took place on relatively low volume. The low volume doesn't confirm the reversal, but it more or less invalidates the seemingly bullish fact that miners closed yesterday's session higher.
Moreover, please note that the volume was similarly low to what we saw on January 7, 2021, when the 4-day top was ending. Yesterday was the fourth day of what appears to be a broad top.
Let's also keep in mind that the RSI indicator just moved back below 70 after being above it. This happens rarely, and when it happened previously (in the past 1.5 years), it meant that a huge price decline was about to follow.
Disclaimer: All essays, research and information found on the Website represent the analyses and opinions of Mr. Radomski and Sunshine Profits' associates only. As such, it may prove wrong ...
more