Gold Rebounds After Fainting Due To Inflation Spike
Gold recovered after a downward response to the surge in inflation. What's next for the yellow metal?
Gold rebounded after an initially bearish reaction to the BLS report showing that inflation soared 4.2% in April year-to-year. This means we have an inflation annual rate doubling the Fed's target and the highest since the Great Recession as the chart below shows.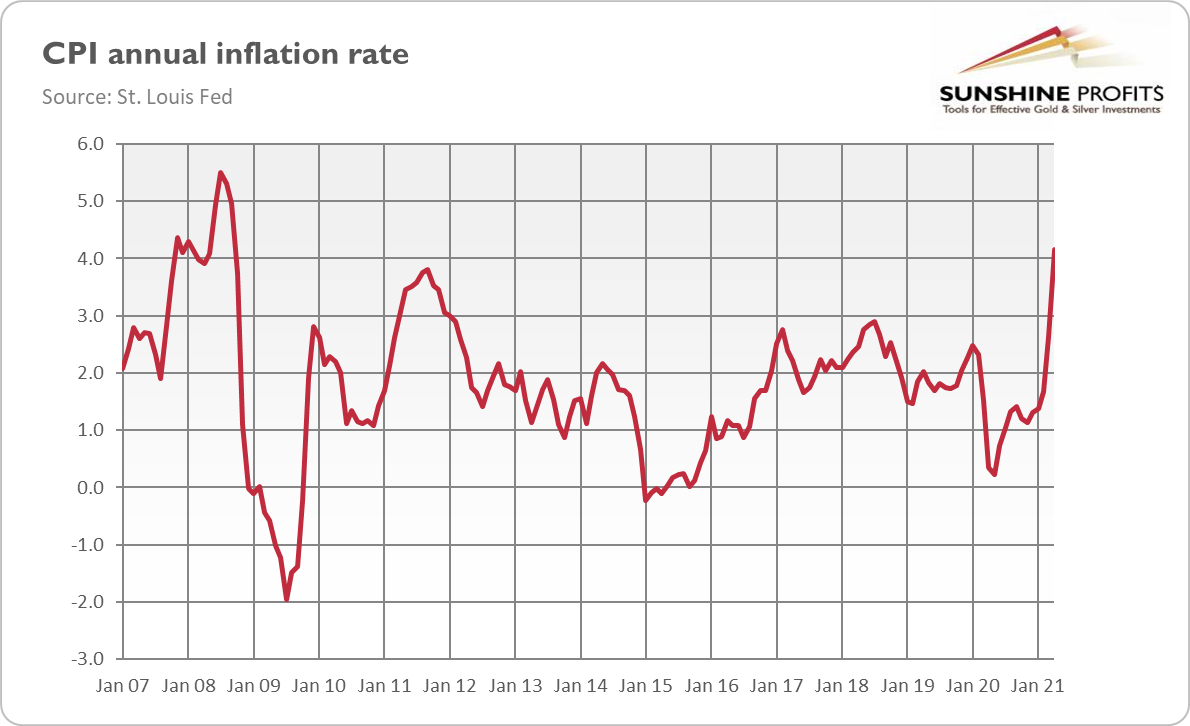 It might now seem counterintuitive, but traders worried that the jump in the CPI would force the Fed to tighten its monetary policy earlier than anticipated. However, it seems that the US central bank managed to convince the markets that it would remain dovish for a very long period and that April's inflation reading wouldn't accelerate the first hike of the federal funds rate.
Indeed, on Thursday, Federal Reserve Governor Christopher Waller said that the Fed would need "several more months of data" before considering modifications to its stance. He added, "now is the time we need to be patient, steely-eyed central bankers, and not be head-faked by temporary data surprises." So, don't fight the Fed, interest rates will stay at zero for several months, thus supporting the yellow metal!
After all, the Fed's narrative is that the current inflation is transitory. Of course, the April surge was partially caused by a 10% increase in the cost of new, as well as used cars and trucks – this accounted for a great part of the overall rise. Interestingly enough, the massive spike in car prices was in part generated by temporary supply-chain disruptions, i.e., the shortage of microchips used in automobile production.
However, one can almost always find an element without which inflation is smaller. But one can also almost always find an element without which inflation is higher. This is how the consumer baskets work: some goods are getting more expensive, others are getting cheaper, etc.
Disclaimer: Please note that the aim of the above analysis is to discuss the likely long-term impact of the featured phenomenon on the price of gold and this analysis does not indicate (nor does ...
more