Gold Price Outlook: Gold Breaks Out To Five-Year-Highs, Now What?
It's been a busy past 24 hours across global markets, and perhaps no single area shows the intensity of the scenario as well as Gold prices. While US stocks rallying to fresh all-time-highs the day after the Fed is noteworthy, Gold prices have exploded to a fresh five-year-high to continue a trend that's been showing very visibly over the past three weeks.
In the final days of May, Gold prices had cauterized support around a key Fibonacci level before breaking out. And as that breakout took-hold, buyers continued to drive, soon pushing prices into a key zone of resistance that had held the highs in the yellow metal for the past five years. There were numerous prior inflections in the area that runs from 1357.50-1375, and a number of similar scenarios that had created bullish runs to bring that resistance back into play. Each of those had fallen flat; until today, that is, as buyers rushed to the bid to create a fresh five-year-high at the 1393.03 level.
GOLD WEEKLY PRICE CHART
(Click on image to enlarge)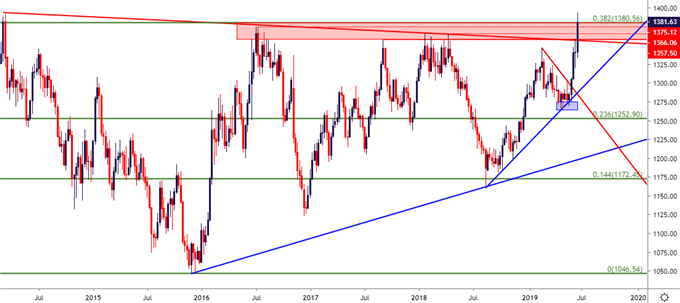 The big question after a move of this nature is usually pertaining to continuation potential. But, given the intensity of the move, it could be a daunting prospect to line up fresh exposure on either side of Gold prices at the moment. While the bullish move is quite stretched, the possibility for reversal could be of a challenge given the pace with which this theme has priced-in. Meaning traders that are looking to join in on the move are likely going to need to either compromise by taking less-than-perfect entries or by being more patient. Below, I look at strategy on either side of the scenario.
GOLD PRICE BULLISH PROSPECTS
This would be the favored side of the move given the recent theme that's been priced-in along with the rationale behind it. The Fed posing a dovish shift via the dot plot matrix yesterday has brought strength to a number of markets, with market participants buying most assets that aren't already nailed down. And given that this was a recent change, there may be continuation potential to work with; but it could be difficult to justify risk outlay given how far away prices are currently stretched from any nearby resistance points.