Gold Market Update - Monday, Feb. 18
Gold has been turned back so many times in recent years from the strong resistance approaching the $1400 level, that most investors have now been well trained, like Pavlov's dog, to expect it like clockwork, and as we know, it is just when this mindset prevails that gold is likely to surprise the majority by actually breaking out above this level.
Looking at our latest 10-year chart for gold it's not hard to see why most investors are defeatist about gold's chances of breaking out. After all, it has made 5 more serious attempts to break above this level since mid-2013 and all have failed. Even if they see what we see on this chart, which is gold approaching completion of a giant complex Head-and-Shoulders bottom, they are still skeptical. They will mutter something about "The Cartel" and their power to clobber gold at will by manufacturing an infinite supply of paper shorts, which they then dump on the market when most of us are asleep – isn't it supposed to be 300 to 1 leverage now, or is it 3000 to 1? – I've lost track. Their dastardly objective, we are told, is to maintain confidence in the fiat money system for as long as possible, because they can point to gold's feeble performance and say "Look, if it's so bad, why isn't gold going through the roof?" This negative outlook towards gold is of course promoted by the MSM (mainstream media), one of whose Prime Directives is to keep the average investor on the wrong side of the trade.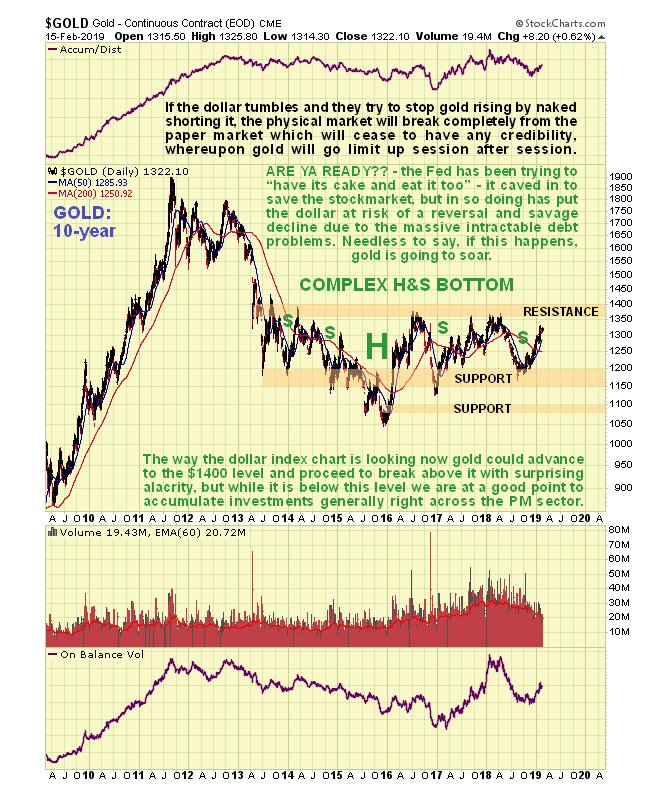 One big factor that has kept a lid on gold in recent years is the continued strength of the dollar, but with respect to this, there has been a major development this year, which is the Fed caving in and starting to flip flop in order to stop the stock market crashing. However, the Fed can't have its cake and eat it too – it has to decide what it prefers – a stock market driven higher by endless QE that leads to hyperinflation against the background of a collapsing dollar in the face of mammoth debts, or a high(er) interest rate policy to prop up the dollar that implodes the stockmarkets leading to a depression – some choice. Their backpedaling last month to goose the markets has kicked a major prop out from under the dollar, which threatens to tip into a severe decline, and each time the Fed flip flops verbally to try to save first the stock market and then the dollar it will lose credibility, until it ends up with none, and amongst more intelligent people it hasn't got very much to start with.