Gold: Making 2020 Seasonal Bottom
Fundamentals
Gold is not trading based on the vaccine news. It is trading on the economic effects of the pandemic. The system was fragile and full of debt even before the pandemic, which has only added debt. It did not take much for the system to break, which it did in March. We are in the midst of a transformation of the old economic system to a new system. We are looking at a new virtual system and economy. The economy split between the elite who can borrow money at almost zero rates and buy stocks, which continue to go up, and Main Street and blue collar workers who suffer and lose their livelihoods.
(Click on image to enlarge)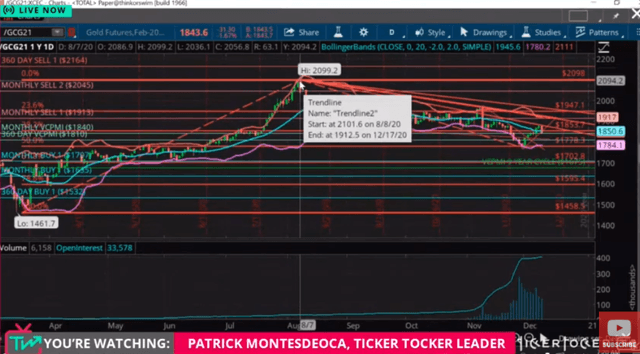 (Courtesy: Ticker Tocker)
Gold collapsed to $1461 in March. It then roared back to $2099 as the news about the pandemic was factored into the market and discounted to a large degree. The Feds came in with record stimulus, which caused gold to then start to decline again. The Fed is prepared to leverage up to 10% of our GDP to keep the market stable. The markets took that very positively and rocketed up. The E-mini S&P reached new highs, trading now at 3700. The E-mini is meeting some resistance at these highs.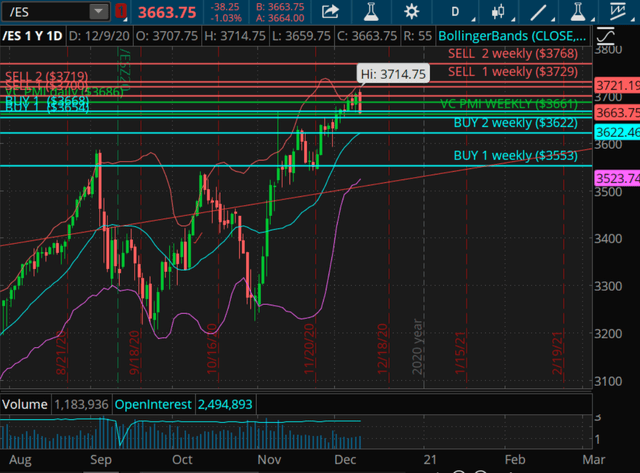 The key questions are whether we are going to find buyers at the new lower gold levels and whether the stock market is in a topping formation. For answers, we look at what the market is doing.
Bitcoin Investment Trust (OTC:GBTC)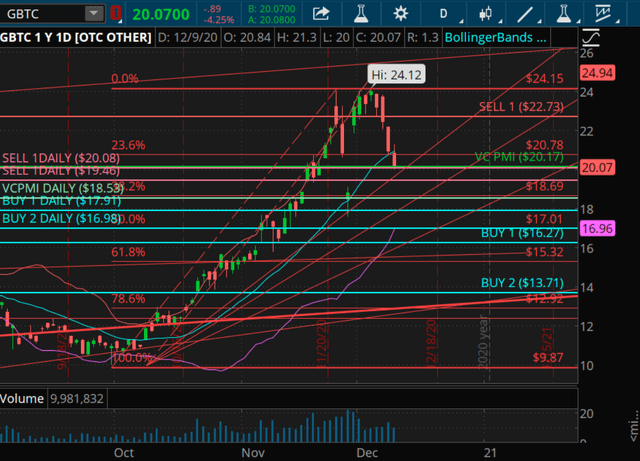 Pundits are starting to talk about Bitcoin as competing with gold. There is no product in the world that is going to compete with a currency that has been around for thousands of years. Bitcoin has only been around for 10 years. Pundits are saying that Bitcoin is eliminating the gold market. Bitcoin is not a currency. It is a virtual asset. Currency is used as a tier one asset, meaning it can be used to collateralize any deal. You cannot use Bitcoin as a tier one asset. Therefore, it is not a currency, at least yet. Leaders are substituting Bitcoin for fiat currency, with no backing. We will see if any of these virtual currencies are going to be backed by anything. Governments may decide to issue a virtual currency, but they aren't going to do it via Bitcoin or other existing virtual currencies. If they create a virtual currency, then they will ban or eliminate other virtual currencies. Bitcoin is a tradable asset, and we do trade the Grayscale Bitcoin Trust. It is regulated. It is the only fund created to trade Bitcoin. Use it as a tradable asset. But it is not competition for gold. What if something happens to technology or the Internet and you can't get into your account? What if you are hacked? There are risks in putting it all in the cloud.
To learn more about how the VC PMI works and receive weekly reports on the E-mini, gold and silver, check us out on Ticker ...
more