Gold Jumps For Joy Only To Hit The Ceiling, Hard
Powell's recent dovish remarks started a sugar high among investors. However, it seems like the hangover has already begun.
The Gold Miners
While gold, silver and mining stocks jumped for joy following Fed Chairman Jerome Powell's dovish remarks on Jul. 28, their sugar high ended on Jul. 30. And while I warned that FOMC press conferences often elicit short-term bursts of optimism, it was likely another case of 'been there, done that.'
I wrote prior to the announcement:
While the PMs may record a short-term bounce – which often occurs following Powell's pressers – lower lows are still likely to materialize in the coming months.
In the meantime, though, did you notice the tiny buy signal from the HUI Index's stochastic indicator? And taking that into consideration, is it time to shift to the long side of the trade? Well, for one, it seems very likely that gold miners are declining similarly to how they declined in 2008 and 2012-2013. In both cases, there were local corrections within the decline. As a result, the recent strength does not justify adjusting our short positions in the junior mining stocks, and I continue to view them as prudent from the risk to reward point of view.
Second, after the HUI Index recorded an identical short-term buy signal in late 2012 – when the index's stochastic indicator was already below the 20 level (around 10) and the index was in the process of forming the right shoulder of a huge, medium-term head-and-shoulders pattern – the HUI Index moved slightly higher, consolidated, and then fell off a cliff.
Please see below: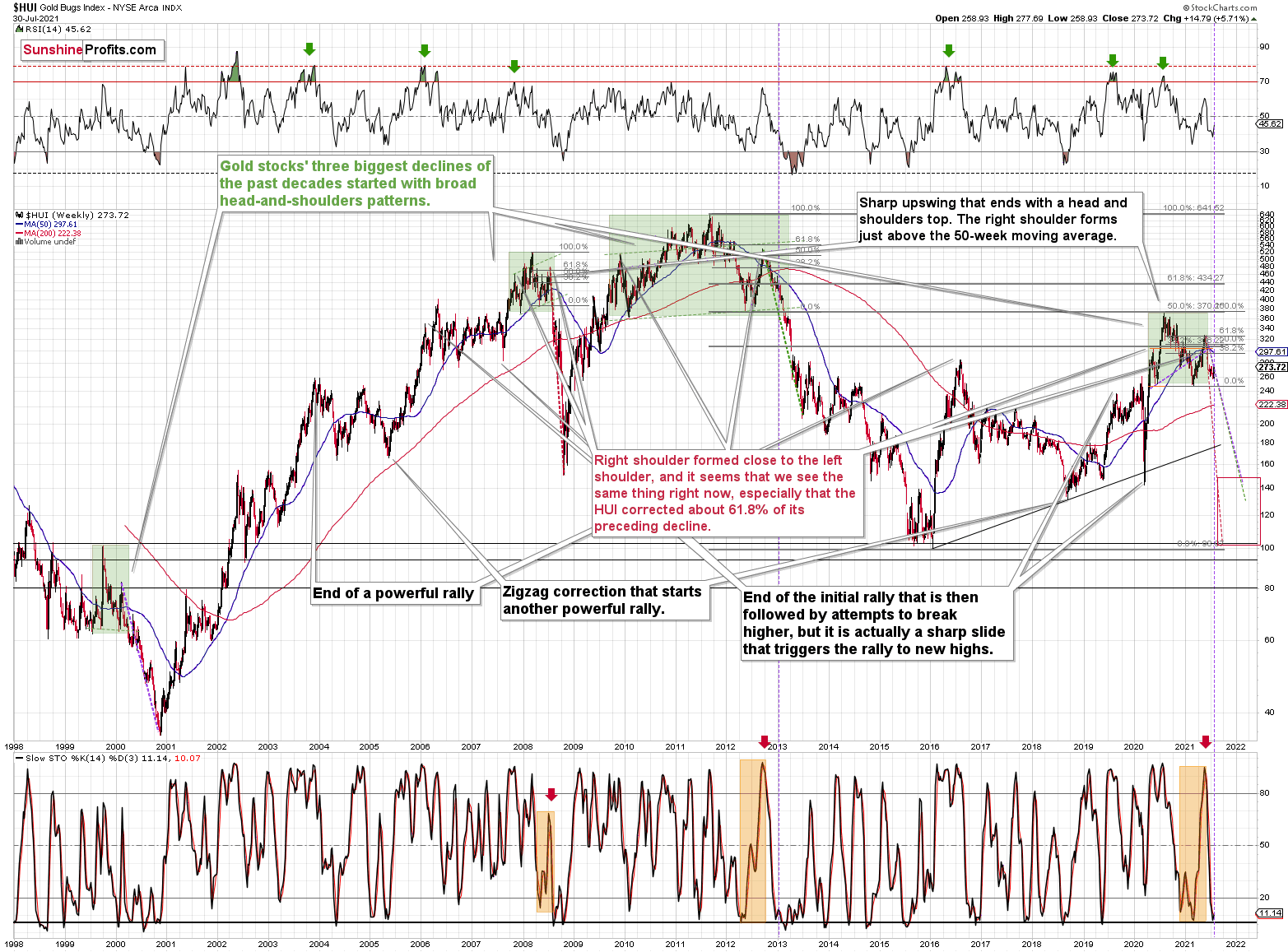 Can you see the HUI's rally at the end of 2012 that followed a small buy signal from the stochastic indicator? I marked it with a purple, dashed line.
No? That's because it's been practically nonexistent. The HUI Index moved higher by so little that it's impossible to see it from the long-term point of view.
Thank you for reading our free analysis today. Please note that the above is just a small fraction of the full analyses that our subscribers enjoy on a regular basis. They include multiple ...
more