Gold Falls Below $1,300 After Powell's Testimony: What To Expect From The ECB Meeting?
Powell's testimony before the Congress is behind us. The ECB meeting is ahead of us. Will Draghi support the gold prices after recent declines?
Gold Falls Below $1,300
Gold bulls might be disappointed. The upward trend apparently ended. As one can see in the chart below, gold fell below $1,300 on Friday.
Chart 1: Gold prices from March 1 to March 4, 2019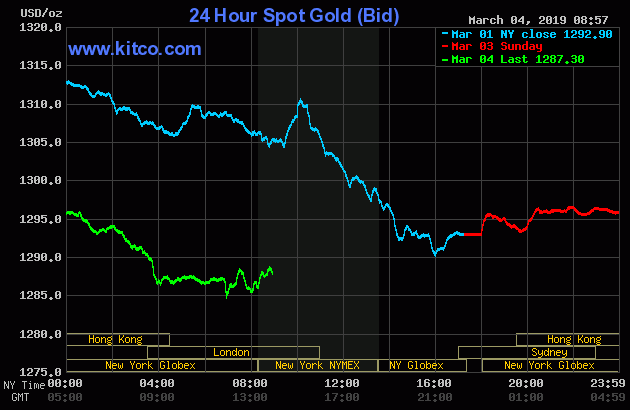 The decline surprised many people. However, we are not moved, as the previous gains looked a little too bold. As we reported on Thursday, notwithstanding the renewed conflict over Kashmir and Cohen's testimony, gold declined last week. Typically, when the yellow metal fails to jump – even for a while – after bullish news which should increase the safe-haven demand, this is a bearish signal.
What happened? Well, the analysts focused on the trade wars. On Sunday, the Wall Street Journal reported that the U.S. and China are close to finalizing a trade agreement. In particular, the media report that both China and the United States pledged to roll back tariffs currently imposed on $350 billion worth of goods. These revelations triggered a risk-on sentiment, exerting a downward pressure on gold prices. This is what we warned against last week. On February 26, we wrote in Gold News Monitor:
Thus, gold bulls should welcome all positive news about the trade deal. Unless, they will be too positive and spur too strong risk-appetite which is usually negative for safe-havens assets.
That "unless" was really in place. You see, we still believe that a trade deal may be negative for the US dollar (after all, the trade tensions were positive for the greenback) in the medium-term. However, what matters in the short-term is that the uncertainty about the US trade policy is gone from the market. So, we have seen a relief rally in the risky asset markets, to the detriment of gold.
If you enjoyed the above analysis and would you like to know more about the most important macroeconomic factors influencing the U.S. dollar value and the price of gold, we invite you to read the ...
more