Gold: Do Not Underestimate My… Copper?
Copper is often overlooked when looking for gold price movement clues. But this time, its breakout invalidation may have the high ground.
Do you know what the key commodity in today's world is? Crude oil. It's the most commonly used good on the planet. In terms of versatility and number of applications, silver is not far behind, but there is also one more market that definitely comes to one's mind when one hears "world commodity" – copper. And for a good reason – while it doesn't have as unique properties as silver or gold, copper is much cheaper and thus more widely available.
Consequently, what's happening in copper prices might have quite profound effects on the rest of the world, including the precious metals market. And the thing is: something very important happened to the price of copper recently.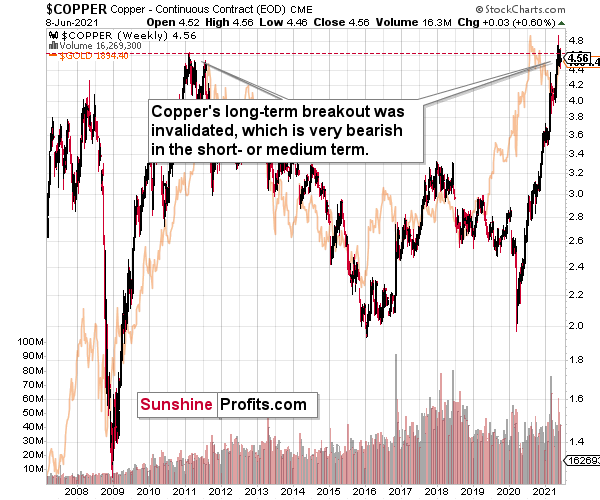 The Importance of the Brown Metal
Namely, copper has just invalidated its breakout to new highs, which means that – just like in the case of gold in August 2020 – it wasn't strong enough to soar higher. Well, it's not to say that copper is weak, as it has more than doubled its price since the 2020 lows. However, it does mean that it's likely time for a bigger corrective downswing, especially given that we haven't seen one in many months. For instance, when gold invalidated its breakout above 2011 high despite very bullish fundamentals, it meant that forecasting gold at lower levels was very much justified.
Likewise, when copper failed to hold its breakout above the 2008 high back in 2011, it was followed by a multi-year decline. Will the same happen this time? I wouldn't bet on that given the amount of money being pumped into the system, but even if this is not the case, copper is likely to suffer a significant drawdown on a temporary basis. No market can move up or down in a straight line, and neither copper nor gold nor silver are exceptions to this rule.
Disclaimer: All essays, research and information found on the Website represent the analyses and opinions of Mr. Radomski and Sunshine Profits' associates only. As such, it may prove wrong ...
more