GoFundMe Campaign Seeks $15,000 For Silver Short Squeeze Billboards
Thanks to WallStreetBets (WSB) and others on social media, the wider public is starting to grasp the cronyism in the financial markets, and now they are eyeing paper gold and paper silver markets.
The silver bullion market is one of the most manipulated on earth. After WSB 'Reddit-Raiders' sent GameStop shares sky-high earlier this month, some on the forum attempted to squeeze banks that are manipulating silver markets.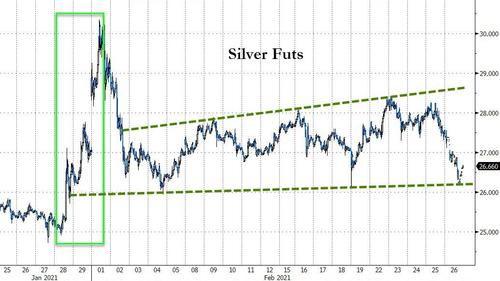 Judging by the unprecedented flows into the Silver ETF (SLV) weeks ago, almost double the previous record inflow for this 15-year-old ETF, the awareness only continues to grow.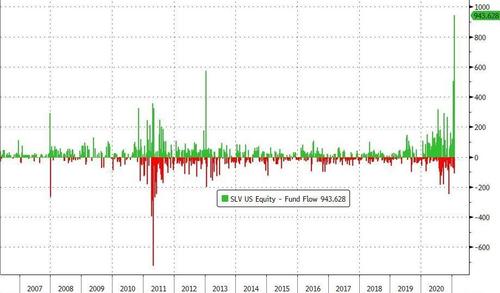 Despite the dismal squeeze on the paper markets, there was an "unprecedented" grab for physical silver, according to BullionStar.com. Just as Redditors bought billboards across the country urging people to buy GameStop stock -- it appears someone and a whole horde of donors are raising money to fund "Silver Squeeze" billboards.
On popular crowdfunding platform "GoFundMe," someone named Ivan Bayoukhi created a campaign to raise money to fund billboards for the awareness of "Silver Squeeze." At the time of writing, 310 donors have raised $12,513. Currently, 402 donors have raised $15,294 out of the $15,000 goal.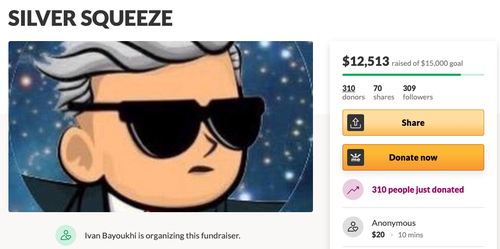 With another round of stimulus checks coming down the pipe, the question is what will people buy -- more GameStop stock, other 'meme stocks,' long volatility ETFs, physical silver, or SLV.
Disclaimer: Copyright ©2009-2021 ZeroHedge.com/ABC Media, LTD; All Rights Reserved. Zero Hedge is intended for Mature Audiences. Familiarize yourself with our legal and use policies ...
more