Futures Rise Led By Tech Giants As Nvidia Earnings Loom
Like yesterday, US futures and global stocks are higher again led by NVDA (+1.8%) and TSLA (+3.9%) ahead of the chipmaker's earnings tomorrow where the market is pricing in a +/- 10% swing. Unlike yesterday, when we saw the 10Y yield jump to a 16 year high, bonds are rallying even as the US Dollar sells off again for the third consecutive day buoying commodities where metals and Ags are pushing the group higher with WTI flat. As of 7:45am ET, S&P emini futures are up 0.5%, while Nasdaq 100 futs rose 0.7% amid outperformance by tech shares ahead to Nvidia earnings on Wednesday; Europe's Stoxx 600 Index was on track for its biggest gain in nearly a month. Today with get the latest New Home Sales data and Regional Fed activity updates (Philly, Richmond) while on the micro front with have several consumer earnings releases including BJ, DKS, LOW, and M.
(Click on image to enlarge)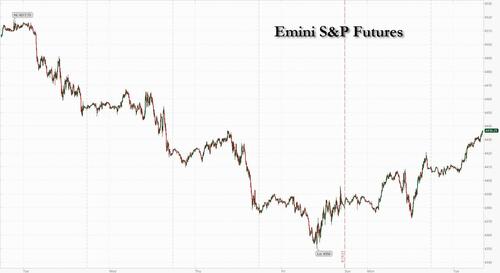 In premarket trading, Nvidia added 1.6% after a more than 8% jump on Monday buoyed tech stocks. Activision Blizzard rose 1.1% as Microsoft's $69 billion acquisition of the firm got a fresh chance at winning approval from UK regulators after the tech giant submitted a substantially different deal. SoftBank's semiconductor unit Arm filed for what is set to be this year's largest US initial public offering. Here are some other notable premarket movers:
Dick's Sporting Goods sank 19% after the retailer's adjusted earnings per share missed analysts' expectations and management cut its annual EPS guidance citing the impact of elevated inventory shrink.
Coinbase gains 2.6% alongside crypto-related peers, after the crypto exchange operator took a stake in stablecoin issuer Circle, a development which KeyBanc says could offer potential upside to Street interest income estimates.
AppLovin shares rose 4.3% as Jefferies upgraded the stowck to buy from hold and boosted its PT by 150% to $50, on increased confidence in the application software developer's ability to gain market share in the mobile ad tech segment.
Baidu shares gained 4.4% after its revenue rose the most in more than a year, joining China's largest internet companies in rediscovering growth after Beijing relaxed its grip on the private sector to try and jumpstart a faltering economy.
Miniso shares jumped 7.0% after the Chinese variety store chain reported fourth-quarter net profit that Jefferies said was better than its estimates.
Tesla rose 4.4%, on track to extend gains after snapping its longest losing streak of the year on Monday. However, the stock is still down 14% in August, the worst monthly performance since April.
Zoom advanced 4.1% after the company raised its full-year forecast for both adjusted earnings and revenue. Analysts note that the company benefited from upsells as it sold some of its existing clients additional products and services.
Stocks are bouncing after three weeks of losses, with investors focusing on Big Tech and Federal Reserve Chair Jerome Powell's speech due Friday at the Jackson Hole Economic Policy Symposium. Bonds pared some of Monday's slump, when the yield on 10-year inflation-protected Treasuries pushed beyond 2% for the first time since 2009.
Recent data underscoring the resilience of the US economy has supported the case for a soft landing, said Sophie Lund-Yates, lead equity analyst at Hargreaves Lansdown. "This creates an environment in which tech stocks are better able to prosper, and that wider optimism is spreading throughout global markets."
Meanwhile, investors are seeking clues on the trajectory of US monetary policy after Fed officials last month lifted rates to a range of 5.25% to 5.5%, the highest level in 22 years. Over 80% of those polled in Bloomberg's latest Markets Live Pulse survey said Powell's Jackson Hole speech will reinforce the message of a hawkish hold: "Each incremental hike that they have from here just raises the risk that we have a much sharper slowdown in 2024 and perhaps even a recession," Lori Heinel, chief investment officer at State Street Global Advisors, said on Bloomberg Television. "So as long as inflation remains contained, we think that they will take a pause here."
In Europe, the Stoxx 600 is up 1%, its largest daily increase in over three weeks. In the UK, the FTSE 100 Index snapped its longest losing streak since July 2019. A late surge in Chinese shares boosted sentiment in Asia, with key mainland equity indexes rebounding from oversold levels. Here are some notable movers:
Ubisoft shares rise as much as 7.1% after the French company said it signed a deal with Microsoft, which will give it cloud-streaming rights for Activision Blizzard titles to be released over the next 15 years
Mining stocks outperform the benchmark index on Tuesday as iron ore climbs on signs Chinese steel mill demand may be improving ahead of an expected pick-up in construction in September and October
Hays, Adecco and Randstad all rise about 3% after BNP Paribas Exane upgrades all three staffing companies to outperform on the expectation that a brightening macro backdrop should boost demand
Bakkafrost falls as much as 7.8%, the most in a month, after the Oslo-listed Faroese seafood group reported 2Q figures. Kepler Cheuvreux says weakness in firm's Scottish business was a key negative
JDE Peet's falls as much as 2.2% after ING Bank cut its rating to hold, saying it now expects a delay to the Dutch coffee company reducing its leverage after it issued new guidance at half-year results
Earlier in the session, Asian equities snapped a seven-day losing streak, as regional tech firms followed their US peers higher. The MSCI Asia Pacific Index gained as much as 0.8%, led by technology and financial shares.
Japan's Nikkei 225 rose, led by tech names with SoftBank among the notable performers after its Arm unit filed for a US IPO.
ASX 200 was rangebound amid a slew of earnings releases including a drop in profits for mining giant BHP.
Hang Seng and Shanghai Comp were initially indecisive as participants digested the latest support efforts from Premier Li and the State Council, as well as the PBoC's net liquidity drain. Action which became markedly more constructive as European players entered the fray and the tech strength from Wall St continued; though, the positive move occurred despite an absence of fresh catalysts at the time.
Gauges in Korea and Taiwan advanced as chip-related stocks climbed on optimism over Nvidia Corp.'s upcoming earnings report.
While China's economic woes and surging US Treasury yields are keeping sentiment in check, traders will be keeping an eye on a key speech by the Fed later in the week for any signs of economic strength in the US and the trend on elevated interest rates.
In FX, the Bloomberg Dollar Spot Index is down 0.2%, in on track to post its fourth consecutive daily decline; the Japanese yen is among the best-performing G-10 currencies, rising 0.4% versus the greenback.
The USDJPY slipped as much as 0.5% to 145.55, as the BOJ allowed Japan's 10-year yield to climb 2bps to 0.67%, the highest since 2014.
GBP/USD rose 0.3% to 1.2800, the highest since Aug. 10. The pound extended recent gains as hedge funds added long positions, while traders took profit on bullish dollar exposure; gilts outperformed, with the short-end leading gains; yield on two-year note fell 6bps to 5.17%
The offshore yuan steadied after the People's Bank of China implemented the strongest fixing on record on the currency as the central bank continues its battle against yuan bears. The one month offshore yuan interbank interest rate jumped to highest since 2018.
In rates, Treasury 10-year yields were 3bps lower at 4.31% after topping through 4.36% in early Asia session; Bunds and gilts have followed suit, with gilts outperforming by 3.5bp in the sector. Japan's 10-year yield climbed 2bps to 0.67%, the highest since 2014. Treasury futures are higher on the day, paring a portion of Monday's losses which saw 10-year yields push to new multiyear highs. US yields richer by 1.5bp to 3bp across the curve with the 2s10s spread flatter by 2bp on the day — belly outperforms, tightening 2s5s30s fly by 2.5bp vs. Monday close. US 5-year yields topped just short of 4.5% in the early Asia selloff, re-testing the October high of 4.504%. Yields richened over Asia and early London sessions and are lower by up to 3bp into early US trading. No strong catalyst, although core European rates are outperforming, notably gilts where yields are up to 8bp richer in front-end.
In commodities, crude futures decline, with WTI falling 0.2% to trade near $80.60. Spot gold rises 0.4%.
To the day ahead now, and US data releases include existing home sales for July, and the Richmond Fed's manufacturing index for August. We'll also get the UK's public finances for July. From central banks, we'll hear from the Fed's Barkin, Goolsbee and Bowman. In the geopolitical space, the three day BRICS summit gets under way in South Africa. Finally, today's earnings releases include Lowe's.
Market Snapshot
S&P 500 futures up 0.3% to 4,425.25
MXAP up 1.0% to 158.18
MXAPJ up 0.7% to 496.14
Nikkei up 0.9% to 31,856.71
Topix up 1.1% to 2,265.71
Hang Seng Index up 1.0% to 17,791.01
Shanghai Composite up 0.9% to 3,120.33
Sensex little changed at 65,248.71
Australia S&P/ASX 200 little changed at 7,121.61
Kospi up 0.3% to 2,515.74
STOXX Europe 600 up 0.8% to 452.18
German 10Y yield little changed at 2.68%
Euro up 0.2% to $1.0916
Brent Futures down 0.4% to $84.12/bbl
Brent Futures down 0.4% to $84.12/bbl
Gold spot up 0.2% to $1,898.67
U.S. Dollar Index down 0.18% to 103.11
Top Overnight News
China is escalating its defense of the yuan, pushing up funding costs in the offshore market to squeeze short positions and setting a new record with its stronger-than-expected reference rate for the currency
Japan's 10-year yield climbed to a nine-year high Tuesday amid a selloff in global debt markets, raising the prospect of further bond buying from the nation's central bank to slow the rise
UK government borrowing came in below official forecasts in the first four months of the fiscal year, providing potential room for Chancellor Jeremy Hunt to cut taxes
Two weeks after Moody's Investors Service rattled financial stocks by cutting the ratings for a slew of US banks, S&P Global Ratings is downgrading and dimming its outlook for several more — citing a similar mix of pressures making life "tough" for lenders
A more detailed looka t global markets courtesy of Newsquawk
APAC stocks traded mixed following a similar performance stateside where tech rallied but the gains in the broader market were capped amid further upside in global yields; however, as the session progressed a bounce was seen in Chinese equities, in a similar fashion to previous sessions. ASX 200 was rangebound amid a slew of earnings releases including a drop in profits for mining giant BHP. Nikkei 225 was underpinned as tech names in the Asia-Pac region took inspiration from US peers and with SoftBank among the notable performers after its Arm unit filed for a US IPO. Hang Seng and Shanghai Comp were initially indecisive as participants digested the latest support efforts from Premier Li and the State Council, as well as the PBoC's net liquidity drain. Action which became markedly more constructive as European players entered the fray and the tech strength from Wall St continued; though, the positive move occurred despite an absence of fresh catalysts at the time.
Top Asian News
BoJ Governor Ueda met with Japanese PM Kishida and did not discuss FX volatility in the meeting but explained to him the BoJ's July policy decision which Kishida said he understood the July policy move. PM Kishida asked questions on various aspects of the economy and financial developments which Ueda answered as much as he could although Ueda wanted to refrain from mentioning exactly what was discussed and noted his predecessor Kuroda had met with the PM on a regular basis and this meeting was of the same nature, according to Reuters.
China has extended the waiver for capital gains tax for the HK stock connect, according to Bloomberg.
Japanese PM Kishida instructed LDP executives to come up with overall direction of the measures by the end of the month, gas retail prices are approaching highest level due to Forex and reduction in oil production. Wants to consider economic measures in September.
European bourses are in the green, Euro Stoxx 50 +1.4%, as the US tech-rally reverberates into European trade alongside a late doors recovery in Chinese trade. As such, Tech remains the outperforming sector. Followed by Basic Resources given base metal performance in tandem with commentary from BHP post-earnings. Stateside, futures are in the green but with magnitudes less pronounced given they have already reacted to the US-led tech turnaround, ES +0.3%, NQ +0.5%; ahead, Richmond Fed and a handful of speakers feature. Forthcoming iPhone models from Apple (AAPL) will be more costly, via DigiTimes citing industry sources which are less optimistic about shipments for the year. Baidu Inc (BIDU) Q2 2023 (USD): Adj. EPS 3.11 (exp. 2.32), Revenue 4.70 (exp. 4.62bln). Says it is well positioned to capitalize on opportunities arising from generative AI and LLM. Lowe's Companies Inc (LOW) Q2 2023 (USD): EPS 4.56 (exp. 4.49), Revenue 24.956bln (exp. 24.99bln). Affirms FY23 outlook, Quarterly comp sales -1.6% (exp. -2.36%)
Top European News
CEO Pay Jumps 16% in UK But Remains Below Pre-Covid Levels
JDE Peet's Slips After ING Cuts on Delayed Deleveraging View
Swiss Watch Exports Post First Monthly Decline in Two Years
Bunds Advance After Biggest Jump in Euro-Area Surplus Since 2015
Germany Seen Overestimating Its Climate Protection Efforts
FX
Greenback grounded as USTs grind higher and risk sentiment improves.
DXY slips from 103.370 to 103.010 after another technically soft close.
Kiwi and Aussie latch on to Buck retreat and form firmer bases above 0.5900 and 0.6400 respectively ahead of NZ retail sales and Australian prelim PMIs.
Euro back on 1.0900 handle where 1.3bln option expiries reside, Cable tests 1.2800 after a brief breach of 50 DMA and Yen rebounds towards 145.50 from effective double top around 146.39.
Yuan fades from just over 7.2700 vs Dollar after PBoC sets the most depressed USD/CNY reference rate to date.
PBoC set USD/CNY mid-point at 7.1992 vs exp. 7.3097 (prev. 7.1987)
Fixed Income
Bonds bounce firmly and steadily.
Bunds breach Fib resistance and top 131.00 at 131.04 vs a 130.54 low.
Gilts lag initially irrespective of 'supportive' UK public finance data, but get a boost via DMO supply to top 92.00 from 91.43 Liffe base.
T-note firm within 109-07+/108-28 range ahead of busy US agenda.
Commodities
Crude benchmarks are subdued and failing to benefit from broader risk, with desks attentive to reports that the Iraqi oil minister arrived in Turkey on Monday to discuss the resumption of exports from the Ceyhan terminal.
Currently, WTI and Brent Oct are under USD 80.00/bbl and near USD 84.00/bbl respectively.
For LNG, extensive remarks from the Woodside CEO (see below) with developments otherwise somewhat light, Dutch TTF pulling back modestly.
Spot gold is firmer despite the constructive risk tone and taking impetus from the USD's downside and has managed to inch above USD 1900/oz at best. Base metals followed the tone of Chinese trade and as such experienced a marked bid towards the APAC close with fresh fundamentals light at the time.
Woodside Energy (WDS AT) CEO said they continue to have constructive bargaining talks with unions regarding LNG facilities in Australia and noted there is a wide range of possible strike actions that might be taken at LNG facilities. Woodside CEO said demands of unions are focused on working conditions, certainty and wages, as well as noted that they have been spending a lot of time listening and trying to understand the key areas of concern, while the CEO added they are proceeding with goodwill and respect, but also have a duty to shareholders.
Woodside Energy CEO said that talks with gas workers remain constructive despite increasingly bitter rhetoric, via FT; adding, the market reaction to potential strikes was "fairly irrational" and a sign of market fragility.
NHC says Depression Nine has strengthened into Tropical Storm Harold, heavy rains and tropical-storm-force winds over portions of South Texas from later today. Headed for the south Texas Coast with heavy rains and strong winds beginning to spread onshore in the warning area.
Iraqi Oil Minister meets Turkish counterpart in Ankara and Iraqi; Turkish oil ministers discuss joint relations in oil and energy sector; talks will include the resumption of oil export through Ceyhan Oil Terminal, via statement.
India is reportedly considering an export tax for parboiled rice variety, via ET Now citing agencies.
Geopolitics
Explosions were reported on the outskirts of Moscow around Strogino and air defences shot down a drone over Krasnogorsk, Moscow oblast, while TASS noted all Moscow airports were closed for arriving and departing flights.
North Korea notified Japan of a plan to launch a satellite on August 24th-31st, according to NHK.
North Korea is said waiting for the right time to punish the US and South Korea, while it was suggested that US military drills could trigger 'thermonuclear war', according to commentary in KCNA.
South Korea urged North Korea to immediately abandon the plan to launch a satellite, while Japanese PM Kishida also called on North Korea to stop its satellite launch and said the possible launch is extremely regrettable. Furthermore, Kishida said they are preparing to station PAC3 and Self-Defence Force Aegis ships as a precaution.
Taiwan's Defence spokesperson says "so far I have not heard any confirmation. As far as I understand, this information is currently a statement circulating on social media", via Tingting Liu. In the context of unconfirmed social media speculation that a Chinese Navy nuclear powered attack submarine experienced an incident in the Taiwan Strait.
Progress has been made in the grain corridor talks, according to a source cited by the Turkish Presidency, "and the path without Russia is not guaranteed", via Sky News Arabia.
US Event Calendar
08:30: Aug. Philadelphia Fed Non-Manufactu, prior 1.4
10:00: Aug. Richmond Fed Index, est. -10, prior -9
10:00: July Home Resales with Condos, est. 4.15m, prior 4.16m
10:00: July Existing Home Sales MoM, est. -0.2%, prior -3.3%
Central Banks
07:30: Fed's Barkin Speaks
14:30: Fed's Goolsbee Gives Welcome Remarks
15:30: Fed's Goolsbee and Bowman Participate in Fireside Chat
DB's Jim Reid concludes the overnight wrap
After a run of 5 consecutive weekly declines, the relentless bond selloff showed no sign of letting up yesterday as we move closer to Jackson Hole later this week. Several new milestones were reached over the last 24 hours, and the biggest was that the 10yr Treasury yield hit a new high for this cycle, breaking through the previous intraday peak of 4.335% back on October 21 last year. By the close yesterday, it was up +8.3bps to 4.338%, where it remains this morning, and at its peak overnight it even got as high as 4.362%. Those trends have been evident throughout the world, and overnight we've also seen the yield on 10yr Japanese government bonds reach its highest level since 2014, at 0.66%.
With investors continuing to expect higher rates for longer, this period feels increasingly reminiscent of the early 2010s in reverse. Back then after the GFC, policy rates had been slashed to zero by central banks, but there was always the expectation that rate hikes were never too far away. Yet in reality, they kept being pushed out year after year. Today, it feels like the same process is happening again, except with rate cuts this time, which are also being pushed out ever further into the future. For instance, the first rate cut from the Fed is now priced in for May 2024, but that timing has continued to move into the distance. Indeed, back in March at the height of the SVB turmoil, investors were pricing in that rate cuts would already have begun by now.
That scepticism about rate cuts was increasingly evident from futures markets yesterday. By the close, investors were pricing in a 49% chance that the Fed would deliver another rate hike by the November meeting, which is the highest probability of another hike since the last meeting in late July. And looking further out, the rate priced in for the Fed's December 2024 meeting was also up +8.4bps to 4.36%, which marked another new high for this cycle.
In turn, those moves helped spur a fresh selloff for sovereign bonds, with US Treasuries leading the way. The shift happened across the curve. The 2yr yield (+5.8bps to 5.0006%) closed above 5% for just the third time since 2007 (the other two were in March just before SVB's collapse), whilst the 30yr yield (+7.1bps) hit a post-2011 high of 4.45%. At the same time, there were also some significant new milestones for real yields, with the 10yr real yield (+4.1bps) trading above 2% for the first time since 2009, before ending the session at 1.98%.
As that was happening, there was another source of inflationary pressures from European natural gas prices (+12.01%), which closed above €40 per megawatt-hour for the first time since mid-June. That comes as LNG workers at a key facility in Australia could go on strike from early September if a pay agreement isn't reached. That has the potential to affect 10% of global LNG exports, and while Europe does not receive LNG from Australia, it will increase competition for shipments from elsewhere. Europe is still in a much better position than last year however, since gas storage is currently 91% full, which is above the 77% mark at the same point in 2022. Furthermore, prices are still only a sixth of their levels back then. That said, the move still marks a decent uptick from their levels at the end of July, when they closed at €28.37 per megawatt-hour, and risks adding to inflationary pressures once again.
That backdrop and the US Treasury selloff meant that European yields moved higher across the continent. For example, yields on 10yr bunds (+8.2bps) reversed the bulk of their decline on Friday, and there was a similar move across the continent, with yields on 10yr OATs (+7.6bps) and BTPs (+8.2bps) moving higher as well. However, one difference to the last 4 weeks was that gilts outperformed other European sovereigns, and the 10yr yield was only up +5.4bps to 4.72%. Even so, the 10yr real yield (+5.1bps) still closed at its highest level since the mini-budget turmoil, at 0.94%.
Despite the ongoing rise in yields, equities held their ground and the S&P 500 ended its run of four consecutive decline with a +0.69% gain. That was driven by a big turnaround after Europe went home, since the index had been in negative territory earlier in the session. However, the sectoral moves were pretty divergent, with only 45% of the index's constituents up on the day. Tech stocks saw a large outperformance that helped the NASDAQ (+1.56%) and the FANG+ index (+2.84%) record their strongest gains since late July. Chipmaker Nvidia (+8.47%) led the tech gains ahead of its results tomorrow. But elsewhere, the small-cap Russell 2000 was down -0.18%, whilst the KBW Bank Index (-0.27%) fell for a 6th consecutive session for the first time since the market turmoil in March. Meanwhile in Europe, the Stoxx 600 (+0.05%) closed narrowly in positive territory.
That positive momentum has mostly continued in Asia overnight, with advances for the Nikkei (+0.75%) and the KOSPI (+0.40%). In China however, equity markets are continuing to struggle, with the Shanghai Comp (-0.24%) and the CSI 300 (-0.32%) both losing ground. Indeed, the CSI 300 is currently on track to close at its lowest level in 9 months. That said, the Hang Seng (+0.16%) is currently set to end a run of 7 consecutive declines, which would end its longest run of declines since November 2021. Looking ahead, futures are pointing to modest losses in today's session, with those on the S&P 500 down -0.07%.
There wasn't much in the way of economic data yesterday, but we did get the German PPI inflation reading for July. That showed PPI was now down by -6.0% year-on-year (vs. -5.1% expected), which is the first time it's been in deflationary territory since November 2020.
To the day ahead now, and US data releases include existing home sales for July, and the Richmond Fed's manufacturing index for August. We'll also get the UK's public finances for July. From central banks, we'll hear from the Fed's Barkin, Goolsbee and Bowman. In the geopolitical space, the three day BRICS summit gets under way in South Africa. Finally, today's earnings releases include Lowe's.
---
More By This Author:
Philly Fed Services Survey Screams Stagflation - Orders Drop As Prices Pop
SoftBank's Arm Files For IPO
Treasury Yields Soar To 16 Year High As 30Y Mortgage Rates Near 21st Century High
Disclosure: Copyright ©2009-2023 ZeroHedge.com/ABC Media, LTD; All Rights Reserved. Zero Hedge is intended for Mature Audiences. Familiarize yourself with our legal and use policies ...
more