Forget Gold & Silver: Check Out Rhodium
You have probably noticed that the price of gold has languished, and silver, even though it has had a few recent up moves, it is still struggling. But have you checked out the price of rhodium recently? In 2017, you could have bought an ounce of rhodium for just $800 an ounce. Last week, it traded for $29,200 per ounce, an increase of 3,500% in five years.
Even if you had bought an ounce two years ago, you would only have paid about $2500, still generating a return of 1068%.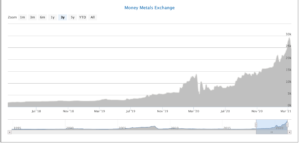 Source: Money Metals Exchange
So What the Heck is Rhodium?
You may have heard of the precious metals platinum and palladium, which are part of the platinum group metals. These metals include are ruthenium, rhodium, palladium, osmium, iridium, and platinum. Rhodium is considered to be one of the rarest of the precious metals.
It is one of the significant metals in catalytic converters, which is why you may have seen a dramatic increase in the news of the stealing of these emissions control devices. It is used in jewelry, as coatings for sterling silver, in nuclear reactors, aircraft spark plugs, automobile headlights, and many other uses.
Rhodium Mining Stocks
It is interesting to note that the rhodium mining stocks have not increased as much as the metal itself, but that could be partly due to the fact that all of these companies mine for other metals.
There are actually over a dozen stocks of companies that mine for rhodium. Once example is Anglo American Platinum Limited (ANGPY), a $35 billion market cap company that mines for platinum, palladium, rhodium, ruthenium, iridium, and osmium, as well as nickel, copper, cobalt sulphate, sodium sulphate, and gold. It has a sky high price to earnings ratio of 90, but it does pay a yield of 2.1%. The dividend is paid semi-annually. Over the last five years, the stock has moved up by 543%, not as much as the price of rhodium, but still not too shabby.
Another rhodium miner is Impala Platinum Holdings Ltd (IMPUY), which has a market cap of $14 billion. The yield is 4.61%. This South African companies mines for platinum, palladium, rhodium, chrome and nickel ores in Canada, South Africa and Zimbabwe.
Ivanhoe Mines Ltd. (IVPAF) is a $6 billion market cap Canada-based company that mines for platinum, palladium, nickel, copper, gold, rhodium, zinc, germanium, and lead in South Africa the Congo.
For a free list of over a dozen rhodium mining companies, click here. Maybe you can make money in your precious portfolio with rhodium.
Disclosure: Disclosure: Author didn't own any of the above at the time the article was written.
Disclaimer: This article is designed to provide information. It is ...
more