Eric Coffin: Is Market Sentiment Shifting To Gold?
Note from TM Editors: This article discusses penny stocks and/or microcaps. Such stocks are easily manipulated; do your own careful due diligence.
Equities past their peak? Bond market dead? So where do investors go looking for returns? Eric Coffin suggests gold, both bullion and stocks. In this interview with The Gold Report, the publisher of Hard Rock Analyst explains how changes in the currency and energy markets have reignited interest in the sector, and suggests five gold explorers, plus one each in copper and uranium, poised to profit from the new economic realities.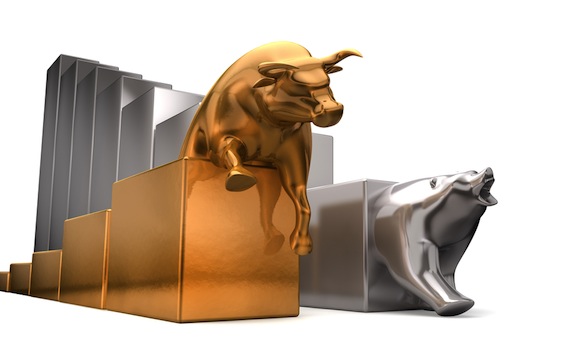 The Gold Report: Quite a few analysts believe 2015 will be a year of great economic volatility, as foreshadowed by what happened with oil in 2014. Do you agree?
Eric Coffin: I do think 2015 will be pretty volatile, with the potential for nasty financial surprises. We've already seen bond yields go negative in Germany, France and elsewhere, and we could see big moves in and out of different asset classes.
TGR: Could the oil price collapse be a leading indicator of a global economic slowdown?
EC: That's an oversimplification. Economic growth in China has slowed and will probably slow some more. And China is the 800-pound gorilla of commodity consumption. Estimates for worldwide growth in 2015 have recently come down but not enough to justify the drop in the oil price.
"Excelsior Mining Corp.'s Gunnison project has extremely good logistics."
The main reason for the oil price crash is oversupply. U.S. supply has grown massively due to fracking and horizontal drilling, while Libya and Iran have both added a million barrels a day. These events have disrupted the equilibrium.
TGR: Mario Draghi, president of the European Central Bank (ECB), has famously boasted he will do "whatever it takes" to save the euro. Greece will hold an election Jan. 25, and the polls tell there is a good chance the new government will reject its current arrangement with the ECB. If this occurs, can the euro be saved?
EC: The euro could survive a "grexit." The rescue package for Greece put together in 2012 essentially shifted all government debt from public and private banks to the International Monetary Fund, the European Rescue Fund and other transnational institutions. Together, they could handle a $300 billion ($300B) write-down. Not easily, but they could manage it.
The real danger for the euro would occur should Greece prosper following a massive devaluation of its currency. Then countries like Italy, with much bigger debt loads, would want out as well, and the euro might be finished.
TGR: The next ECB monetary policy meeting is in Frankfurt on Jan. 22. Will the Germans go along with the launch of the quantitative easing (QE) program Draghi is rumored to unveil there?
EC: Draghi can't just jawbone any longer. He's got to do something, or the market will stop taking him seriously. But I'm not sold on the idea that the Germans will agree to any QE program big enough to impress the market. I think it would take a trillion-euro-sized program to impress the market. Hard to believe the Germans will go along with that.
TGR: You wrote recently that "gold is the world's second strongest major currency." Are you surprised that it has recently outperformed the U.S. dollar?
EC: Not really. I've been waiting quite a while for this to happen. Most market strategists do not view gold as a currency but only as a commodity. And their rule is: dollar up, gold down. But when you do view gold as a currency, you see that compared to many other currencies, including the euro, ruble, yen and rupee, it has been a good place to be in over the last year.
We may be moving to a new model, whereby gold has a weak correlation to the U.S. dollar, or perhaps no correlation at all.
TGR: Is there anything to the recent stories that Vladimir Putin might deal with the oil-induced threat to the ruble with the creation of a new ruble, one backed partially by gold?
EC: Putin clearly likes bullion. The Russian central bank has bought a lot of it in the last two to three years. There's a certain logic to a gold-backed ruble because the ruble is now effectively a petrodollar, and the oil price collapse has been disastrous for Russia. It's far more likely that Putin would sell U.S. dollars rather than gold.
TGR: What are your 2015 forecasts for the prices of gold and silver?
EC: I'm still deciding, but if this reversal in the gold-dollar correlation can be maintained, $1,300 to $1,350 per ounce ($1,300–1,350/oz) is a fairly reasonable minimum target. If things blow up in Greece, it's tougher to call because that would be tough on the euro and good for the U.S. dollar, but it would also drive more people into other asset classes, such as gold. If gold can get to and through $1,350/oz, silver should be able to get to $22–24/oz at least.
A zero-yield bond world would be good for gold because the traditional argument against gold—it doesn't pay interest—would no longer have any force.
TGR: For several years, the gold-silver price ratio has been at a traditionally high 65. Recently, this has risen to 75. Will this trend reverse?
EC: You can probably count on the fingers of one hand all the silver miners making money today. There are few silver projects being financed to production, and the potential for a fall in silver production is greater than that for gold. It won't take many investors to be long on silver to drive the price up $5–10/oz.