Energy Crisis: Metals At Historic Highs
If you look at the metal prices on the LME, the London metals market, they are at their all-time highs.
Why?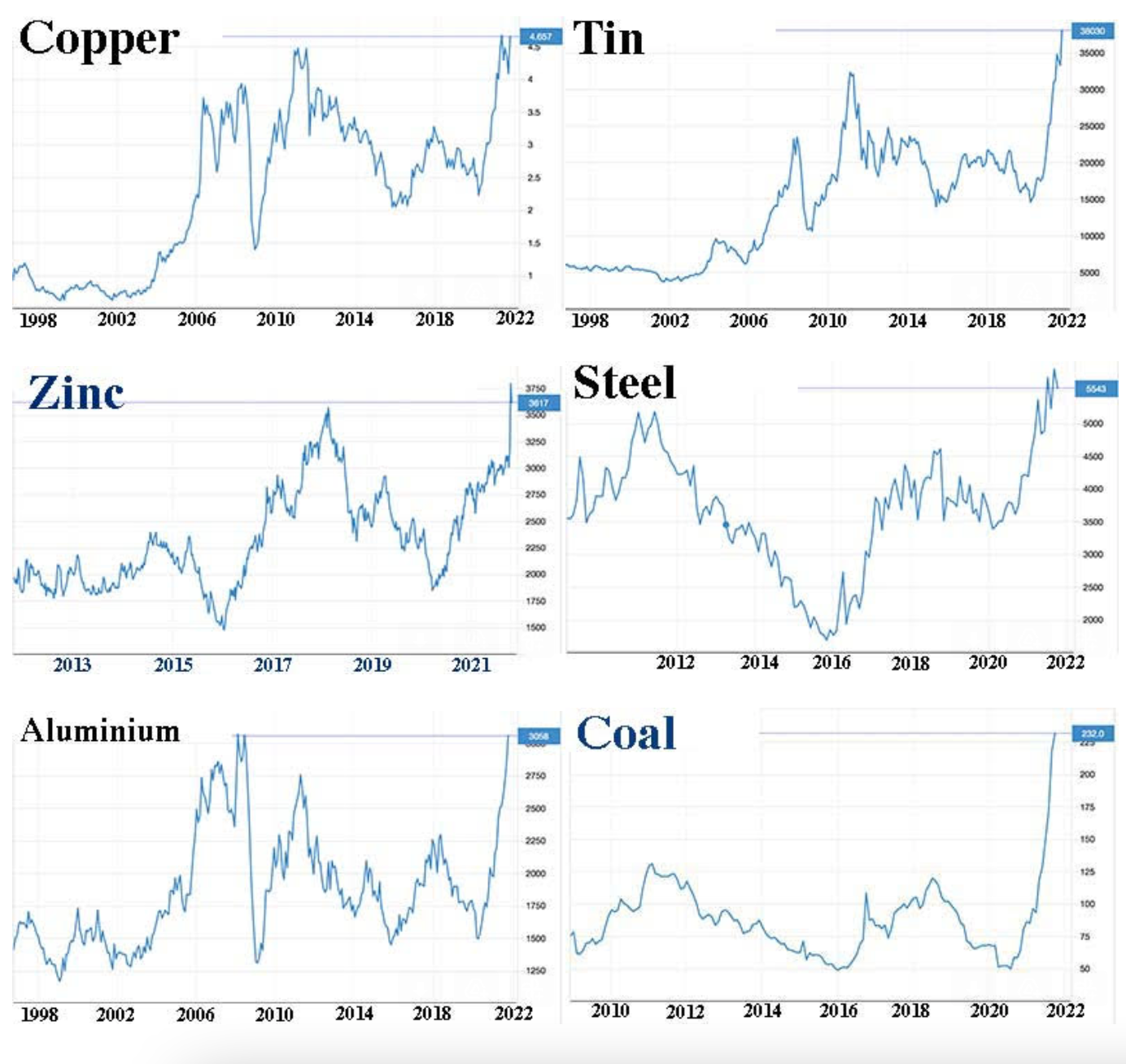 AN ENERGY CRISIS?
The price of natural gas is soaring in Europe while waiting for some technocrats to deign to endorse the compliance of the Nord-Stream2 gas pipeline, which would allow Russian gas to relieve this essentially political crisis.
China produces 3 902 Mt of coal annually, this is 8 times the U.S production, for an annual consumption of 4 000 Mt. Its soil reserves represent 37 years of consumption. Chinese energy is 72.6% dependent on coal, which explains the terrible air pollution in China.
Yet despite its immense reserves and mining production, China is currently experiencing a major energy crisis due to a coal shortage. As a result, the price of it, which fluctuated between 600 and 1 000 per tonne on futures (January Zhengzhou) for two years, soared abruptly in September and listed 2 226 on October 15. This price hysteria is reflected in the price of coal on the London market.
At the same time, India, the world's second-largest producer of coal, is experiencing a similar energy crisis and must limit the distribution of electricity. Its 135 coal-fired power plants as of October 15 had only 8 days of fuel and half of them only had 2 days of operation.
In China as in India, there is a powerful political will, which probably aims to comply with the agreements on the climate, but the first effect of which is a sudden slowdown in the economy. In China, for example, authorities have restricted the supply of energy to the most consuming industries. Of course, these include the steel industry, mineral refining and smelting requires a lot of energy. One of the most glaring side effects of this Chinese administrative decision is the shortage of magnesium. Yet magnesium is the 8th most abundant element in the Earth's crust and constitutes 13% of the planet's mass. China, because of its low-cost workforce, produces 80% of the world's magnesium. But since its production processes require a lot of energy, companies in this field have just been drastically limited. As a result, magnesium sheets, which make it possible to meet the weight saving requirements in the automotive sector, will become a scarce commodity from the beginning of next year, which will put the automotive industry in slow motion, if this is at a standstill. And not just in China.
Disclosure: GoldBroker.com, all rights reserved.