Copper Is About To Soar
To repeat a theme that I will maintain for most of the next seven years (the decade), three components of the electrification movement will need to grow exponentially in order to meet the demand associated with this transition: More clean energy (nuclear); more transmission infrastructure (copper), and increased electrical storage capacity (lithium).
(Click on image to enlarge)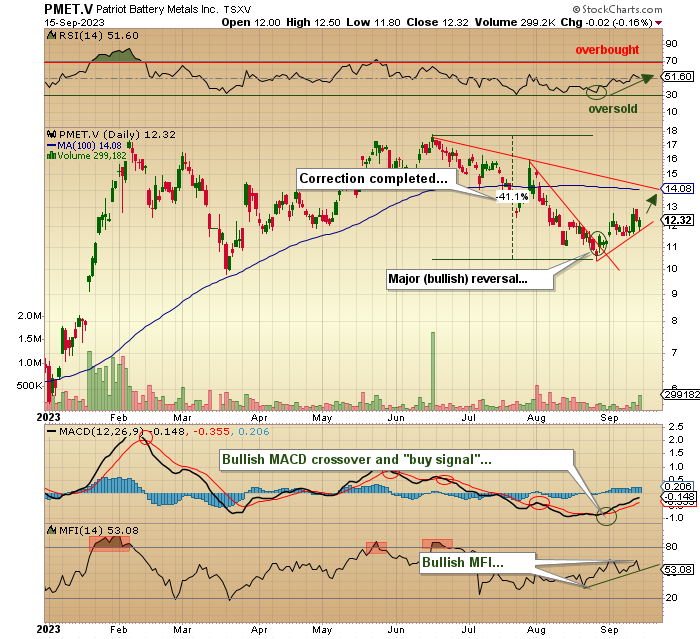 The lithium sector has been the savior of resource brokers and fund managers for most of the past three years. Using the chart of hard rock miner Patriot Battery Metals Inc. (CA), it appears as though the summer correction that hammered the bulk of the lithium miners has ended. I cannot tell whether it is going to last for very long, but short term, the runway looks clear.
The lithium "briners," which have been a completely different story this summer, had a much-needed correction last week as the lead "briner," E3 Lithium Ltd. lost a third of its value in three trading sessions after peaking at a CA$400m market cap at $5.72.
That dragged my top pick for 2023, Volt Lithium Corp. (VLT:TSV;VLTLF:US), down as well from a recovery high at CA$.395 to close out the week at $0.315.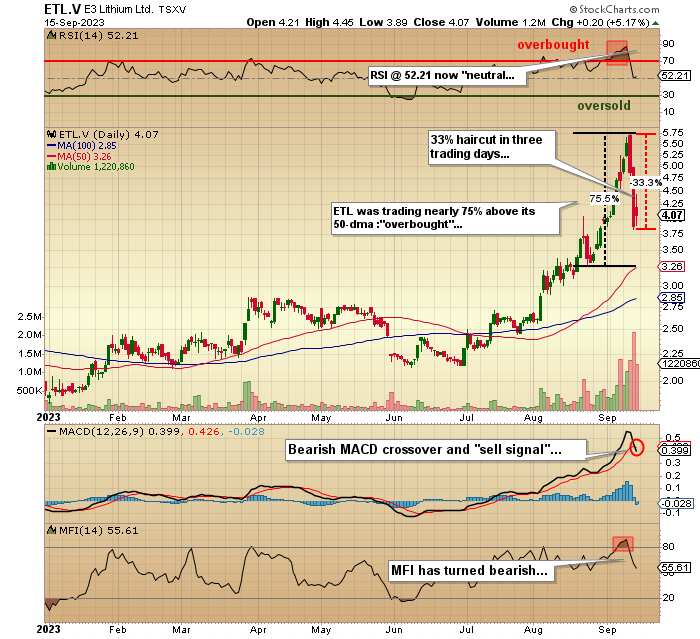 Despite the setback, the "briners" will achieve free cash flow objectives a lot sooner than will the "miners," but with all of the automotive money flooding into "miner projects," I cannot see any of the lithium space players being left out of the demand-led rally that should last until at least 2030. I am inclined to invest heavily in the ones with the lowest current market cap, where management has demonstrated the ability to execute. The market caps of the three mentioned here are:
Patriot Battery Metals: CA$1.3 billion
E3 Lithium Ltd. CA$274 million
Volt Lithium Corp. CA$31 million
Uranium prices tapped US$62/pound this week, which sent most of the companies friendly to nuclear power on a tear. The Sprott Uranium Miners ETF (URNM) is now up over 40% YTD, versus the NASDAQ up 30% and the S&P up 16%.
Cameco Corp. (CCO), the world's biggest uranium miner, is up 77% YTD, while my personal holding Western Uranium & Vanadium Corp. (WUC) closed at $1.62, ahead 37% YTD and still well below the peaks in 2018 (CAD $3.40) and 2021 ($4.25).
With lithium and uranium now solidly ahead for the year, one has to wonder when the last component of the "electrification trilogy" — copper — will catch the attention of the big multinational trading houses.
(Click on image to enlarge)
With most of the large copper deposits around the globe now on descending production slopes and with few new discoveries coming onstream, even finite copper demand over the balance of the decade will be enough to affect price in a huge way. However, copper demand is not going to be "finite." it is going through the roof, and that is with or without China.
The copper bears cite "weak China growth" as a reason for anemic copper prices, but one thing is certain: if you fire up fifty-seven new nuclear reactors around the world, creating several hundred million new megawatts of electricity, you are going to need a much larger transmission infrastructure which means wires and unless they find a way to transmit current more efficiently using a substance other than copper wiring, then copper is going to move into "shortage" at some point and when that point arrives, prices will explode.
(Click on image to enlarge)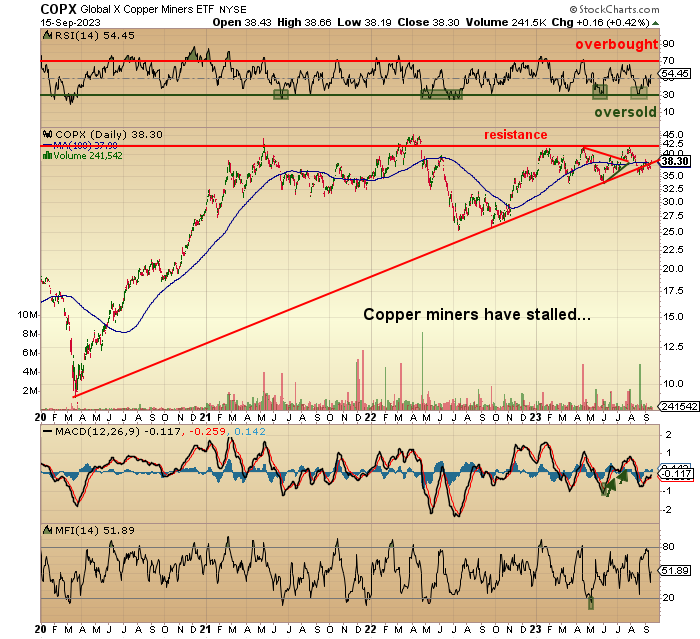 The Copper Miners ETF (COPX) has come a long way off the COVID-19 CRASH lows, but tops in the US$42-43 range have not been revisited because of the waffling copper price. If I own uranium and lithium stocks, which I do because I am a fervent believer in the electrification movement, then I cannot construct a portfolio without copper.
Now, copper is seen by many as a boring, unexciting sector with very few junior copper deals commanding much (if any) attention. It may be that copper mining is seen as environmentally hostile to the spirit and soul of the electrification movement and thus shunned by the "woke" community of newbie investors.
I would answer that by pointing to the Energy ETF (XLE), up over 27% YTD with many of the components carrying P/E's of around 8. As socially and politically "uncool" as oil and gas extraction is, money has found the sector, and investors are being rewarded. I think the same result holds true for copper, so outside of owning a few call options on the COPX:US, I am actively seeking out a cheap junior with an advanced exploration or development project that I can get behind before the rest of the world wakes up.
Lithium has soared; uranium is now soaring; the last of the electrification trilogy is about to soar.
BUY COPPER.
---
More By This Author:
Precious Metals Sector Believed To Be Close To Major Uptrend
Mining Co. Reports High-Grade Assay Results At Filo Del Sol
These Factors 'Could Drive Gold And Silver Prices Much Higher'