2 Growth Stocks To Watch As Grain Prices Soar
Multi-year highs in soybeans, corn, and wheat
Higher gasoline supports rising ethanol prices
ADM will benefit from higher agricultural commodity prices
BG is a play on the agricultural sector and Brazil
ADM and BG pay investors while they wait for capital appreciation- Both stocks are inflation plays
Bill Gates, Microsoft's (MSFT) founder and one of the world's wealthiest people, is the largest private farmland owner in the United States. The investment is looking pretty smart these days as agricultural commodity prices are at over six-year highs.
The ABCDs of agricultural companies are the leading agribusinesses. Cargill and Louis Dreyfus are privately held firms. Archer Daniels Midland (ADM - Get Rating) and Bunge Limited (BG - Get Rating) trade on the stock market. Rising soybean, corn, and wheat prices make ADM and BG growth stocks as we head into the 2021 crop year starting with the planting season this month.
ADM is trading near its all-time high, and BG shares have been moving steadily higher over the past months. Meanwhile, both companies have room to move higher if the bull market in agricultural commodities continues.
Multi-year highs in soybeans, corn, and wheat
As we head into the 2021 crop year in the US and northern hemisphere, oilseed and grain prices remain near multi-year highs.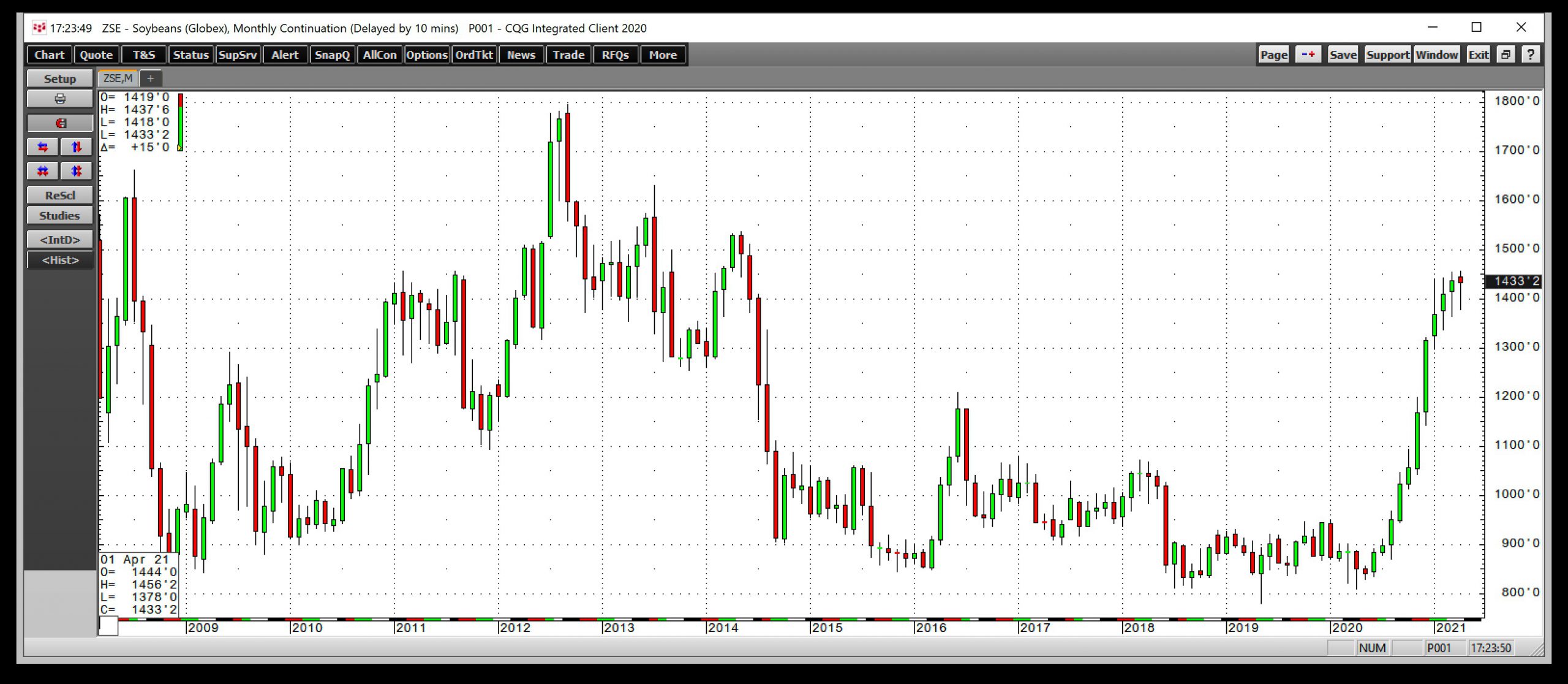 Source: CQG
The monthly chart shows that while nearby soybean futures pulled back from over the $14.55 level, at $14.3325 at the end of last week, the price was at the highest level since 2014. Before late 2020, beans had not been in the teens in over six years.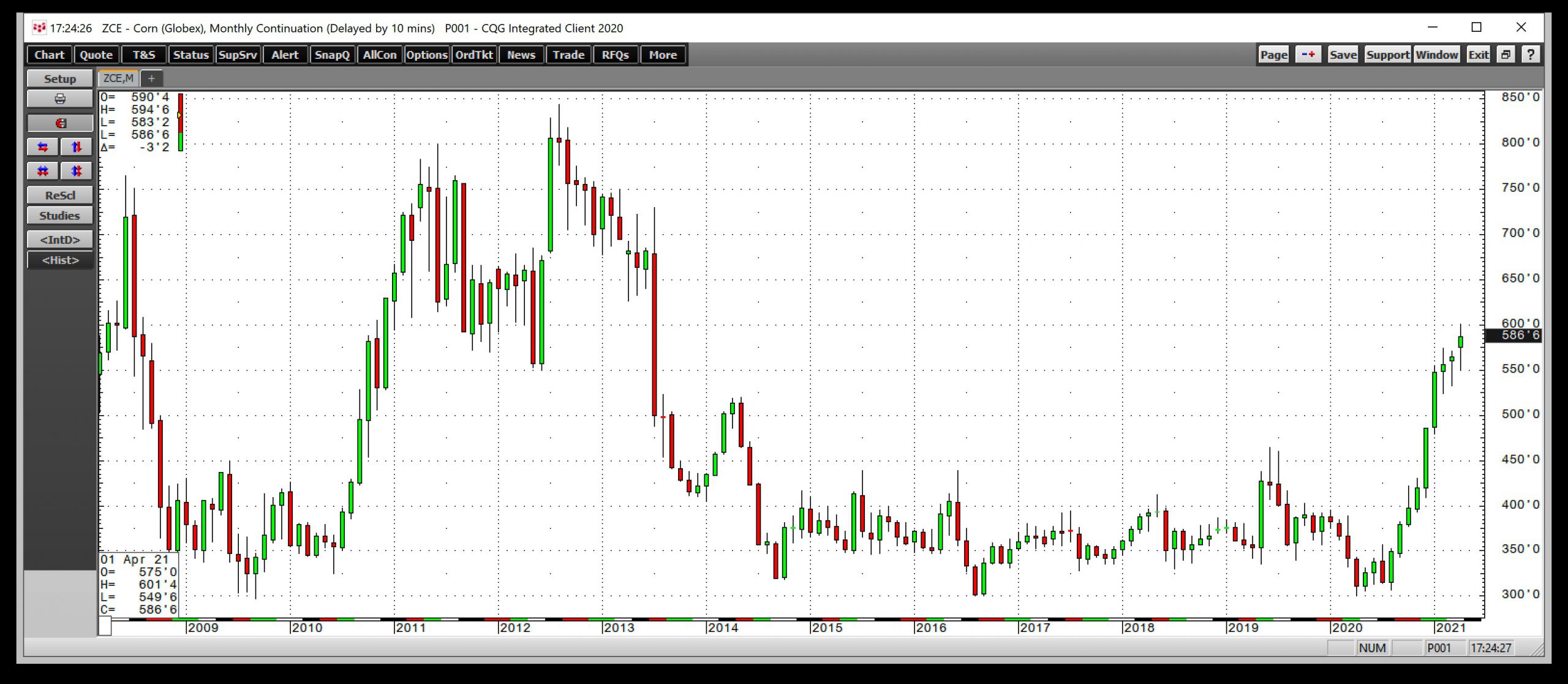 Source: CQG
At the $5.8675 level, nearby corn futures are at the highest price since July 2013. Corn recently traded to a peak at $6.0150 per bushel and was not far from that level on April 16.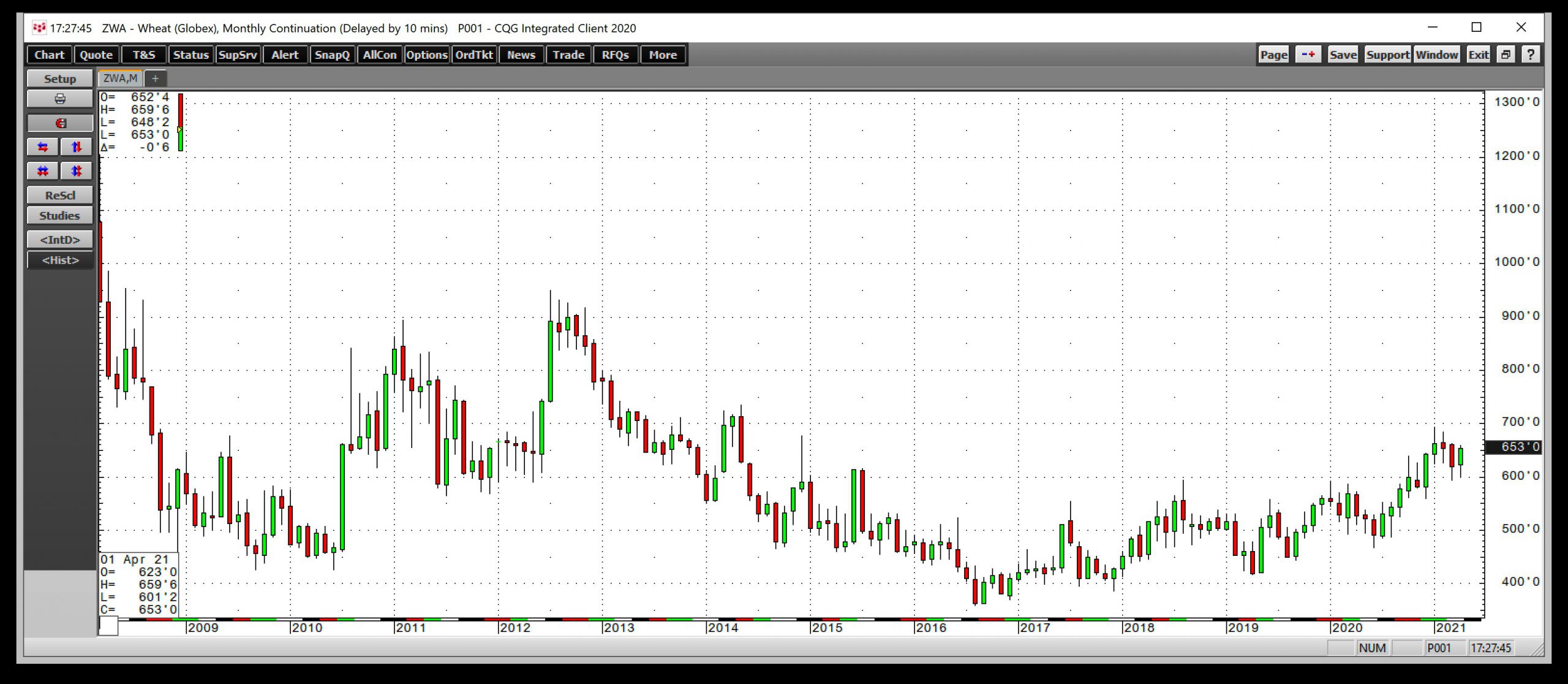 Source: CQG
Before October 2020, CBOT soft red winter wheat futures had not traded above the $6 per bushel level since July 2015. In January, the nearby contract reached a high of $6.93, the highest since May 2014, and was at the $6.53 level last Friday.
Disclaimer: Information is provided 'as-is' and solely for informational purposes, not for trading purposes or advice, and is delayed. To see all exchange delays and terms of use, please ...
more