With Stocks The Most Overvalued In History, Goldman Lists The 4 Biggest Risks
With the S&P melt-up accelerating into the first full week of the new year, Friday's modest pullback on the subpar December jobs report notwithstanding, sellside strategists are tripping over themselves to come up with even more reasons to justify the risk surge higher despite S&P valuations (price to sales and EV/EBITDA) which are now at all time highs, surpassing the prior dot com peak (which prompted Bloomberg to write "S&P 500 Bulls Make Peace With Valuations at 2018 Meltdown Levels").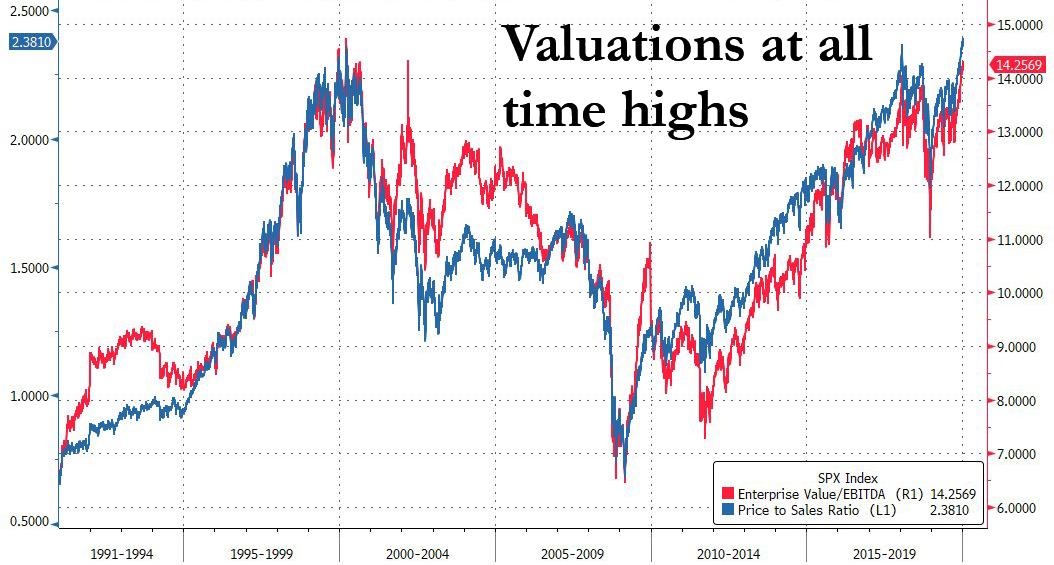 Even as retail, institutional, and systematic (CTA/risk parity/vol targeting) investors are now all in the market, just as buybacks are rapidly fading.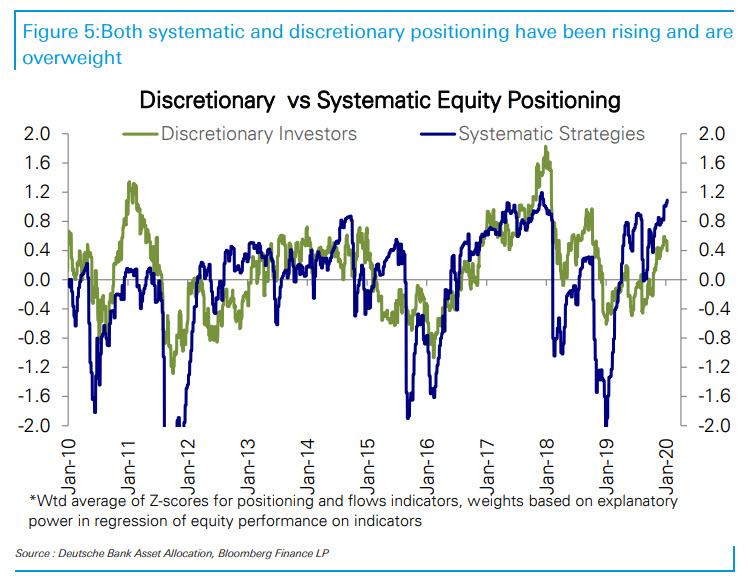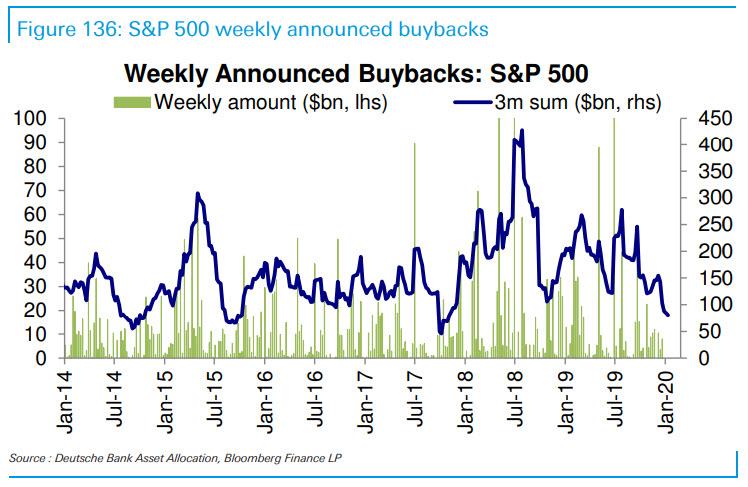 Sure enough, in his latest Weekly Kickstart note, Goldman's chief equity strategist, David Kostin writes that "the combination of accommodative monetary policy, low interest rates, range-bound oil prices, and continued economic expansion is constructive for US equities."
Still, with the massively overbought SPXSPX rapidly approaching not just his (3,400) but the consensus S&P target (3,318) for the end of 2020 less than half a month into 2020, the risk of a "Feb 2018"-like swoon grows with every passing day of the the melt up euphoria, which is probably why to hedge his bets, Kostin lays out four macro risks - and associated equity strategy implications - that can derail the S&P on its path to Goldman's year-end target of 3,400 (which is less than 4% away from Friday's close of 3,265), namely
What if the US and Iran enter into a prolonged conflict and oil prices rise?
What if interest rates rise rapidly in 2020?
What if the dollar strengthens this year?
What if economic growth is weaker than we expect?
Below, we take a detailed look at each of these "biggest risks":
1. What if there is a sustained period of conflict between the US and Iran and higher oil prices? Oil prices initially rose by 4% alongside US-Iran tensions. But Goldman's commodity strategists believe the current risk premium is already elevated and they expect Brent oil prices will be roughly flat at $63/bbl during the next 12 months. According to Kostin, oil price shocks should have limited impact on S&P 500 returns, given offsetting impacts from higher Energy earnings and higher gasoline prices for consumers. Separately, in terms of geopolitical risk, the S&P 500 shrugged off the developments this week but a prolonged conflict could eventually weigh on US equities. Using the national security component of the US Policy Uncertainty Index, Goldman finds a loose negative relationship between changes in uncertainty and S&P 500 returns (Exhibit 1). However, previous notable examples of national security uncertainty also coincided with other exacerbating macro events (the first Gulf War and recession, the September 11th attacks and the Tech Bubble unwind).
Disclosure: Copyright ©2009-2020 ZeroHedge.com/ABC Media, LTD; All Rights Reserved. Zero Hedge is intended for Mature Audiences. Familiarize yourself with our legal and use policies every ...
more