What's Behind Today's Sudden Selloff: The Answer Lies In Georgia
There has been some confusion about the catalyst behind this morning's sudden market selloff which followed promptly after the S&P hit a fresh all-time high.
While there has been no single, definitive news catalyst, the answer for the risk weakness is to be found in Georgia, which goes to the polls in special run-off elections for its U.S. Senate seats. As a reminder, if Democrats win both, then the Senate will be split 50-50, and they will control it thanks to the vice president's casting vote.
(Click on image to enlarge)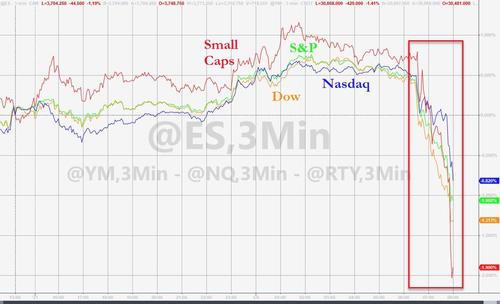 So why is Georgia suddenly a concern?
As Bloomberg's John Authers explains overnight, while there have been few polls over the last two months, and with so much depending on getting people out to vote in the middle of winter during a pandemic, much must be left to conjecture, "but the prices on the Predictit prediction market show it is close."
First, this is the race between the Democrats' Raphael Warnock and Republican Kelly Loeffler:
(Click on image to enlarge)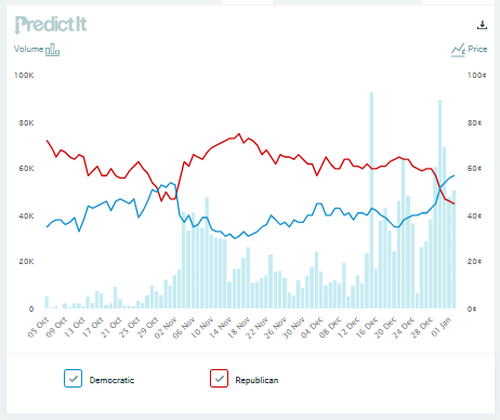 The same trend is at work in the contest between the Democrats' Jon Ossoff and Republican David Perdue, who is still hanging on to a lead:
(Click on image to enlarge)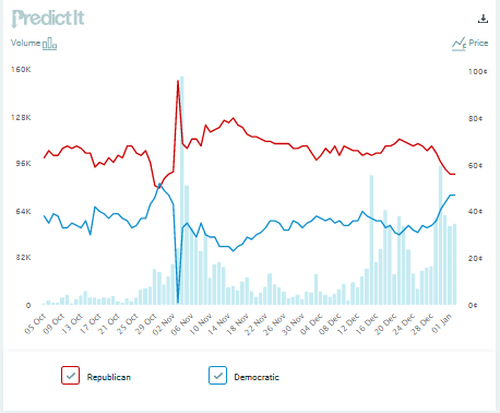 Strikingly, while online betting markets priced in a relatively modest 25-30% probability of a blue sweep (i.e., Democrats winning both GA runoffs tomorrow), the Predictit odds for a "blue wave" have soared in the past few days, surging just shy of 50%.
(Click on image to enlarge)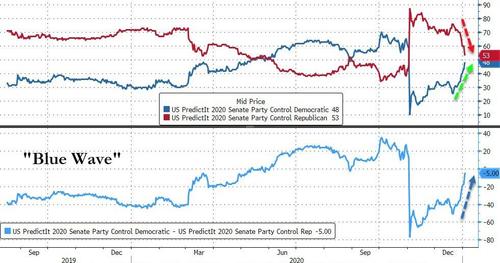 The sudden realization that a blue wave appears likely has also inverted the VIX term structure, with the one-week volatility rising in addition to spot as the tenor includes the Georgia race.
(Click on image to enlarge)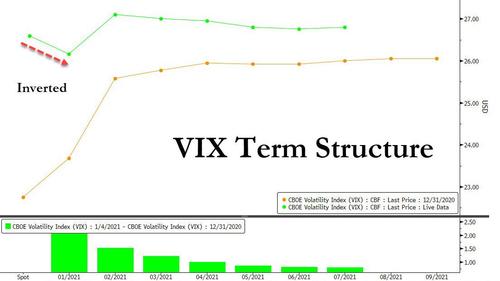 As a reminder, should Democrats win in GA and regain control of the Senate agenda, that would be a huge deal as "obstructionist tactics would become almost impossible for the Republicans" while the chances of more fiscal spending to alleviate the coronavirus or a bigger push on infrastructure, would look much stronger. This, needless to say, "would boost the reflation trade" while more aggressive fiscal policy would also mean higher interest rates while reducing the pressure on the Federal Reserve to keep them low.
Disclaimer: Copyright ©2009-2021 ZeroHedge.com/ABC Media, LTD; All Rights Reserved. Zero Hedge is intended for Mature Audiences. Familiarize yourself with our legal and use policies every time ...
more