What Does It Mean If The Fed Might (Have To) Be Ready To Move Past IOER?
More than any conundrum in the bond market, the Federal Reserve has one on its hands much closer to home. Its home, anyway. The effective federal funds rate (EFF) has been stapled to IOER for each of the last fifty trading days. No variation whatsoever.
EFF had converged with IOER back in October. A lot of ugly things began to happen in October, this being only one. Still, it suggested the connection to them, not quite the one policymakers think.
Federal funds is a nothing market. If there is unruliness in it, that can only mean much greater difficulties out in the global "dollar" markets. In other words, how bad must it have been in money supply terms that it broke out in this distant, irrelevant corner, too? The answer to that question, obviously, is what happened in November and December.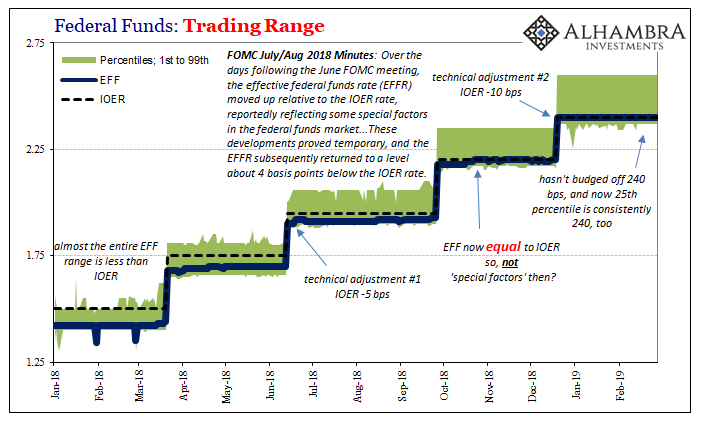 But that isn't the end of it. Markets have resumed reflation in 2019 as if all that was an isolated case. An interesting discussion that will plague only the weirdly obsessive. Even the Treasury market today has moved out of its inversion in the short middle part of the curve.
Still, something isn't quite right. As noted above, EFF appears to be stuck. At least during November and early December there were a few days here and there back 1 bp underneath IOER. The last time was December 14 – just when things got serious around the world.
That's not all. Going back to February 11, the entire distribution has shifted upward. Effective federal funds is a single rate pieced together from a wide(ish) variety of actual transactions. Even as FRBNY publishes 2.40% for EFF consistently day after day, there are some funding transactions pulled off both above and below the weighted average.
As the distribution settles upward, that would suggest a growing skew toward the upside, fewer actual trades below it. Furthermore, it raises the prospects, informally, of settling at an effective rate which would be above IOER. The 25th percentile, the rate below 75% of all dollars lent and borrowed here, since February 11 has been equal to both EFF and IOER. Before December 26, it had at least offered 1 bps of margin.
Disclosure: This material has been distributed for informational purposes only. It is the opinion of the author and should not be considered as investment advice or a recommendation of any ...
more