USDX, S&P GSCI: Flip It Upside Down And See How Gold Falls
It's a dance of death between the USDX and S&P GSCI. When the former goes up, the latter does the exact opposite - and gold may follow.
Gold, silver, and mining stocks did next to nothing yesterday, and practically everything that I wrote previously remains up-to-date. Consequently, today's technical part will be limited to just one chart – with one implication being both important and subtle – but today's more fundamental part will be longer.
Let's jump right into the chart featuring… The USD Index, as that's the market that contains the important change.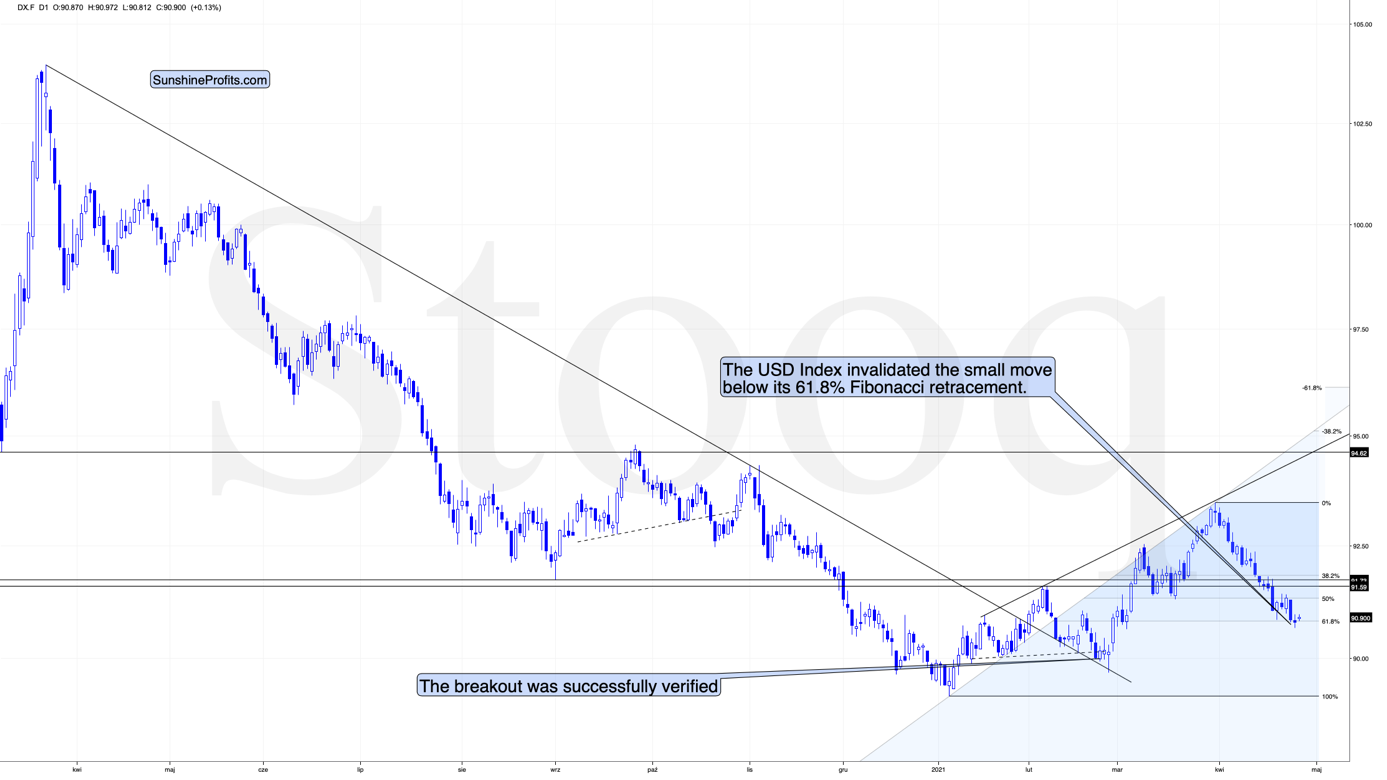 The important change is that the situation relates to the USD's 61.8% Fibonacci retracement.
Last week, I wrote the following:
I wouldn't be surprised to see this weekend without any major reversal, but we could see one on Monday. Some traders won't be able to adjust their stop-loss levels at that time, so if anyone "big" wants to squeeze the profits out of individual traders shorting the USDX before the latter rallies, it would be a perfect time. The idea could be to trigger a small sell-off early on Monday, which would then trigger stop-loss selling, and it would allow the "big" market participant to re-enter the long positions at lower prices.
The fact that the USD Index moved slightly below its very important short-term support (the 61.8% Fibonacci retracement) on Monday and that it invalidated this breakdown earlier today perfectly fits the above quote.
The invalidation of the breakdown is a bullish phenomenon, and even though the price moves are still small, they already suggest that a bigger rally is likely just around the corner. Naturally, the bullish situation in case of the USD Index has bearish implications for the precious metals market.
Having said that, let's take a look at the markets from a more fundamental angle.
The Paradox of Inflation
Hiding in plain sight for the last several months, warnings of rising inflation have officially gone mainstream. Case in point: please see the headline from CNBC on Apr. 24:

Source: CNBC
And while I've been warning about the prospect for some time now, when CNBC initiates coverage, you know that the cat is out of the bag. But why is rising inflation such an important variable when analyzing the PMs? Well, because higher inflation is a precursor to higher interest rates. And with the domino effect of rising input costs, leading to rising output prices, leading to a rising U.S. 10-Year Treasury yield … well, gold has nightmares just thinking about it.
Please see below: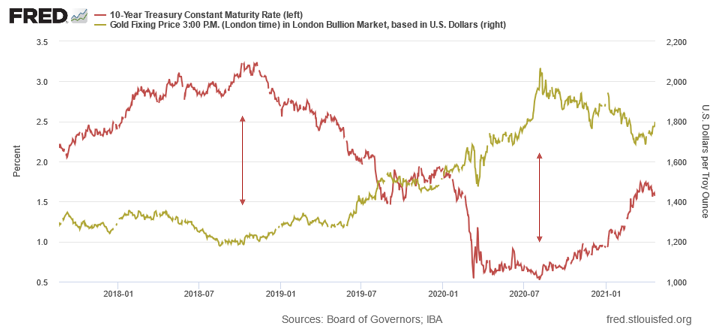 However, it's important to remember that two different paths can lead to the same destination. On one side of the road, you have demand-pull inflation: this occurs when unemployment is low, prosperity is high, wages are rising, and corporate profits follow suit. On the other side of the road, cost-push inflation occurs when demand is dormant, but rising input costs lead to price hikes by corporate executives. Think about it: when faced with a dilemma of accepting lower profit margins or raising output prices, which path do you think they'll choose?
Moreover, it's no secret that the U.S. Federal Reserve (FED) has unleashed a tsunami of liquidity. In turn, the spending has also unleashed a tsunami of financial-market speculation. And when meme stocks like GameStop move from $4 to $400, it has no effect on the real economy. However, when excessive speculation cascades from the stock market to the commodities market, it has a profound effect on the real economy.
Case in point: lumber prices have risen by more than 356% over the last year (and are up by more than 200% from their pre-COVID 19 highs), while gasoline prices have risen by more than 205% (and are up by more than 18% from their pre-COVID 19 highs). If that wasn't enough, corn prices have recently gone vertical, hitting 'limit up' on Apr. 26. For context, 'limit up' means that the contract rose so rapidly that regulators were forced to suspend trading for the day.
Disclaimer: All essays, research and information found on the Website represent the analyses and opinions of Mr. Radomski and Sunshine Profits' associates only. As such, it may prove wrong ...
more