Treasury To Start Reducing Bond Auction Sizes As Soon As November
Heading into today's quarterly refunding announcement, the bond market was on edge over the (low) possibility widely discussed on sell-side desks, that the Treasury could cut trim coupon auction sizes in the next few months to coincide with the Fed's tapering as the Treasury's funding needs have gradually emerged to be less than expected thanks to higher than expected tax revenues. In fact, according to some the drop in yields in recent weeks has been not due to the ongoing monster squeeze but due to expectations that there will be less TSY supply than demand.
So when the Treasury released its latest refunding statement (whose highlights hit about 10 mins early after some newswire broke the embargo), battered TSY bears breathed a sigh of relief because the Treasury said that contrary growing expectations, it "does not anticipate making any changes to nominal coupon and FRN auction sizes over the next quarter." Here is the proposed treasury issuance scheduled for Q3: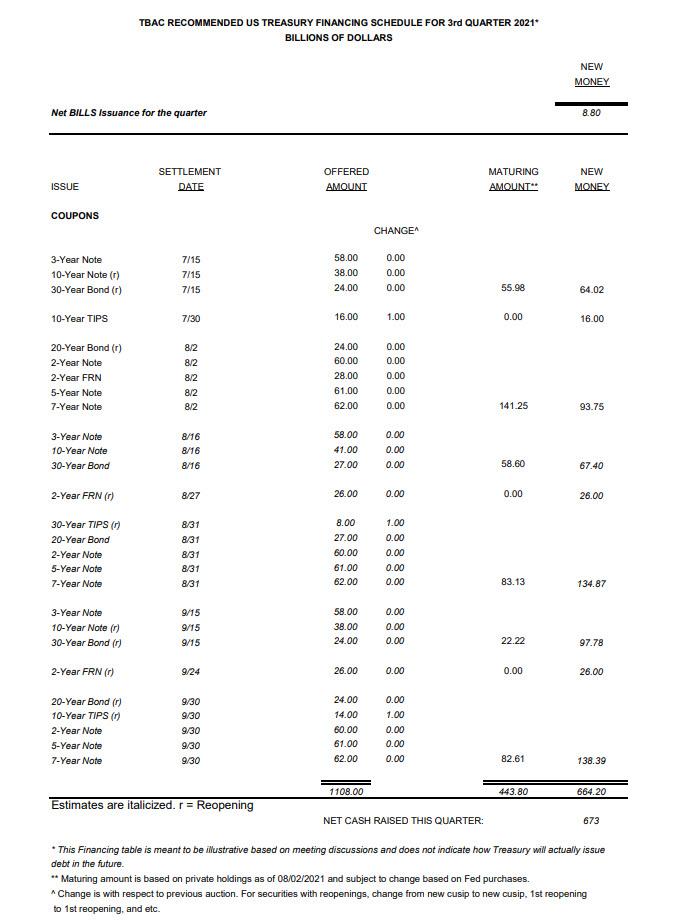 However, in line with expectations, "continuing current issuance sizes and patterns may provide more borrowing capacity than is needed to address borrowing needs over the intermediate-to-long term." As a result, the "Treasury will continue to engage with a variety of market participants to better understand the supply and demand dynamics for existing securities, with an expectation of announcing an initial set of auction size reductions as soon as the November refunding announcement" which is also in line with what most Primary Dealers had expected (among the 24 primary dealers in U.S. government securities, just three expected smaller auctions during the August-to-October quarter, with many more seeing an announcement in November). In other words, shortly after the Fed's taper announcement at or just after Jackson Hole, the Treasury will follow up with an issuance cut of its own.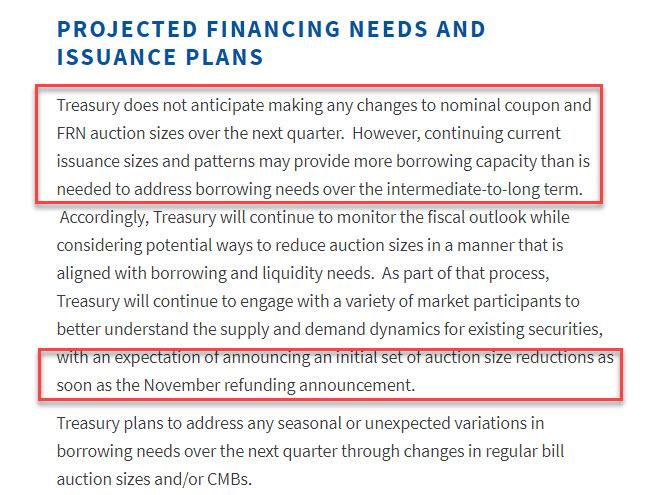 So if no changes in coupon sizes, will Bill issuance at least shrink? You bet: as the Treasury added, "seasonal or unexpected variations in borrowing needs over the next quarter is to be met by changes in bill auction sizes and Cash Management Bills (CMBs)." Additionally, the Treasury will end weekly issuance of 6-week CMBs later this month:
Disclaimer: Copyright ©2009-2021 ZeroHedge.com/ABC Media, LTD; All Rights Reserved. Zero Hedge is intended for Mature Audiences. Familiarize yourself with our legal and use policies every ...
more