The Fed Races Against The Clock. Will It Avert Hyperinflation?
While I've warned for months that unanchored inflation would force the Fed's hand, hawkish rhetoric and policies are now obvious to investors. Moreover, with the hyper-inflationist 'death of the dollar' crowd increasingly anxious, their mettle has come under immense pressure. To explain, I wrote on Nov. 18, 2021:
The hyper-inflationists are missing the forest through the trees. In their argument, they assume that high U.S. debt levels make raising interest rates impossible. As a result, the U.S. government will allow inflation to run rampant and the U.S. dollar will crash in the process. However, while it's an interesting story, it's unrealistic. And why is that?

Well, for one, not raising interest rates will likely do more harm to the U.S. economy than tightening monetary policy. The reasons are outlined above: if prices keep rising and consumer confidence keeps falling, eventually demand destruction unfolds. As a result, if policymakers don't solve their inflationary conundrum, failure to do so will likely push the U.S. economy into recession.

Second, the political component shouldn't be ignored. Biden's approval ratings keep hitting new lows along with consumer confidence. Thus, is it in his best interest to maintain the status quo? Of course not. That's why he's been so forceful on inflation over the last few weeks. Essentially, if he (and/or the Fed) does nothing, he'll likely lose the next presidential election and the Democrats will likely lose control of Congress. However, if he tames inflation, then he's a hero. And left with those two options, which one do you think he'll choose?

The Lesser of Two Evils
To that point, with six rate hikes realized in 2022 (25 basis point increments) and Fed officials amplifying their hawkish threats, commodity investors have run for cover.
Please see below: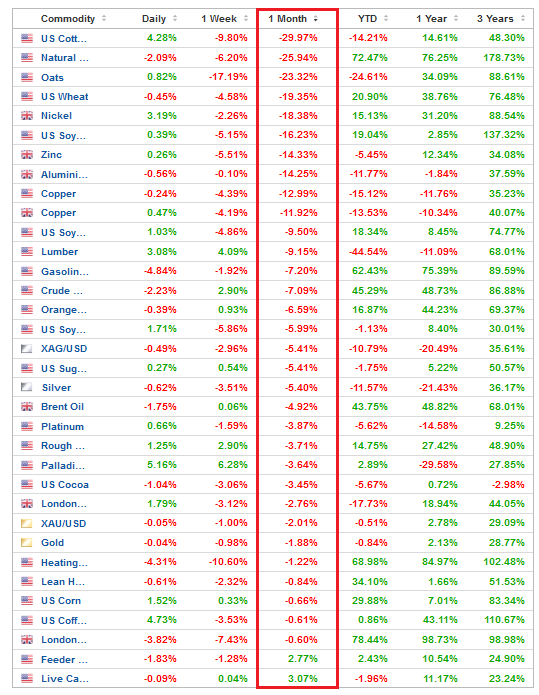 Source: Investing.com
To explain, the table above tracks the performance of commodities over various timeframes. If you analyze the vertical red rectangle, you can see that most commodities have been crushed over the last month. Moreover, with the GDXJ ETF also suffering mightily, lower prices were always necessary for the Fed to achieve its inflation goal. Therefore, the fundamental thesis continues to unfold as expected.
Furthermore, Fed Chairman Jerome Powell reiterated his conviction in fighting inflation on Jun. 29. Likewise, while letting inflation rage was never a realistic outcome, he understands that a recession that kills inflation is much better than a hyper-inflationary collapse.
He said that while the U.S. economy is "in pretty strong shape," the path to a "soft landing" becomes "significantly more challenging" the longer inflation persists.
As a result:
"The clock is kind of running on how long will you remain in a low-inflation regime (...). The risk is that because of the multiplicity of shocks you start to transition into a higher inflation regime, and our job is to literally prevent that from happening and we will prevent that from happening."
Therefore, while I've long warned that inflation was the most important fundamental variable, the hyper-inflationists realize that Powell has a similar belief.
Please see below:

Source: Reuters
Supporting the claim, Cleveland Fed President Loretta Mester said on Jun. 29 that "Job one for us now is to get inflation rates under control, and I think right now that's coloring how consumers are feeling about the economy and where it's going."
"If conditions were exactly the way they were today going into that meeting – if the meeting were today – I would be advocating for 75 [basis points] because I haven't seen the kind of numbers on the inflation side that I need to see in order to think that we can go back to a 50 increase."
Thus, she expects 12 to 14 rate hikes in 2022:
"I think getting interest rates up to that 3-3.5%; it's really important that we do that, and do it expeditiously and do it consistently as we go forward, so it's after that point where I think there is more uncertainty about how far we'll need to go in order to rein in inflation,"
Furthermore, she essentially recited my points from Nov. 18:
Please see below: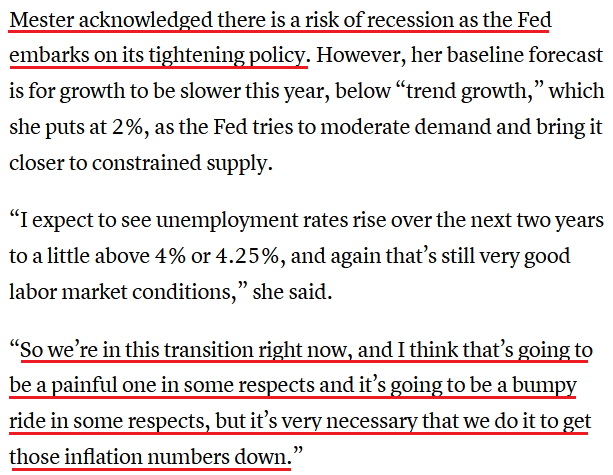 Source: CNBC
Making three of a kind, San Francisco Fed President Mary Daly said on Jun. 28 that the Fed is "tapping the brakes" to cool demand. "We are working towards that as quickly as we possibly can, and hopefully Americans everywhere will start to see some relief in their pocketbooks."
In addition, she also cited my argument: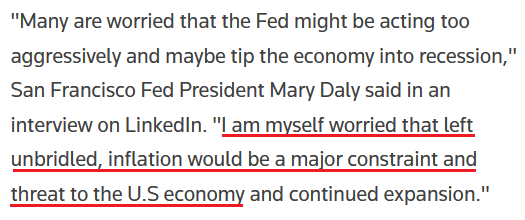 Source: Reuters
Continuing the theme, New York Fed President John Williams (a reformed dove) said on Jun. 28: "a slowdown [is what] we need to see in the economy to really reduce the inflationary pressures that we have and bring inflation down."
He added:
"We need to move expeditiously. In terms of our next meeting I think 50 [basis points] or 75 is clearly going to be the debate."
As a result, anxiety in the stock and commodities markets should intensify in the months ahead.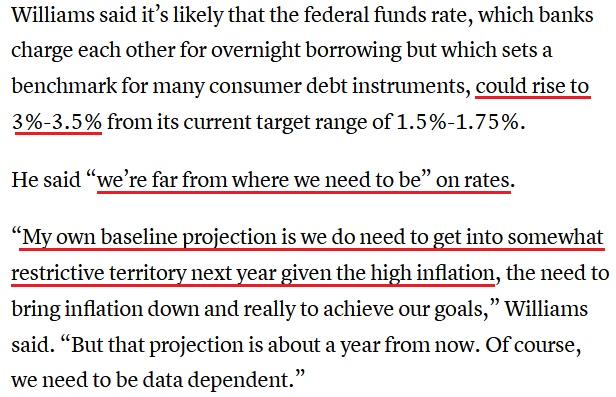 Source: CNBC
Thus, while I've noted on many occasions that unanchored inflation left unchecked is worse than a recession-induced by interest rate hikes, Fed officials understand that the latter is the lesser of two evils. As a result, my comments from Apr. 6 continue to bear fruit. I wrote:
Please remember that the Fed needs to slow the U.S. economy to calm inflation, and rising asset prices are mutually exclusive to this goal. Therefore, officials should keep hammering the financial markets until investors finally get the message.

Moreover, with the Fed in inflation-fighting mode and reformed doves warning that the U.S. economy "could teeter" as the drama unfolds, the reality is that there is no easy solution to the Fed's problem. To calm inflation, it has to kill demand. If that occurs, investors should suffer a severe crisis of confidence.

To Be, or Not to Be
While recession fears have spread across Wall Street, a realization, or lack thereof, could have major implications on the performances of the S&P 500 and the GDXJ ETF. However, an economic malaise is much more likely than not. To explain, I wrote on Jun. 1:
While the consensus either doesn't care or doesn't know history, unanchored inflation in the 1970s/1980s pushed the U.S. into recession four times over ~12 years (the vertical gray bars below). For context, if we exclude the COVID-19 pandemic, the U.S. has only entered a recession once in the last 20 years. Thus, putting a Band-Aid on a gunshot wound won't do much good.
Please see below: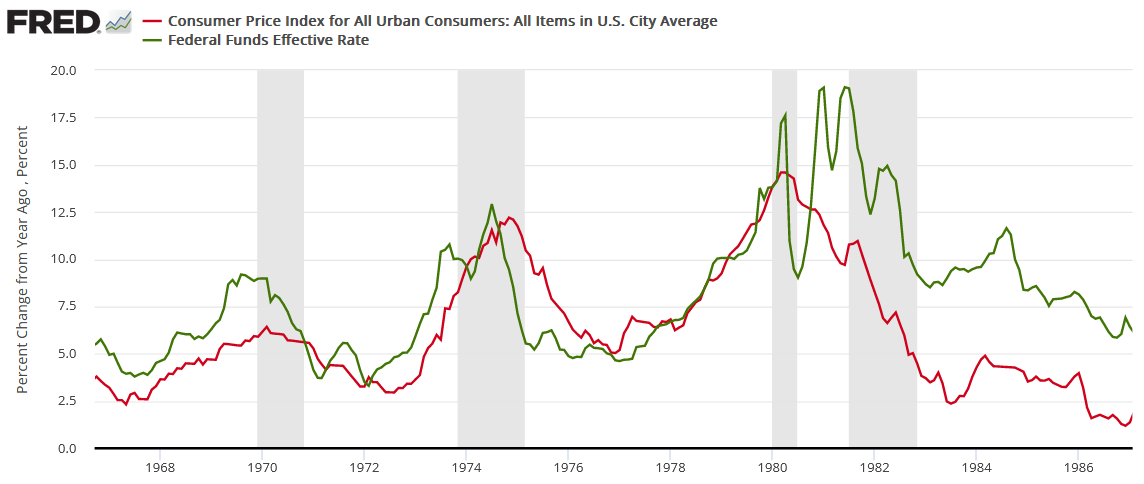 Likewise, modern history sings a similar tune. For example, the Fed has never curbed inflation without the U.S. federal funds rate eclipsing the YoY CPI rate at some point. Therefore, if the Fed pauses at 1.83% and inflation falls to its 2% target, Powell and his crew would accomplish something that's never been done.
To that point, notice how every inflation spike leads to a higher U.S. federal funds rate and then a recession. As such, do you really think this time is different?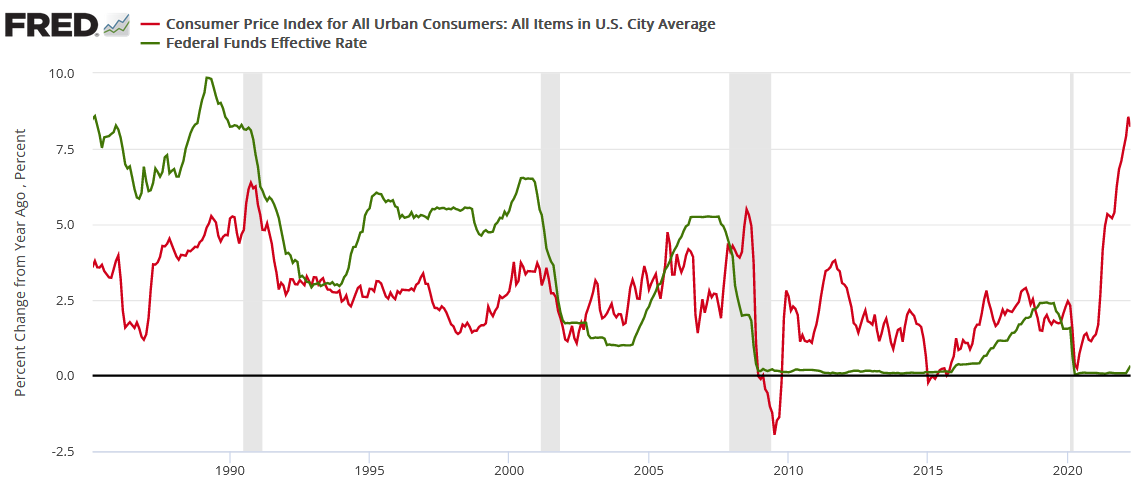 Therefore, if (when) a recession materializes, the S&P 500 and the GDXJ ETF should hit new lows.
Please see below: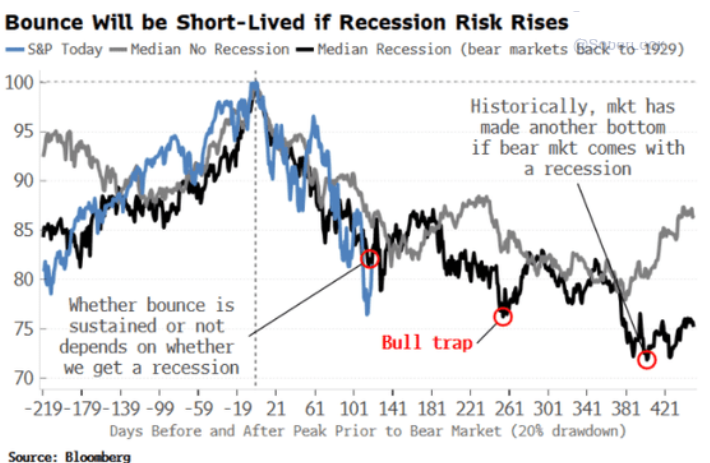 To explain, the blue line above tracks the S&P 500's current path, while the gray line above tracks the index's median movement during no-recession bear markets (20% declines) since 1929. As you can see, the S&P 500 often doesn't hit a new low after an initial sharp drawdown.
Conversely, the black line above tracks the S&P 500's median path when a recession occurs. If you analyze the performance, you can see that sharp drawdowns often elicit failed relief rallies that culminate in new lows. Moreover, it's not uncommon for a second new low to materialize. Thus, with a recession likely on the horizon, the S&P 500 and the GDXJ ETF are likely far from medium-term bottoms.
In addition, while inflation is higher now than in 2008, the monetary backdrop is eerily similar.
Please see below: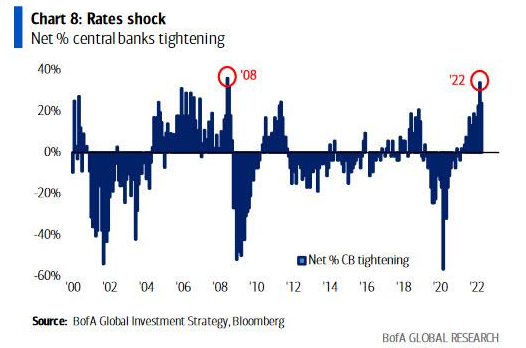 To explain, the blue bars above track the net percentage of global central banks tightening monetary policy. If you analyze the annotations, you can see that 2022 rivals 2008. As a result, the immense liquidity drain should have drastic consequences in the months ahead.

A Real Reminder
Reality has returned to the bond market, and the realization is profoundly bearish for the PMs. To explain, I wrote on Apr. 20:
The next leg higher for the U.S. 10-Year real yield may occur for the opposite reasons. For example, I noted above that we don't need nominal yields to rise for real yields to rise. Moreover, while the U.S. 10-Year Treasury yield was undervalued in 2021 and was poised to move higher, the U.S. 10-Year breakeven inflation rate is overvalued in 2022 and is poised to move lower.

Please see below:

To explain, the U.S. 10-Year breakeven inflation rate ended the Apr. 19 session at 2.93%, only slightly below the all-time high of 2.95% set in March. However, like the PMs, investors' long-term inflation expectations remain in la-la land.
To that point, with the U.S. 10-Year breakeven inflation rate ending the Jun. 29 session at 2.36%, the Fed doubters and their assets are in free fall.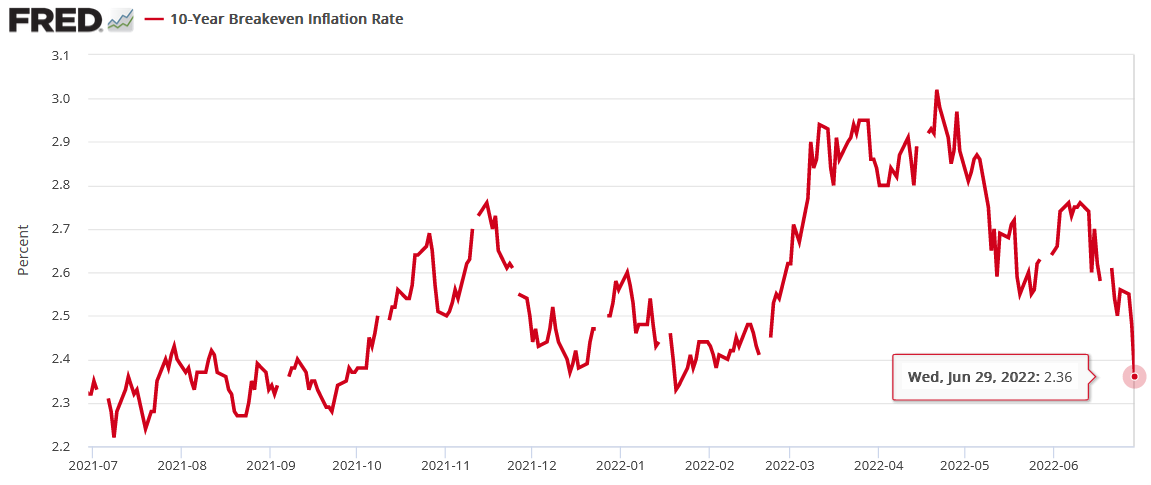 Likewise, notice the similarity between the above chart and the GDXJ ETF's 12-month chart?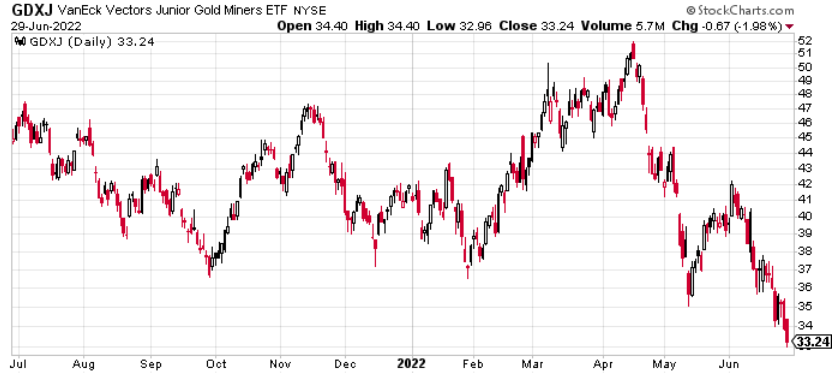 The Bottom Line
The fundamental thesis continues to unfold as expected: the Fed is hawked up, and their policies have helped uplift the USD Index and the U.S. 10-Year real yield. Moreover, since these metrics are the PMs' main fundamental adversaries, the GDXJ ETF has gone in the opposite direction.
Furthermore, with the Nasdaq Composite highly allergic to higher real yields, the developments also hurt the S&P 500. Therefore, with the junior miners more correlated with the general stock market, the medium-term fundamental outlook remains bright for our short position.
In conclusion, the PMs declined on Jun. 29, as many commodities have lost their luster. Furthermore, with more rate hikes poised to uplift the USD Index and the U.S. 10-Year real yield in the months ahead, gold, silver, and mining stocks are stuck in no-man's land.
Disclaimer: All essays, research and information found on the Website represent the analyses and opinions of Mr. Radomski and Sunshine Profits' associates only. As such, it may prove wrong ...
more