The 10-Year Note Gives Buy Signal For Gold And Silver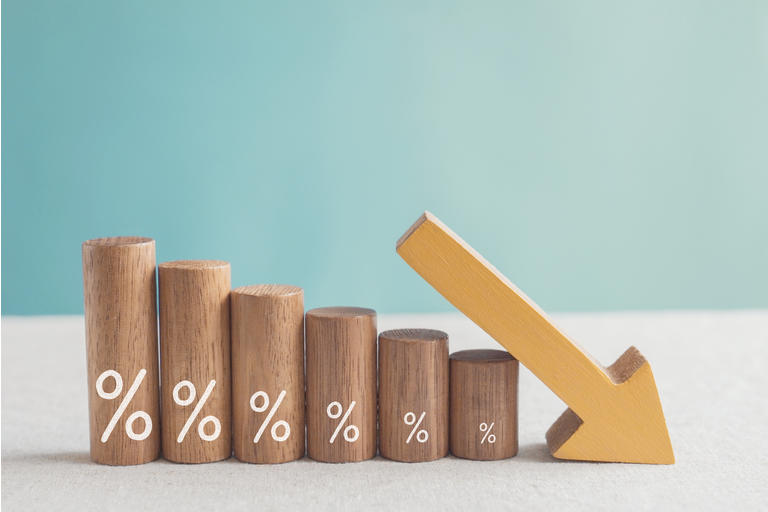 ThitareeSarmkasat/iStock via Getty Images
Fundamentals
Regardless of the inflationary rhetoric we hear, the 10-year note is down to 1.53. Pundits and experts are pontificating about interest rates, but if you look at the 10-year note, we are down 4 ticks. Interest rates are not going up on the short end of the market, which is bullish for gold. That is what the gold market is beginning to react to.
At least for the time being, the pressure on interest rates appears to be easing. It appears that inflation fears are a short-term aberration. We are seeing shortages in almost every sector of the economy. Food prices are also rising, globally. The key is how long it takes to replenish the supply chain and meet the pent-up demand as people move back into the economy.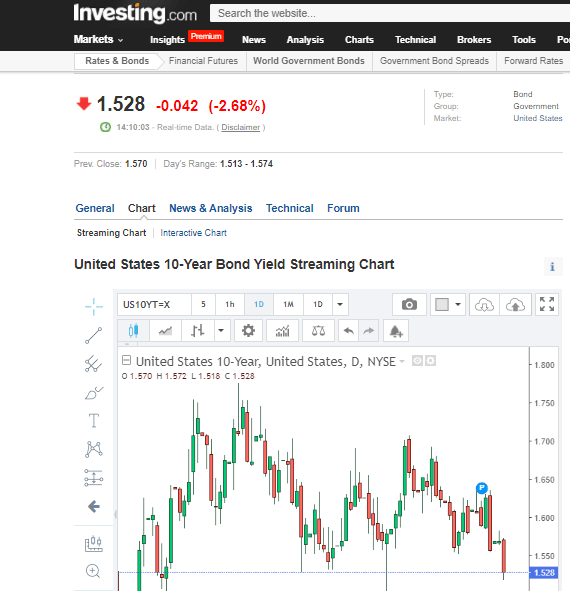 The gold and silver prices continue to be below their mean. Almost everything else across the board are rising in value, yet gold and silver continue to languish. This anomaly is not going to last. The markets will adjust. They do not go when you want them to go, but they will go. Take advantage of the fact that we haven't seen the major moves yet, which are on the horizon. This is an excellent opportunity to add to your gold and silver positions. Stay long and use this short-term volatility to trade the market and add to your long position. We are very close to a major move up in precious metals.
Gold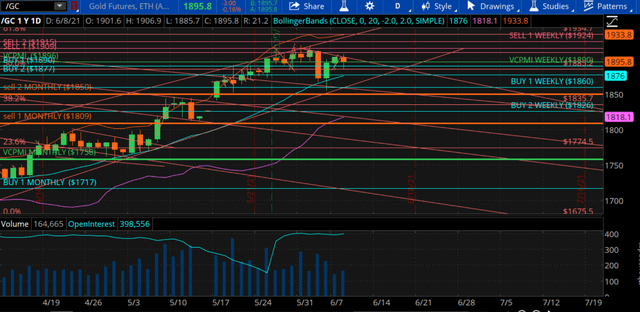 Courtesy: TDAmeritrade
Gold is in a fast market. We came down to $1892 and then reverted back up almost to $1909, which is the Variable Changing Price Momentum Indicator (VC PMI) Sell 1 level. Then it reverted back down to a harmonic buy trigger. This is a very strong signal. $1890 match on the daily and weekly, so expect reversion to occur from here. Buyers should come in at this level. If gold hits $1896, it will change the bearishness to an uptrend. Maintain your net long position. We have covered our short positions. It appears that the counter-swing correction has been completed. The correction did not last long, which is a very bullish sign.
Disclosure: I am/we are long GDX. I wrote this article myself, and it expresses my own opinions. I am not receiving compensation for it (other than from SA). I have no business ...
more